Dear Readers,

We are at the beginning of what looks to be a promising year. There is a sense of rejuvenation given an apparent realization that the advancement of India's industrial economy will happen in the coming quarters. Positive sentiments are in the air with industries reporting encouraging orders and sales which perhaps indicate that the turbulent times have passed.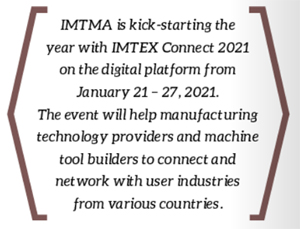 As per the IMF report published in October 2020, the Indian economy in 2021 is expected to grow at 8.8 percent, making the country a significant contributor to the growth of the global economy. The spotlight will be on the leaders as to how effectively they optimize resources and strategize their plans to become more agile and resilient. The time has come for the Machine Tool industry to eye a bigger space in sectors that look promising including Defense, Medical Equipment, Electronics, Aerospace, Power, Railways, and so on while continuing to work closely with the automotive sector.

IMTMA is kick-starting the year with IMTEX Connect 2021 on the digital platform from January 21 – 27, 2021. The event will help manufacturing technology providers and machine tool builders to connect and network with user industries from various countries. I am glad to note that there is a high level of optimism despite the formidable barriers created by the Covid-19 pandemic and with many exhibitions in the pipeline, the manufacturing sector can feel confident of a turnaround.

On this optimistic note, I invite all stakeholders to participate in IMTEX Connect 2021 as well as in the physical show that IMTMA will organize in June 2021.

Wishing you all the very best!