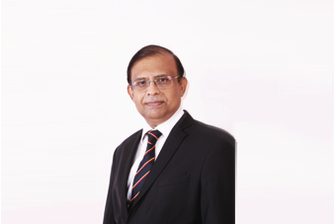 Dear Readers,
Perhaps this is the time for us to recall the challenges that we underwent when the COVID-19 pandemic hit the world last year and disrupted normal life. Things did not remain the same but, in hindsight, the pandemic taught us to be strong, resilient, and ever prepared for any eventualities that may arise.
The Government of India has been providing impetus to manufacturing through various schemes to help business activities pick up the pace and help industrial growth in the long term. The Reserve Bank of India's latest 'State of the Economy' report states that the manufacturing activity is gradually turning around.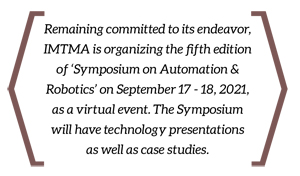 The Machine Tool industry, while continuing its business with the Automobile and Auto Component industries, needs to engage more with Railways, as well as champion sectors such as Aerospace, Defence, Electronics, Medical Equipment, etc. As this happens, machine tool production and consumption will increase by several times.
I am happy to announce that Indian Machine Tool Manufacturers' Association (IMTMA), founded in 1946 by a group of 19 machine tool manufacturers, is completing 75 years. India as a nation is also celebrating 75 years of sovereignty in 2021. We are privileged to have outstanding and loyal membership who have always installed confidence in us to scale heights.
Today, as it always has been throughout its history, IMTMA continues to serve the needs of the Machine Tool and Manufacturing industries in India.
Remaining committed to its endeavor, IMTMA is organizing the fifth edition of 'Symposium on Automation & Robotics' on September 17 - 18, 2021, as a virtual event.The Symposium will have technology presentations as well as case studies. I urge the industry to take benefit from such events.
With increased thrust to vaccination drive, things are expected to normalize. This will build confidence among the industry stakeholders to take part in in-person events and exhibitions in the coming days.
Have a happy year ahead!