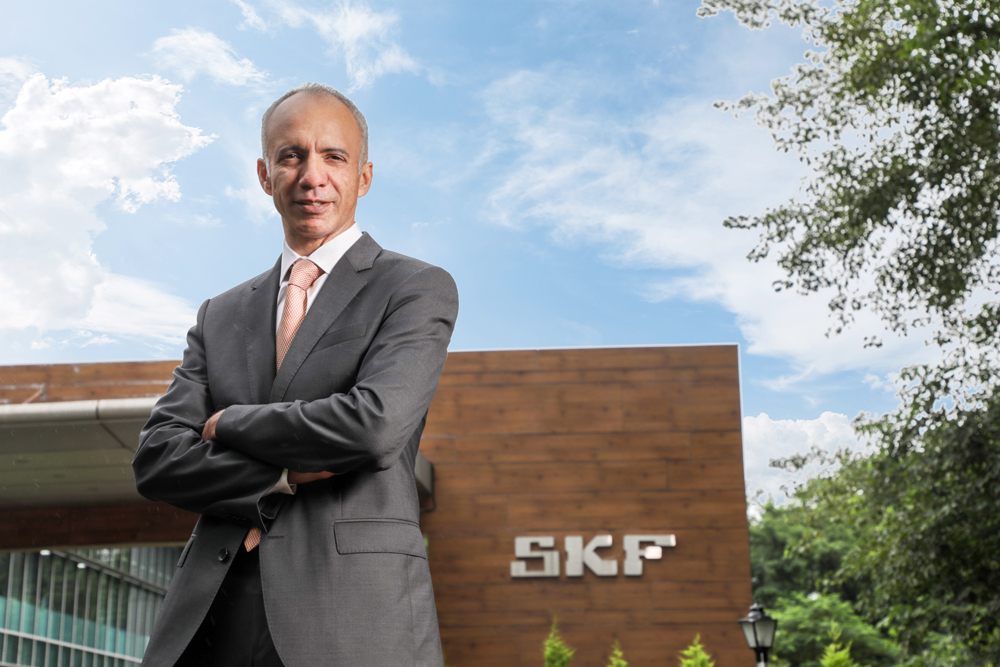 Manish Bhatnagar, Managing Director, SKF India Ltd, in this insightful interview with MMI's Editor-in-Chief Soumi Mitra, talks on SKF India's unwavering growth strategy, the impact of the growing market of electric and connected vehicles on the company's auto business, its online store that offers automotive and industrial business products for retail and industrial buyers, and much more…
The pandemic and its subsequent lockdowns created unprecedented havoc in the manufacturing industry, impacting workforce capacity, disrupting supply chains, and creating liquidity crunches. Now that things are slowly getting back on track how do you look at the manufacturing sector in the next quarter of the financial year? What are the strategies resorted by SKF India to get its pre-COVID-19 growth in the near future?
Manish Bhatnagar: While we entered 2021 with a robust balance sheet, deep customer relationships, a strong brand, and strategically positioned business, the country had been severely impacted with the second wave of the pandemic. With the Government focusing on mass vaccination drives and supporting small businesses, we expect spending and activity levels to gain momentum through the rest of the year as the macro environment improves.
At SKF, the effects of the second wave of COVID-19 have not changed our strategy and we remain confident on the growth opportunities ahead. In line with our strategy, we will continue to focus on executing our strategies, sustaining operational efficiencies, maintaining customer centricity, and ensuring cost discipline leading to a strong financial performance and increased shareholder value.

Looking ahead, we see digitalization as an enabler to implement and deliver proactive solutions and position SKF strongly for the long-term growth. By designing unique solutions under our rotating equipment performance (REP) model, we aim to enable growth and innovation and meet the changing needs of customers. Through REP, we leverage our product and engineering expertise with our deep understanding of rotating equipment to provide a solution to the customer to maximize their machine uptime and increase reliability.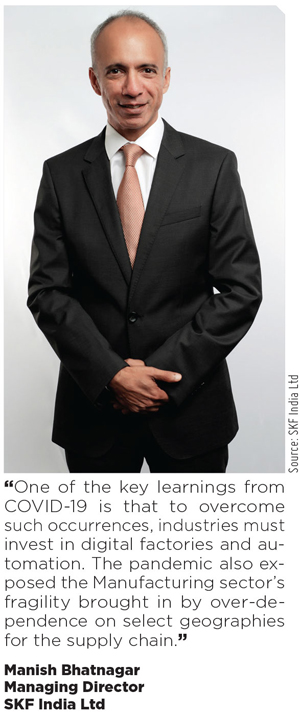 Coming to the Auto industry, there has been a significant slowdown in Commercial Vehicles (CVs). How has that impacted SKF India and when do you see the segment's recovery happening? Which are the other segments that you cater to that can backfill the CV lag?
Currently for our Automotive business, which accounts for 55 percent of the SKF India's total business, we are focused on gaining share. This is because, for us, Automotive is not just one sector. So, the agriculture linked products, like tractors, are doing very well for the last two-three quarters. A lot of buying is happening in the two-wheelers. When it comes to passenger vehicles (PVs), new models are being launched, which did not happen in 2020. Passenger vehicles are a very special category where demand and sales are dependent mainly on new model launches and we are seeing that a lot of models are being launched and the buying has started. The slowdown in the commercial vehicles segment began long before COVID-19 and nothing has changed. In summary, agriculture is doing well, passenger vehicles should do well hereafter and two-wheelers will continue to do well.

The agriculture linked products, like tractors, are doing very well for the last two-three quarters. A lot of buying is happening in the two-wheelers. New models are being launched in passenger vehicles, which did not happen in 2020.


The popularity of EVs is again picking up. How do you plan to cater to the segment?

Electrification is a strong trend in the Automotive industry driven by battery technology development and the multiple benefits that electric vehicles can bring to societies, for example, energy security, improved urban air quality, and noise mitigation. The growing market of electric and connected vehicles will positively impact our automotive business as the bearings play an important role in their applications. At SKF, we are investing in new technological developments and adapting or redesigning conventional bearings. Overall, we have a portfolio of innovative solutions that enable a robust and efficient E-powertrain drive. Many leading OEMs in Asia, Europe and North America alike are trusting SKF bearings and solutions as part of their electric drivetrain design.
SKF hybrid Deep Groove Ball Bearings (DGBB), for example, use ceramic rolling elements and steel rings. Bearings of this type offer improved high-speed performance and best-in-class electrical insulation characteristics, making them the premium choice for high performance EV powertrains. In addition, SKF is also developing application specific solutions to mitigate risk of current leakage at system level and to protect the entire EV transmission.
SKF India has come up with its Online Store, which understandably is in keeping with the current times. How has the response been so far since the practice of ordering automotive parts online is new in India?
As COVID-19 and the related changes in business and customer buying patterns have accelerated the need for digital transformation, we have launched emarketplace - an online store offering Automotive and Industrial business products for retail and industrial buyers.
The 24x7 online store aims to provide direct access to genuine SKF products ranging from Bearings and Bearing Units, Housing and Accessories, Greases, and other maintenance products, for both Industrial and Automotive segments. All the process industries, MSMEs, traders, retailers, automotive aftermarket retailers, mechanics and fleet owners will benefit from this wide range of products and solutions.
Currently, we are enabling infrastructure - warehousing and last-mile delivery, to enable our customers, be it our channel partners or end users, to connect with us through the digital medium and order directly on the internet. So far, the demand has been fantastic. In total, we have over 1,000 product offerings, delivering to 50 percent of total pin codes pan India.

The Manufacturing industry, having learned lessons from the first wave of the pandemic, was better equipped to deal with the crisis in the second wave. We are keen to know SKF India's learnings from it and the most important of all.
The Manufacturing sector is the backbone of any nation's GDP and over the years, the sector has created an endless number of opportunities for all stakeholders. However, the sector was hit hard by the outbreak and the unexpected lockdowns. One of the key learnings is that to overcome such occurrences, industries must invest in digital factories and automation. The pandemic also exposed the Manufacturing sector's fragility brought in by over-dependence on select geographies for the supply chain. It is imperative for industries to reconfigure their sourcing and manufacturing footprints and further capitalize on India's advantages in raw materials, skills, and entrepreneurship to build an ecosystem that supports a multi-tiered industry ready to take on global manufacturing.
Do you think that our Indian machine tool manufacturers have the bandwidth to match the efficiency of international machines?
The Indian Machine Tool industry is key to the Government's flagship 'Make in India' and 'Skill India' initiatives and is growing at a steady pace with its continuous support. As Industry 4.0 continues to impact the Manufacturing sector, it is imperative for the manufacturers to constantly transform themselves and reinvent business models to stay one step ahead. The industry, in general, needs to adopt digitalization and Industry 4.0 as well as focus on better resource allocation, redefined work processes, and strategic investment interventions, to meet increasing customer requirement for improved productivity, reduced cycle time and greater efficiency.
The COVID-19 pandemic has accelerated the longstanding trend toward manufacturing automation. Is the Machine Tool industry in India Industry 4.0 ready?
India's Machine Tools industry is a strategic pillar of the Manufacturing industry and is expected to play a key role in accelerating Industry 4.0 adoption. This will also help in achieving the ambitious target of making India a global hub for manufacturing, design, and innovation, and augmenting the share of manufacturing in the country's GDP.
Currently, India's Machine Tools industry is at a nascent stage of adopting manufacturing automation. As the demand for high-tech and efficient machines in the industry rises, the industry will have to make digitalization of the production process an indispensable part of business.
SKF has taken a lead in digital development, driving Industry 4.0 under the term 'smartifying industry'. The fastest-growing connectivity is in manufacturing, which represents almost one-third of the total value of Industry 4.0. SKF is smartifying the industry to utilize these opportunities. The gradual smartifying has brought an entirely new way of working that has a big effect on customer relations.

Currently, India's Machine Tools industry is at a nascent stage of adopting manufacturing automation. As the demand for high-tech and efficient machines in the industry rises, the industry will have to make digitalization of the production process an indispensable part of business.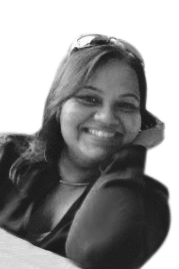 SOUMI MITRA
Editor-in-Chief
Modern Manufacturing India
soumi.mitra@magicwandmedia.in