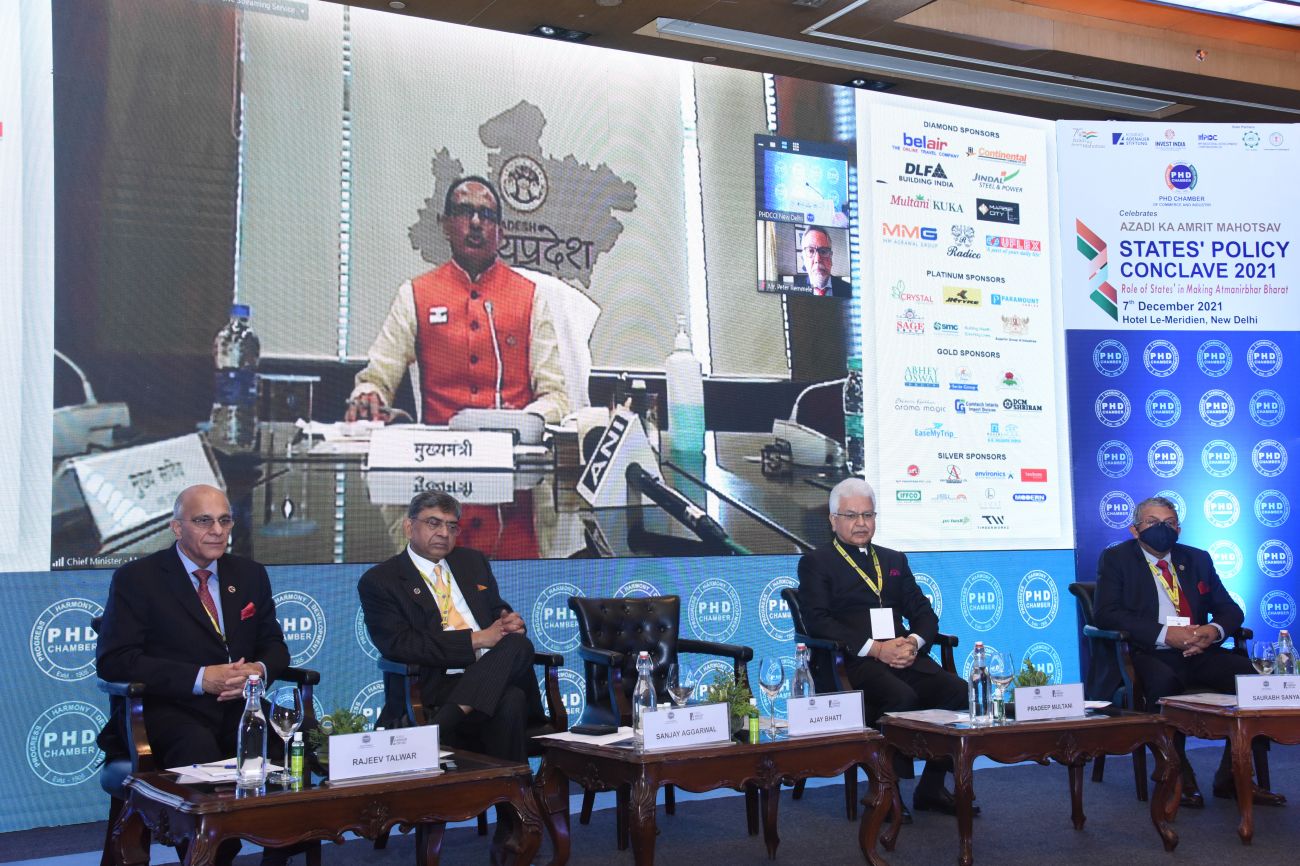 New Delhi, India – Transacting with states has become easier as a result of ease of doing business measures implemented by individual states, according to the Hon'ble Minister of State for Defence and Tourism, Government of India, Ajay Bhatt, Chief Guest at the State Policy Conclave 2021- 'Role of states in making Aatmanirbhar Bharat' organized by the apex industry body, PHD Chamber of Commerce and Industry (PHDCCI). He stated that various bottlenecks in the defence sector have been eliminated, attracting investors from various countries, and that if the private sector can manufacture high-quality products, the government will buy them. He went on to say that by opening up the sector, the government had achieved complete transparency.
Bhatt revealed that once an investor expresses interest, the government will ensure that all necessary follow-ups are carried out. The central government is setting up two defence corridors in Uttar Pradesh and Tamil Nadu, and approximately 200 defence products that were previously imported from other countries are now reserved for Indian manufacturers. This step would provide a significant boost to local industries. He also informed that the country is currently exporting defence products to around 75 countries.
Speaking at the conference virtually, Shivraj Singh Chouhan, Hon'ble Chief Minister of Madhya Pradesh, stated that India was able to turn the COVID-19 crisis into opportunities for growing its business and expanding its local brands on a global scale. He revealed that Madhya Pradesh had already created the road map for becoming self-reliant as soon as the Hon'ble Prime Minister, Shri Narendra Modi, set the goal of becoming Aatmanirbhar in the year 2019. Madhya Pradesh has implemented several policy changes in the last two years to boost local businesses, with a focus on infrastructure, good governance, health, education, and connectivity. According to Chouhan, unless states become self- sufficient themselves first, it will be extremely difficult for the nation to become one.
In explaining the Udyam Kranti Yojana, Chouhan stated that while the state has taken steps to attract large companies, they have also taken initiatives to make the business ecosystem more conducive to micro, small, and medium-sized businesses. Madhya Pradesh is quickly becoming a hub for several industries, such as pharma and garments, and the state has seen growth in several segments over the last two years. He stated that industrial growth in the state has increased by nearly 49 percent, land allotment has increased by 33 percent, investment in the state has increased by 67 percent, and employment opportunities have increased by 39 percent.
The state government is emphasizing initiatives such as 'Ek Zilla, Ek Utpad', through which opportunities are created for districts that are popular for specific products by increasing investments in those districts, thereby increasing entrepreneurship and job opportunities. The Hon'ble Chief Minister of Madhya Pradesh also shared that the state produces approximately 2 lakh crore litres of ethanol each year and has an ethanol policy in place. The MP government has also launched an initiative that allows anyone to start their own business in 30 days. Chouhan stated that they have ensured a single-window clearance for all approvals and have established timelines for this.
Bhupesh Baghel, Hon'ble Chief Minister of Chhattisgarh, stated that for any society to become self-sufficient, the government must take steps to develop its rural economy. He mentioned that Mahatma Gandhi advocated the same, and that is exactly what Chhattisgarh is doing. The Chhattisgarh government has previously taken several measures under the Gram Swaraj Yojana to boost village-level businesses. These initiatives bore fruit, and the government was able to create a large number of job opportunities, with around 80,000 women getting jobs. Baghel explained that the government is also working on projects to generate power from animal manure and manufacture traditional paints, which would provide jobs for many farmers. He stated that a large amount of forest produce from Chhattisgarh is now being sold online. Baghel revealed that the government purchased 90,000 lakh metric tons of agri-produce last year and that the target for this year has been increased to 1 crore five lakh tons.
Sanjay Kumar Jha, Hon'ble Minister of WRD & IPRD, Government of Bihar, indicated that the state government's prudent planning has resulted in a double-digit growth rate. He stated that the state has 24-hour power, transparent governance, and has improved its ease of doing business rankings. He explained that when the government came into power in 2005-06, the state budget was INR 23,885 crores, which has now been increased to INR 2,11,761 crore for the fiscal year 2020-21, and the budget for the next financial year would be around INR 2,18,303 crore.
The state has the highest industrial growth rate in the country, with a per capita income of around INR 43,822 now, up from around INR 7900 in 2005. Jha went on to say that the state has 95 percent pukka or permanent roads leading to national highways, which is one of the government's other accomplishments. The state has 100 percent electrification, and the state government has been focusing on increasing their green cover, which has increased from 9 percent to 17 percent in the last 16 years. He also informed that the state is one of the top four states in terms of providing clean drinking water to its people, and that the government spends approximately INR 35,000 crore on education across all 38 districts.
Dr Amar Patnaik, Hon'ble MP- Rajya Sabha, & Member, Parliamentary Standing Committee on Finance, stated that Odisha has achieved leadership in several areas, including women empowerment and disaster management. He also stated that, as a result of the government's efforts over the last 21 years, the state has one of the lowest crime rates in the country. He informed that the government has increased its focus on six sectors, like infrastructure and ports, by enacting policy changes.
Dr Badri Narayan Gopalkrishnan, Head-Trade & Commerce, Niti Aayog stated that today's products and services are not only made for India, but also for the rest of the world, thanks to government initiatives. He stressed that Niti Aayog is working on a variety of policies to boost exports and ensure free trade agreements with many countries. He also emphasized the importance of lowering barriers that will aid in reducing the cost of intermediate inputs based on tariff reductions.
Pradeep Multani, President, PHDCCI, mentioned that while working for inclusive economic growth, there is also a need to consider sustainability. He believes that we should reimagine the world as a better place to live in. Multani informed that PHDCCI's Rural Development Foundation (RDF) and Family Welfare Foundation (FWF) will continue to work to improve the world through grassroots activities. He stated that as a forward-looking Industry Chamber, PHDCCI welcomes consultations and collaborations in order to build a robust and prosperous ecosystem for the country, organization, members, and their officials.
Peter Rimmele, Resident Representative to India, Konrad Adenaeur Stiftung's (KAS), Germany, stated that in the midst of every crisis lies great opportunity. He said that the need to break down monopolies and strengthen the supply chain is critical at this time.
Rajeev Talwar, Former President, PHDCCI, indicated that the policies of all the states in the country would be instrumental in making the country self-reliant or Aatma Nirbhar Bharat. He implied that all of us are living on the path laid by the Hon'ble Prime Minister of the country, Shri Narendra Modi, on August 15, 2019.
According to Talwar, everyone, regardless of trade or business, is working toward the goal of becoming a $5 trillion economy. He stated that India is located next to a new superpower that has attained the status of a US$ 15-20 trillion dollar economy with a per capita income of US$ 10,000. India must look beyond its current US$ 5 trillion economy and strive to become a US$ 20 trillion economy by 2050. He went on to say that India must maintain its goal of becoming one of the top three superpowers, alongside the United States and China.
While giving the vote of thanks, Sanjay Aggarwal, Immediate Past President, PHDCCI, assured the dignitaries that the apex chamber would continue to support the government in its goal of making India a US$ 5 trillion economy. The vote of thanks was also proposed by Saket Dalmia, Senior Vice President, PHDCCI.
Image Source: PHDCCI