Biel/Bienne and Steffisburg, Switzerland – MPS Micro Precision Systems AG (MPS) uses grinding processes for demanding high-precision components in IT02 tolerance ranges on a global scale. With a total of seven Studer grinding machines, the company has unrivaled cylindrical grinding expertise. Medium-sized series are also produced flexibly in unmanned processes 24 hours a day, seven days a week, thanks to automation and process optimization. A flexible production cell allows future projects and prototypes to be brought to market more quickly.
MPS, which employs over 400 people, is a special kind of 'Hidden Champion'. RMB (Roulements Miniatures Bienne SA), from which MPS originated, developed components for the Apollo Mission in 1969. Biel is the MPS Group's largest site, with 250 employees and more than 140 turning, milling, grinding, polishing, and eroding machines. "We have a very varied range of technology," says Manuel Nercide, Plant Manager, MPS Micro Precision Systems AG. "If you want to reduce it to a common denominator, then it's the manufacture and assembly of complex electromechanical assemblies within the tightest tolerances for high-precision applications in high-end segments."
Consistent grinding machine investments
With seven Studer grinding machines, the company currently has a high grinding capacity for producing high-precision components, highlights Michael Bazzan, Production Manager, MPS Micro Precision Systems AG. "The grinding machines are matched to our varying lot size spectrum, which ranges from individual component production up to 25,000 pieces per year for some references."
Three of the seven Studer machines are currently equipped with an automatic loading system, in accordance with the lot size spectrum. The following focuses on the Studer S33 for the production of recirculating ball screws and the Studer S21 for the production of a flexible production cell (Flex Cell).
Flexible production cell for prototype manufacture
Didier Noirjean, Manager, Flex Cell, said, "The Flex Cell was recently integrated into cylindrical grinding production as a self-sufficient production unit, in order to set up grinding processes for prototypes and new developments without having to intervene in production. Thanks to this flexible production cell, our process from development through to the finished component is much quicker. The decisive factor with the Studer S21 was that it can be changed over very quickly and it can be flexibly configured for different components. Eccentric grinding processes are also possible with the S21. In this regard, the Studer S21 is perfectly suited to our requirements."
While the Flex Cell primarily involves prototypes, the other six Studer machines are used to machine series parts. Recirculating ball screws with a high-precision design are among them.
Core competency recirculating ball screws
The ball diameter of the smallest recirculating ball screws is 0.8mm. MPS develops and manufactures all components in-house, including the balls. The larger screw spindle series with gothic-arch thread is produced on a fully automated Studer S33.
Ball-type linear drives for high-precision applications
"We are involved in research and development with these precision screw spindles," asserts Nercide. "The expertise developed by MPS Microsystems in the extremely gentle and precise positioning of lens groups enables the company to offer powerful alignment systems for optical components such as zoom and laser beam focusing systems."
Systems tailored to the needs of the customer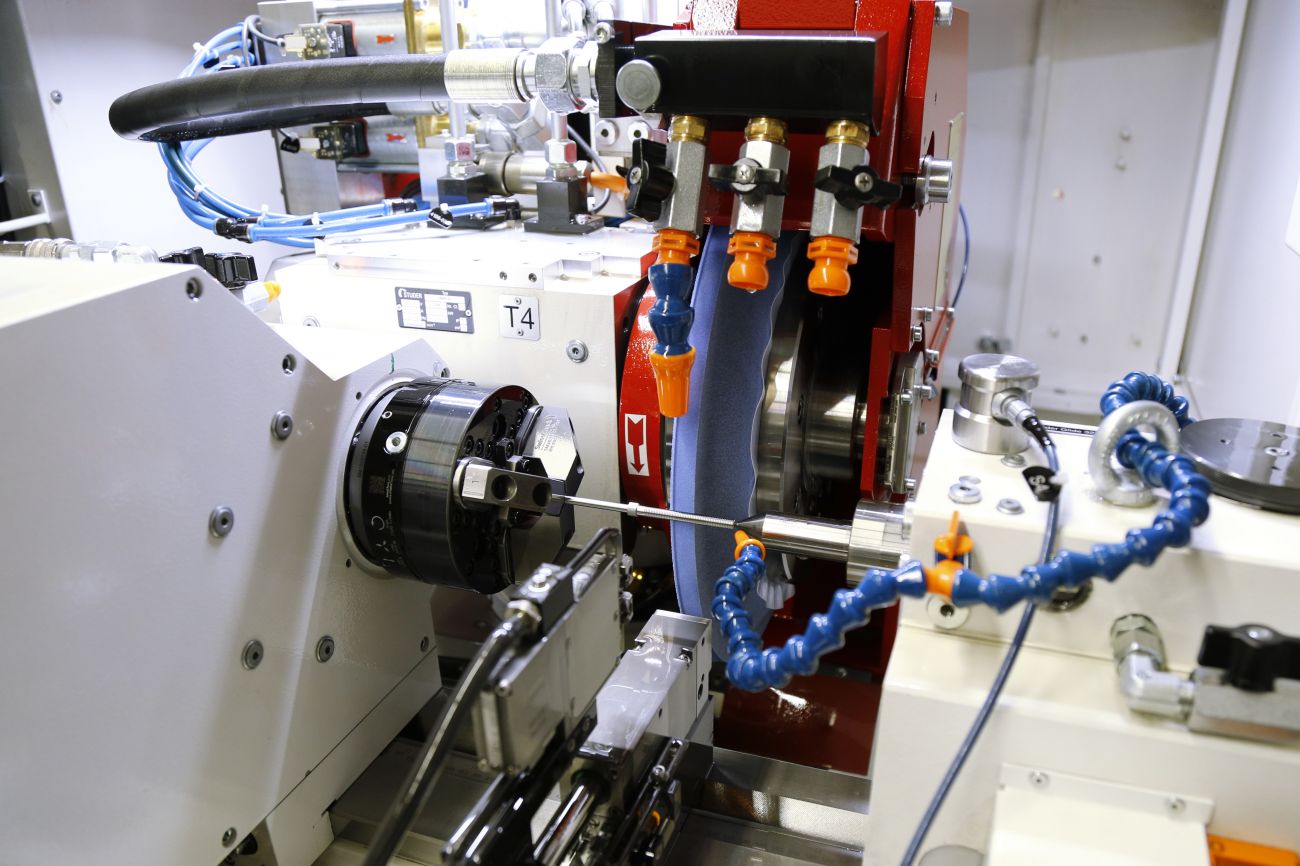 MPS Microsystems miniature recirculating ball screws, also known as ball-type spindles, are made exclusively of stainless steel and are equipped with double nuts that allow for fine axial play adjustment. These frequently customized spindles ensure virtually smooth movement thanks to the high precision of their ground thread. Concerning customized production: There are numerous customized options available for recirculating ball screws.
"Such applications require the highest precision and positioning accuracy – 100 percent backlash-free," comments J Grosjean, Screw Grinding Manager, MPS Micro Precision Systems AG. "Such applications require the highest precision and positioning accuracy – 100% backlash-free. And it is precisely here that our spindle systems show their strengths. We grind a so-called gothic-arch thread profile within the tightest tolerance ranges, so that we can reduce the radial clearance and backlash to zero."
Gothic-arch thread: grinding from solid
The gothic-arch thread form is ground directly from the solid hardened blanks. Together with Studer, a macro was developed for these gothic-arch thread forms. With this macro, the grinding parameters can be quickly adapted to the respective screw spindles.
"The Studer S33 used here is an external cylindrical grinding machine with a turret wheelhead," explains U Weyermann, Regional Sales Manager, Fritz Studer AG. "Specifically, the wheelhead used here has two external grinding wheels. One of the two wheels is used for thread profiling, while the second wheel is generally used for external cylindrical grinding."
Handling system for unmanned production
In order to produce the medium-sized series cost-effectively, the Humard company collaborated with MPS and Studer to develop a flexible handling system for automatic loading and unloading of workpieces. Bazzan added, "A crucial factor in the design of the handling system is that it can be quickly adapted to different workpiece geometries, because our lot sizes are variable."
Typical thread grinding process
A screw spindle 8 mm in diameter and 120 mm in length can be machined in less than a quarter of an hour using the Studer S33. With the same grinding wheel, the thread is roughed out and finished. Throughout the grinding process, the grinding wheel is dressed repeatedly in the micron range. With a single grinding wheel, over 1000 screw spindles of this size can be ground.
The dressing process with a number of tasks
The grinding wheel dressing process is critical during the grinding process. The dimension and form of the grinding wheel are calibrated on the one hand, and the cutting ability of the grinding wheel is defined on the other. Grosjean elaborates, "In the case of screw spindles, we typically need to dress repeatedly during each production process. Both a diamond and a dressing roll are used for dressing. You can define the roughness of the grinding wheel relatively specifically with the dressing roll, and thus control the grinding process and the surface quality. We have carried out many tests in this regard, until finding the ideal dressing method for the roughing and finishing processes."
To this, Weyermann added, "If you consider the complexity of a grinding process and the dimensions of the machines—keyword thermal growth—then producing within IT02 tolerances in unmanned operation is hardly a matter of course. All seven Studer machines deliver exactly the precision and process reliability demanded by MPS on a daily basis. 24/7 production with the IT-02 tolerance ranges that we require is ultimately only possible thanks to the extremely high repeatability precision of our Studer grinding machines."
Investments reduce production costs
Taking a comparative look at the past, Nercide concludes, "Seven years ago we made between 2000 and a maximum of 5000 spindles, today we produce 50000 spindles a year. We have continually reduced our production costs, not least thanks to investing in modern grinding machines. Seven years ago, our production was four times as expensive. From this perspective, investments in modern production equipment are crucial for ensuring long-term viability. Ultimately, our production must satisfy the qualitative and quantitative requirements of our product range. We are perfectly positioned in the cylindrical grinding segment in this regard, not least because of our continued investments."
Image Source: Fritz Studer AG