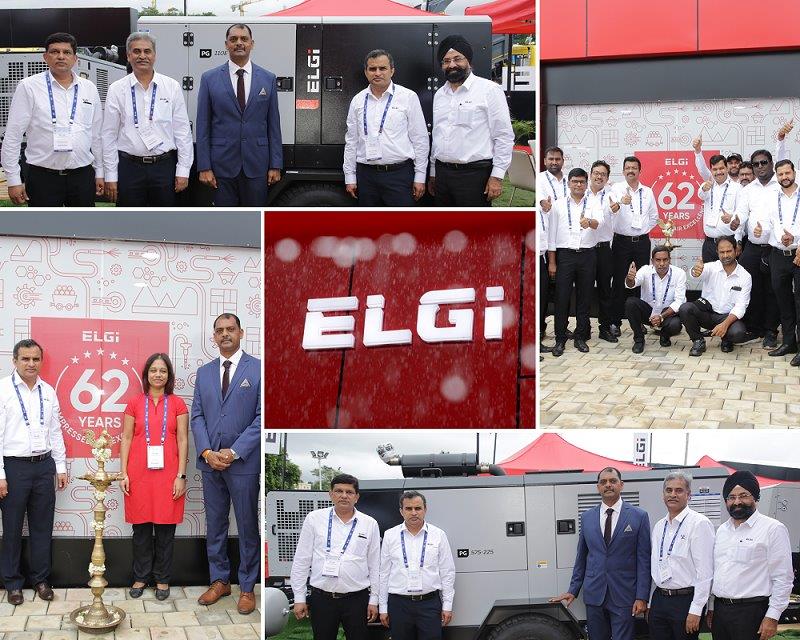 Bengaluru, India – Elgi Equipments debuted its high-performance, energy-efficient, and reliable electric and diesel portable air compressors at the recently held EXCON 2022. The electric-powered PG 110E -13.5, and the diesel-powered PG 575 – 225 machines were launched at the event.
Electric-powered portable air compressors from the company are powered by IE3 motors integrated with proprietary η-V profile airends, providing high productivity and reliability for drilling operations. For added security, these compressors include a reverse direction switch (RDS) and a single-phase preventer. The highly efficient three-stage filtration system makes these portable compressors suitable for operations in dusty environments, delivering unrivaled performance under the most demanding site conditions. Increased operational life, low operating and maintenance costs, and best-in-industry service support are just a few of the factors that have led to ELGi's portable compressors being used extensively in a variety of applications for over four decades, including construction, blue metal quarries, coal mining, iron ore mining, granite mining, marble mining, sandstone mining, sandblasting, shotcrete, pigging, and so on.
Delighted with the launch of portable air compressors and highlighting its offering, Rajesh Premchandran, Director, ISAAME (India, South Asia, Africa, and the Middle East), Elgi Equipments, said that according to recent industry reports, the infrastructure sector in India is estimated to grow at a CAGR of approximately 7 percent in the next five years. The Government plans to invest about INR 102 lakh crore in infrastructure projects by 2024-25. The company is excited and well poised to address the opportunity.
Image Source: Elgi Equipments Ltd