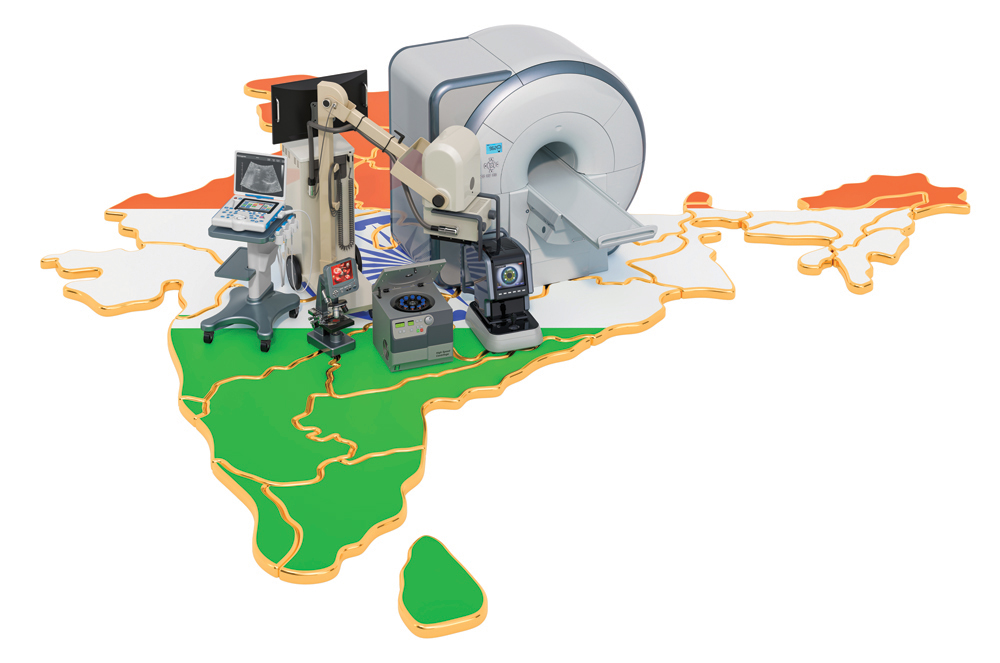 The Indian machine tool industry has been supporting the medical sector by developing the required machinery and equipment. The upcoming IMTEX 2023 is to bring forth the advancements in the sector and the potential it holds for the machine tool industry.
The COVID-19 pandemic, critical illnesses like cancer, the growing demand for home monitoring medical devices and instruments for high-end surgeries, etc., is leading to heightened demands from the medical devices industry for sophisticated medical equipment. Globally, as well as in India, technological advancements and the Internet of Medical Things (IoMT) are modernizing the healthcare segment, leading to a surge in demand for products and services from the Machine Tool industry. The contribution of the Indian Medical sector came to the fore during the pandemic, with many firms manufacturing medical devices and diagnostic kits. The industry, however, needs to keep itself on top in terms of accessibility, affordability, safety, and quality, besides keeping itself self-sustainable and innovative.

Size of the medical devices market

According to a report by Astute Analytica, the global medical devices market is expected to cross US$625 billion by 2027. The Indian medical devices market was valued at around US$10 billion in 2020 and is expected to reach around US$50 billion by 2025, according to the Government of India estimates. In terms of the market size, India ranks among the top 20 markets in the world for medical devices, and the country is the 4th largest in Asia, ranking just below Japan, China, and South Korea. The sector has been growing consistently at a CAGR of around 15 percent in recent years.

Investments and imports

As per the Government of India's estimates, there are around 750-800 domestic medical device manufacturers in India, with an average investment of US$2.3-2.7 million and an average turnover of US$6.2-6.9 million. Around 65 percent of the manufacturers are domestic players operating in consumable segments meeting domestic needs.

India imports high-end medical equipment; more than 75 percent of the medical devices used for diagnostic and testing are imported from the US (21%), Germany (14%) Singapore (11%), and China (10%).

Government initiatives

The Government of India has identified the Medical Devices industry as one of the champion sectors and, through PLI schemes, is providing incentives for select critical care categories such as cancer care/radiotherapy, cardio-respiratory, renal care, and all implants. It has also allowed 100 percent foreign direct investments (FDI) to boost the sector.

To support the domestic manufacturing of medical devices in India, the Ministry of Chemicals and Fertilizers has launched a scheme for 'Promotion of Medical Devices Parks' with an outlay of `400 crore. As per the Ministry, the scheme aims to significantly reduce manufacturing costs, optimize resources, and provide easy access to standard testing and infrastructure facilities.

Buoyed by the announcement of the scheme, Himachal Pradesh, Tamil Nadu, Madhya Pradesh, and Uttar Pradesh have given green signals to set up medical device parks. Medical device parks are also coming up in Andhra Pradesh, Telangana, Tamil Nadu, and Kerala, all of which are under various stages of development.

IMTEX 2023 will be a significant opportunity for the medical equipment manufacturers to network with the global machine tool fraternity, and experience and procure the technologies for their manufacturing requirements.



Role of machine tool industry

The Indian Machine Tool industry has been supporting the Medical sector by developing the required machinery and equipment. High-precision turning and milling machines, laser-based cutting, welding and ablation machines, micro-machining centers, surface engineering technologies, super finishing machines, lapping machines, and abrasive flow finishing machines are used for making medical parts. Special Purpose Machines (SPMs) for medium- to large-sized parts required for medical devices are all manufactured by the Machine Tool industry.

As we understand, Bharat Electronics Ltd (BEL) is manufacturing ICU ventilators in partnership with Skanray Technologies with design support from Defence Research and Development Organisation (DRDO). This is a unique example of the public and private sectors coming together for manufacturing. When such equipment is manufactured indigenously, it carries distinct advantages, which are primarily cost-focused benefits. Such advancements are certainly game changers for the Medical Devices industry in India.

IMTEX propelling medical devices sector

IMTEX is one of the largest exhibitions in the world showcasing advancements in machine tools manufacturing. The exhibition is a platform for various stakeholders to witness technologies in a live format and arrive at the right decisions. Indian Machine Tool Manufacturers' Association (IMTMA) is organizing IMTEX along with Tooltech and Digital Manufacturing on January 19-25, 2023, at Bangalore International Exhibition Centre (BIEC). The exhibition will be a significant opportunity for the medical equipment manufacturers to network with the global machine tool fraternity, and experience and procure the technologies for their manufacturing requirements.
Source: IMTMA