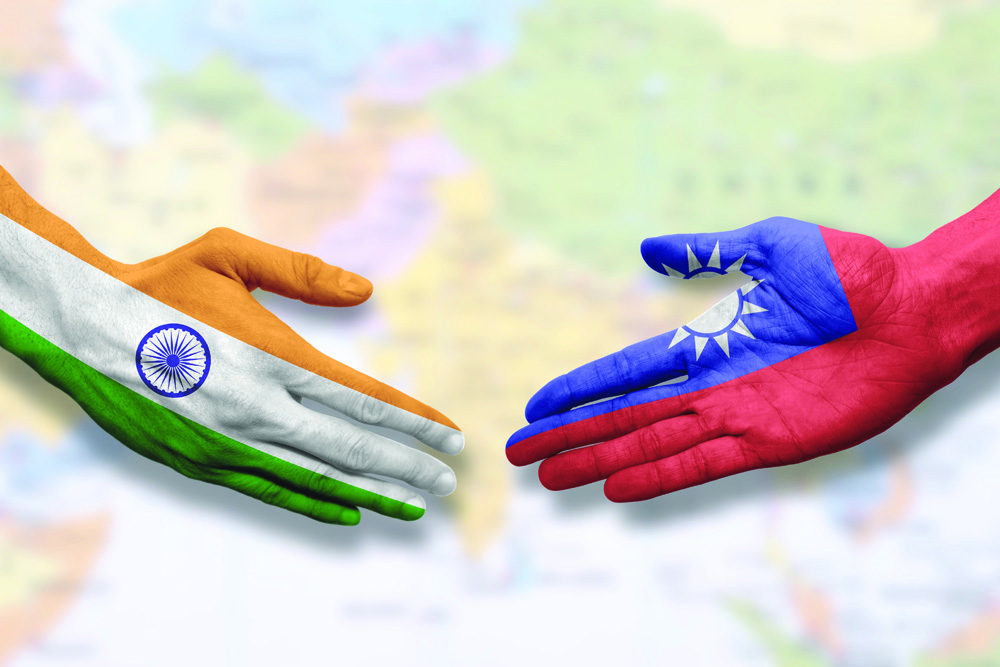 India-Taiwan relations have been developing for some time, and now that bilateral trade has reached new highs, both countries are expanding their collaboration to achieve a common goal: growth.
India and Taiwan have established a robust economic relationship, and talks to sign a Free Trade Agreement are currently underway, likely strengthening the countries' steadily improving relations.

Taiwan has the world's greatest concentration of machine tool manufacturing due to its complex machinery and machine tools ecosystem. COVID-19 has raised global demand for less labor-intensive manufacturing processes, boosting Taiwan's smart manufacturing technology, which can assist companies adopt smart manufacturing and Industry 4.0.

Some of the leading Taiwanese Machine Tool companies share insights about their key interest areas in the Indian market, their offerings, and plans going ahead.

Honor Seiki Co, Ltd

Founded in 1987, Honor Seiki is a leading machine tool provider in Taiwan and globally, with international quality certificates and a solid reputation in CNC Vertical Lathe and Turnkey solutions.

When quality matters

"Thirty of our 200 employees are in R&D, which helps us have the edge over the competitors," says Joseph Chen, Vice President, Honor Seiki. "Our efficiency, precision, and quality are easily as good as similar models made by Italian competitors, but with a far better price-performance ratio."

He elaborates, "Not only spindles, but also over 95 percent of critical components are self-designed, self-manufactured, and self-inspected. The comprehensive know-how, developed and completed in-house, ensures a precise and reliable quality. Our quality system is in compliance with international quality standards and is certified by ISO."

Focusing EV & aerospace sector

Aerospace is one of the company's primary focus industries, and Chen explains, "We need to develop technology for future industry trends like lean manufacturing, intelligent 4.0, and carbon-neutral. Our vision is to be the most innovative and leading vertical lathe solution provider in the entire global markets."

"We are proud to say we are ready," he adds, talking about the prospects in the Indian auto market, particularly in the Electric Vehicle (EV) segment. "The EV market is a booming market. Lightweight workpieces and new materials are Honor capabilities that can help customers speed up their production and improve cycle time for better performance."

The company is a part of TTG Group and has extensive experience in the Automotive industry. Elaborating on its offerings, Chen says, "Through TTG Group, we provide comprehensive total solutions for the Automotive industry. For example, Alloy Wheels systems-Tongtai, Braking systems-Honor, Battery Pocket-PCI/ANGER, and Mold of bumpers/Large automotive components-APEC."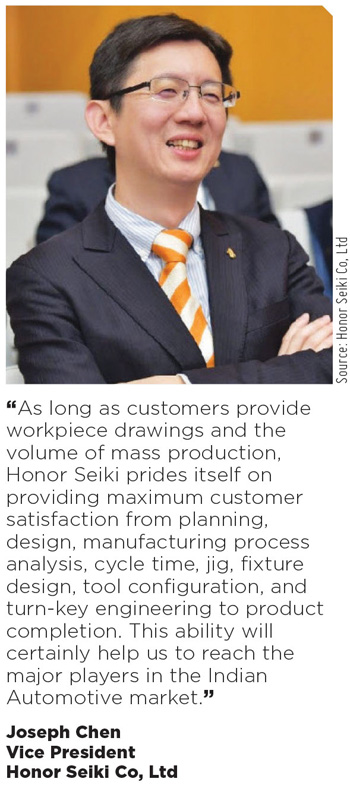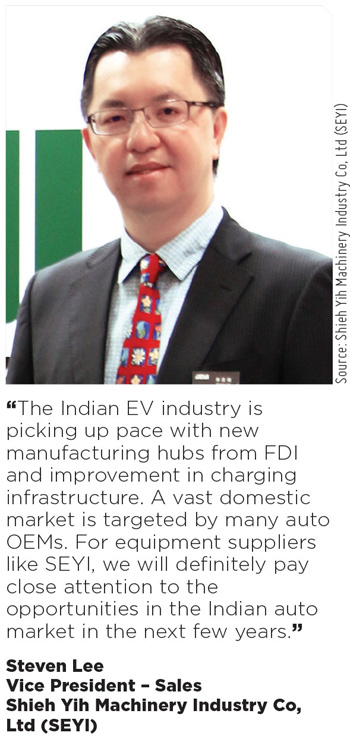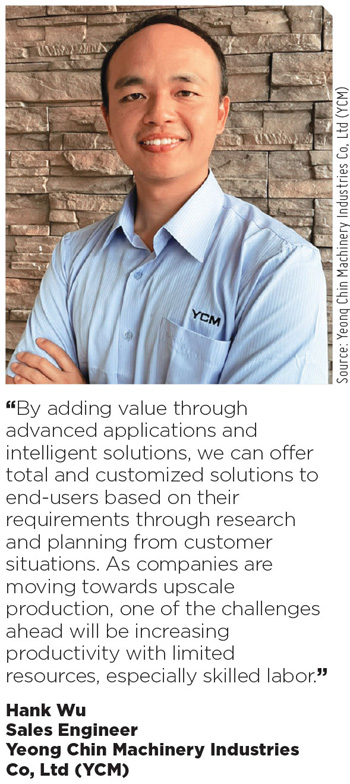 Global and Indian footprint

It has a worldwide sales network presence in advanced countries such as Germany, France, Italy, US, UK, and Czech Republic. China, Russia, Central and South America, India, and the Asia-Pacific region are now its priority markets. Some of its major international customers include Metso, Thyssenkrupp, and Winhere.

Intelmac Machine Tools Pvt Ltd and Phillips Machine Tools India Pvt Ltd represent the company in India, and its customers include AMTEK, Rothe Erde India, and Timken Engineering Research India.

Shieh Yih Machinery Industry Co, Ltd (SEYI)

SEYI is a global leader in middle and large servo presses with over 60 years of experience. Automobile applications account for more than half of total sales revenue, followed by consumer electronics, household appliances, and other fields. Moreover, the company is being acknowledged by an increasing number of OEMs and Tier 1 and Tier 2 auto suppliers.

Staying afloat

Steven Lee, Vice President – Sales, SEYI, states that the impact of COVID-19 beginning in 2020, resulting in lower demand, supply chain disruption, and factory shutdowns in the Auto industry, has drastically reduced demand for metal stamping in the industry.

"Luckily, the stamping market still has some other applications to support its foundation and will not shrink too much. Consumer electronics, home appliances, cloud computing, and healthcare industries may help to sustain the market," adds Lee.

Honor Seiki is represented in India by Intelmac Machine Tools Pvt Ltd and Phillips Machine Tools India Pvt Ltd, and its customers include AMTEK, Rothe Erde India, and Timken Engineering Research India.



Expanding reach

The company exports mid-and large-tonnage presses to the US and China, and mid-and small-tonnage presses to Southeast Asia and India for automotive applications.

"We can say that this relates to the division of labor in the global automotive supply chain," claims Lee. "Large metal parts, such as body shells and frames, are produced close to the assembly plants, while smaller auto parts such as filters or brake disks are produced in Southeast Asia."

The company's customers include Maruti Suzuki and Tier 1 automotive suppliers. Its agents in India are AY Enterprises for Chennai, Tamil Nadu; Sakar Engineers for Mumbai, Maharashtra, and Gujarat; and Goodwill Imex for Bangalore, Karnataka, and Delhi.
Reducing carbon footprint

Compared to traditional presses, SEYI's servo presses use a direct-drive design without flywheels and a deceleration mechanic, thus reaching better accuracy and energy efficiency. "Unnecessary press movement can be eliminated, the production output can be doubled, and up to 50 percent of electrical power consumption can be saved," says Lee.

SEYI's servo presses do not require water cooling systems to sustain servo motor performance because the motor design is based on the concept of high efficiency. "Only a fan-cooled system is sufficient, leading to a more energy-efficient, space-saving, and economical choice for metal stampers," he adds. "Meanwhile, the noise value of a SEYI's servo press is reduced by 30 percent compared with a traditional mechanical press." In addition, SEYI's Smart Press Solution deploys small but accurate sensors to monitor machine status in real-time, reducing unexpected downtime.

The company's customers include Maruti Suzuki and Tier 1 automotive suppliers. Its agents in India are AY Enterprises for Chennai, Tamil Nadu; Sakar Engineers for Mumbai, Maharashtra, and Gujarat; and Goodwill Imex for Bangalore, Karnataka, and Delhi.



Strategies for the Indian market

SEYI has been in the Indian market for a very long time. "Last year, we had an excellent performance in India, thanks to the economic recovery in the post-pandemic era. SEYI will continue to work with our local partners and directly communicate with the end customers for detailed product promotion," Lee confirms.

He adds, "Again, we think the challenges faced by EV-related suppliers in other countries will be the same as those of Indian suppliers. We can use our experiences based on past success cases and share them with the local customers. This can eliminate their concerns when implementing a new technology such as servo presses."
Yeong Chin Machinery Industries Co, Ltd (YCM)

Founded in 1954, Yeong Chin Machinery Industries Co, Ltd (YCM) specializes in machine tool manufacturing. Its machine tools have been recognized worldwide for superior precision, outstanding rigidity, and exceptional reliability.
Smart manufacturing solutions

"With over 70 different product models and nearly 70 years of machine tool manufacturing experience, the company's YCMPS product model promises 'sustainable development', allowing YCM to become the best machine tool manufacturer in the world," says Hank Wu, Sales Engineer, YCM. "YCMPS, based on the Toyota Production System (TPS) and lean management concepts, is motivated to produce equipment from metal casting to machining, assembly, quality control, packaging, and all the way to shipping."

Following the COVID-19 pandemic, the company intends to provide innovative smart manufacturing solutions based on the rapid development of AI, Big Data, Cloud Computing, the Internet of Things (IoT), and 5G communication.

Smart machines and management

The company has introduced its own intelligent HMI iCube with an intuitive and user-friendly graphical design interface to add intelligent functionality to the standard features of Fanuc, Siemens, and Heidenhain controllers, providing customers with an enhanced and efficient operating experience.

"The smart functions are embedded in the software for YCM machines to allow machines to rough machine faster while providing improved profile accuracy during the finishing process," explains Wu. "YCM also provides value-added analysis of the machining process to optimize the machining parameters to achieve faster machining with better surface finish and tool life."
Intelligent, flexible manufacturing cell

Equipped with a robot, UV650-FlexCell offers automatic side loading and unloading from part storage to the machine. The advanced UV650 5-axis vertical machining center provides excellent cutting performance and high accuracy for simultaneous 5-axis applications with just one setup. Designed to reduce part handling, setup, and overall lead-time, it also improves part quality, precision, and surface finish of complex shapes and contours required for multiple industries such as job shop, medical, aerospace, and die & mold.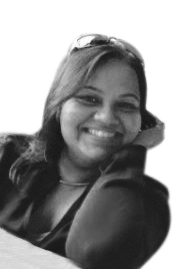 SOUMI MITRA
Editor-in-Chief
Modern Manufacturing India
soumi.mitra@magicwandmedia.in
Source: Magic Wand Media