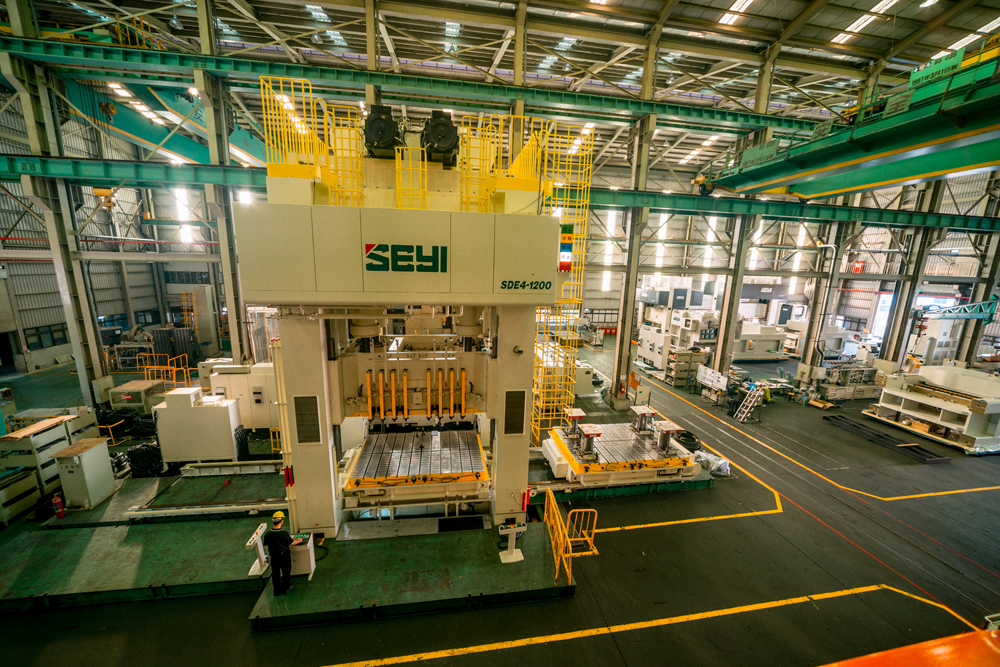 Increasing numbers of original equipment manufacturers (OEMs) and Tier 1 & Tier 2 auto suppliers are acknowledging Taiwan-based Shieh Yih Machinery Industry Co, Ltd (SEYI) as a global leader in middle and large servo presses. Steven Lee, Vice President-Sales, discusses the company's current challenges and opportunities in further expanding its foray into international markets, particularly in the Indian auto, EV, and OEM sectors.
SEYI is a leading brand of middle and large servo presses with a global presence and 60 years of experience. About 20 years ago, although SEYI faced rapid growth in revenue thanks to the fast development of the electronics industry, the company also saw the hidden risk behind it and started to reshape its customer structure. At that time, the company decided to enter the automotive industry. Now the automobile application accounts for over 50 percent of the total sales revenue. SEYI is recognized by more and more OEMs and Tier 1 & Tier 2 auto suppliers. Especially our focus product – Servo Presses, have been adopted by well-known automakers such as German OEM and the world-class US electrical carmaker.
However, the rapid pandemic COVID-19 spread worldwide starting in 2020, and this led to a significant drop in vehicle sales. SEYI adjusted to the current customer base quickly and looked for opportunities in the home appliances and consumer electronics industries. It was indeed a difficult time for SEYI, but fortunately, SEYI survived during this period.
Footprint in various industries

As mentioned above, more than 50 percent of SEYI's sales revenue comes from the automotive industry, followed by consumer electronics, home appliances, and other fields. However, the impact of COVID-19 from 2020, leading to lower demand, supply chain disruption, and factory shutdowns in the auto industry. As a result, the demand for metal stamping in the industry declined significantly.
Luckily, the stamping market still has some other applications to support its foundation and will not shrink too much. Consumer electronics, home appliances, cloud computing, and healthcare industries may help to sustain the market. In the post-COVID-19 era, people rely more on digital life and private living environments. The demand for personal devices has become another key driver during the pandemic. For example, the frame size of LED TV has become much bigger for a better entertainment experience. SEYI developed a new model to fulfill this demand, and in China, SEYI gained success in this market.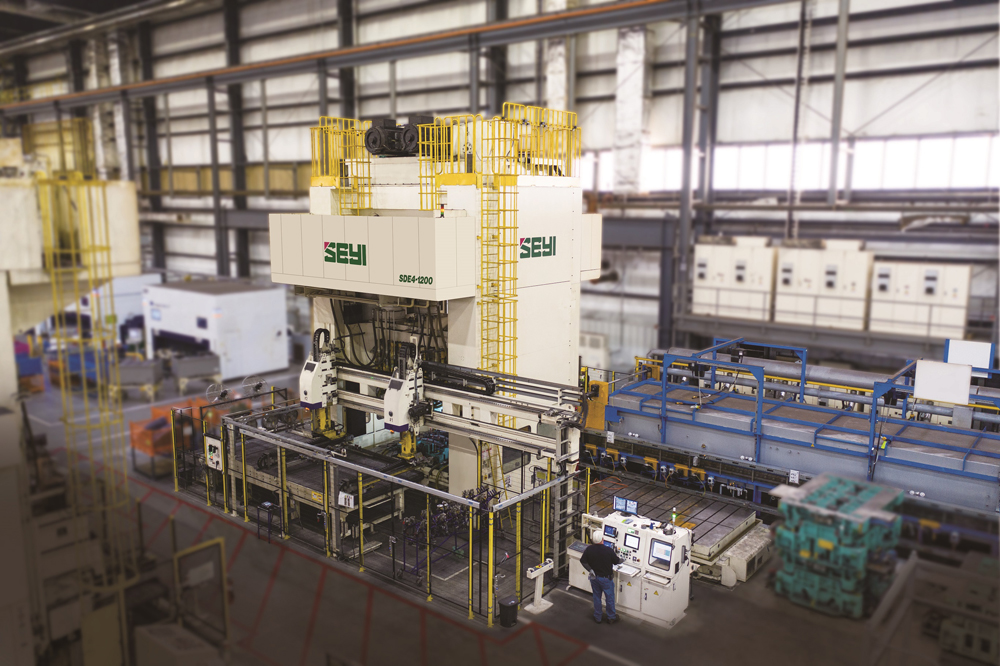 Hot Stamping with Servo Technology for EV's Lightweight Materials
Growing influence

USA, China, and Southeast Asia are the top three countries that SEYI exports its presses to. The majority of mid-and large-tonnage presses are exported to the United States and China for automotive applications. On the other hand, most mid-and small-tonnage presses are exported to Southeast Asia and India for automotive applications as well. We can say that this relates to the division of labor in the global automotive supply chain. Large metal parts, such as body shells and frames, are produced close to the assembly plants, while smaller auto parts such as filters or brake disks are produced in Southeast Asia.
Reducing carbon footprint

For metal stampers, stamping machines are the main source of electrical power consumption when talking about the carbon footprint. SEYI servo presses are designed based on the eco-friendly and high-efficiency concept. Compared to traditional presses, SEYI adopts a direct-drive design for its servo presses without flywheels and a deceleration mechanic. Thus, reaching better accuracy and energy efficiency for a press. Unnecessary press movement can be eliminated, the production output can be doubled, and up to 50 percent of electrical power consumption can be saved.
Since the motor design is based on the concept of high efficiency, SEYI's servo presses do not need water cooling systems to maintain the servo motor performance. This means no additional water-cooling equipment needs to be invested in and the related use of electrical power can be largely saved. Only a fan-cooled system is sufficient, and this leads to a more energy-efficient, space-saving, and economical choice for metal stampers. Meanwhile, the noise value of a SEYI's servo press is reduced by 30 percent compared with a traditional mechanical press.
This energy-saving characteristic will definitely benefit metal stampers in terms of a significant decrease in carbon footprint.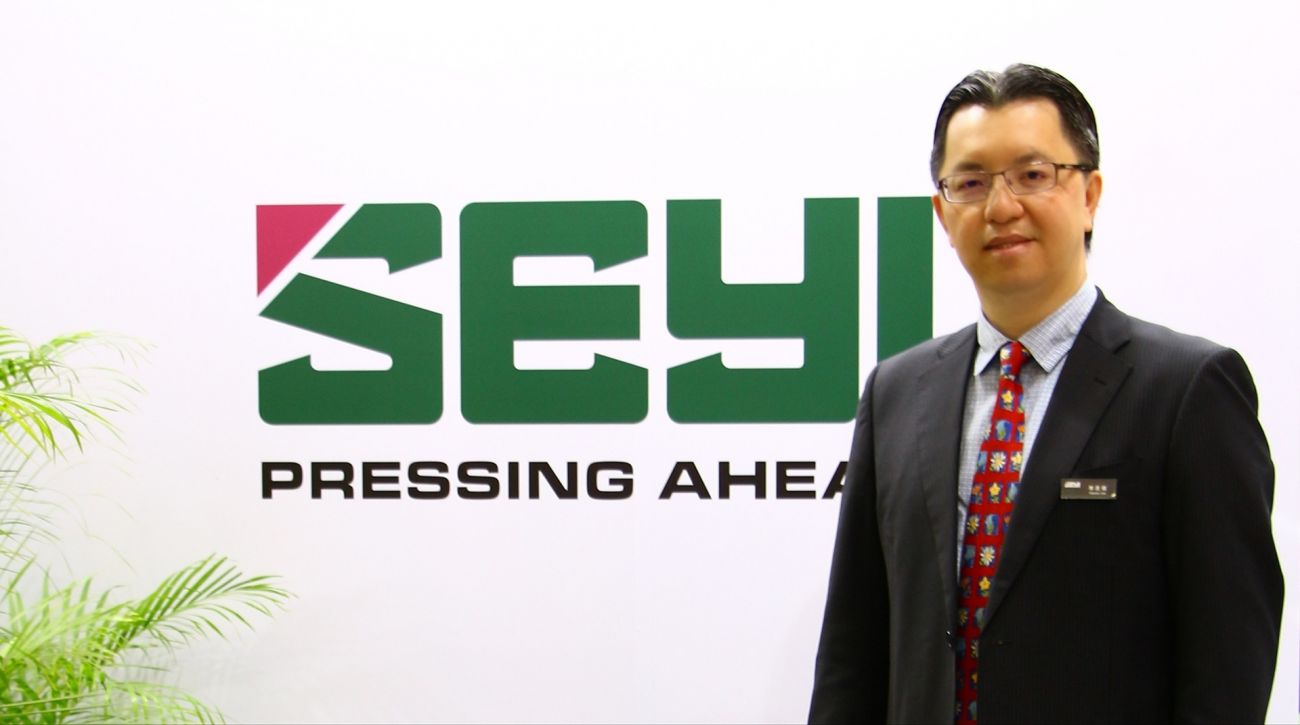 Steven Lee, Vice President-Sales, Shieh Yih Machinery Industry Co, Ltd (SEYI)
SEYI's Smart Press Solution

SEYI's Smart Press Solution deploys several necessary small but accurate sensors to monitor the machine's status on a real-time basis, such as tonnage monitoring, die protection, the status of motors, temperature, lubrication, and power consumption. Therefore, some predictable downtime can be noticed, and the system would alert the users.
Secondly, information visualization is one main focus of this system. It allows the management team to catch up with the real-time production status. The actual production quantity of each press machine and each stamping line can be clearly compared with the planned quantity, easily knowing if the productivity has increased or not.
SEYI's smart press integrates all the peripherals with the press via Internet of Things technology. Therefore, all the data about the conditions of the presses and peripherals can be collected and organized in a database. This enables machines to better track and report on their own performance, alerting operators to problems, resulting in reduced unplanned downtime.
Strategies for entering the Indian market

With increasing trends towards electric vehicles and lightweight materials, the most challenging issue for automakers is how to form parts made of metal alloys or high-strength steel. Our servo presses can overcome the limitations of traditional presses via a flexible and controllable servo system in the application of high-strength steel forming such as hot stamping. For example, SEYI has already successfully assisted several Japanese automakers to implement large-tonnage servo presses in their hot stamping lines.
SEYI has already cultivated the Indian market for a very long time. Last year we also had a very good performance in India thanks to the economic recovery in the post pandemic era. SEYI will continue to work with our local partners more deeply and directly communicate with end customers for a detailed product promotion. This can shorten the time it takes for us to understand what a customer's demand is and speed up our internal discussion about the solution we can offer to customers. Again, we think the challenges faced by EV-related suppliers in other countries will be the same as those of Indian suppliers. We can use our experiences based on the past success cases and share with the local customers. This can eliminate their concerns when implementing a new technology such as servo presses.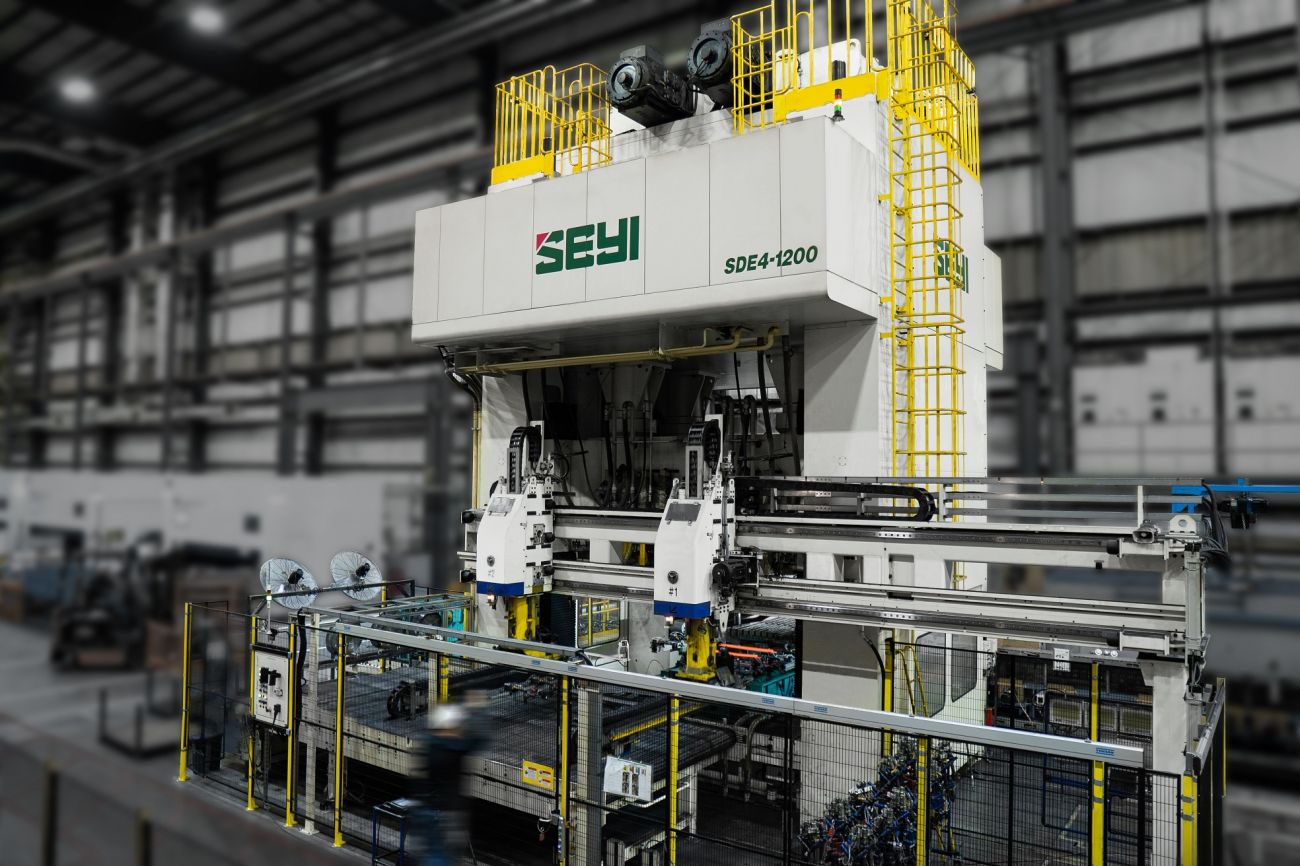 Technology for EV lightweight materials
Eyeing Indian auto and EV market

The global automotive industry is undergoing a paradigm shift from conventional fuel vehicles to alternative and pure electric options. We believe India is also investing in this electric mobility shift. The report shows that Indian sales of EVs were over 300,000 units in 2021. The electric vehicle industry in India is picking pace with new manufacturing hubs from foreign direct investment as well as the improvement of charging infrastructure. Federal subsidies and policies favoring deeper discounts are other growth drivers for the Indian EV industry. A vast domestic market is targeted by many auto OEMs. For example, Stellantis Group's CEO expects the company's revenue to grow faster in India through measures like localization, as the company plans to launch its first electric vehicle here next year. For equipment suppliers like SEYI, we will definitely pay close attention to the opportunities in the Indian auto market in the next few years.
SEYI India customers

The company's customers include Maruti Suzuki and Tier 1 automotive suppliers. Its agents in India are AY Enterprises for Chennai, Tamil Nadu; Sakar Engineers for Mumbai, Maharashtra, and Gujarat; and Goodwill Imex for Bangalore, Karnataka, and Delhi.
N Group is one of the leading manufacturing companies in India and works for various automobile industries, stamping parts supplied to customers spread across India. We have had a total of 20+ SEYI press machines in the Nirmiti Group for more than 15 years. During these 15 years, we have experienced very good performance in working and output product quality. Also, we have received timely service support from India (SAKAR Engineers) as well as from Taiwan whenever required. Therefore, we always recommend SEYI machines to all our business partners.

Global outreach

SEYI has provided a world-class Tier 1 auto parts supplier with several large-tonnage servo presses for their hot stamping facilities across three countries. Compared to before, their production rate has increased by more than 20 percent. The running costs have decreased more than 50 percent, and the power consumption has been saved more than 70 percent.
Traditionally, a hydraulic press would be used for hot stamping because of the better formability and the ability to dwell for an extended time in the BDC area. Unfortunately, power consumption and production efficiency are big concerns for metal formers, resulting in very high manufacturing costs. This is a good opportunity for metal formers to consider using servo presses in order to improve the production process for higher precision as well as better quality.
Last year, SEYI assisted one of the top three Tier 1 auto suppliers to implement a servo press smart stamping line. Not only the hardware of the press and automated peripherals, but a smart stamping platform was provided to monitor machine status, stamping process, production status, notification of abnormal situations, and so on. The customer can benefit from the system by obtaining real-time information and making proper decisions accordingly. Since some unplanned situations can be alerted in time, compared to before, downtime can be saved mostly, and the production efficiency can be effectively improved with the less impact from downtime.
Image Source: Shieh Yih Machinery Industry Co, Ltd