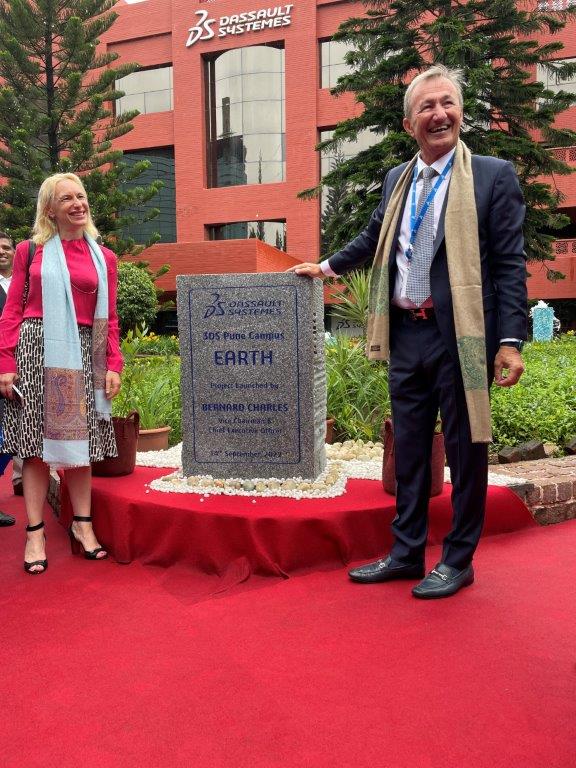 Pune, India and Vélizy-Villacoublay, France – Dassault Systèmes has announced that it will expand its existing campus in Pune by adding a third building called EARTH. Dassault Systèmes Vice Chairman and CEO Bernard Charlès recently unveiled the foundation stone for the EARTH tower at the Pune campus, which is expected to be completed in three years.
Dassault Systèmes' 3DEXPERIENCE platform and virtual twin technology are driving innovation in manufacturing, infrastructure and cities, life sciences and healthcare in India. The company hopes to attract top talent with the expansion of this office space in order to strengthen its research and development efforts in India. The Pune campus's workplace capacity will be close to 9,000 by 2030.
The company currently has a 12-acre campus in Hinjewadi, Pune, with two buildings - SKY and WATER. It is Dassault Systèmes' second-largest campus in the world, with the largest being in Paris. Dassault Systèmes Solutions Lab is a strategic R&D hub for Dassault Systèmes, contributing to the company's global innovation. The Services Delivery Center on this campus is responsible for the global deployment of the 3DEXPERIENCE platform for key customers.
The Pune campus also houses the 3DEXPERIENCE Lab and the Dassault Systèmes Foundation. The 3DEXPERIENCE Lab touches thousands of startups in the Indian startup community, and its fablab supports many innovative projects. La Fondation Dassault Systèmes supports and enables academic research, innovation, creating the workforce of the future, assisting thousands of students in shaping their careers, and encouraging entrepreneurial skills in schoolchildren.
Image Source: Dassault Systèmes