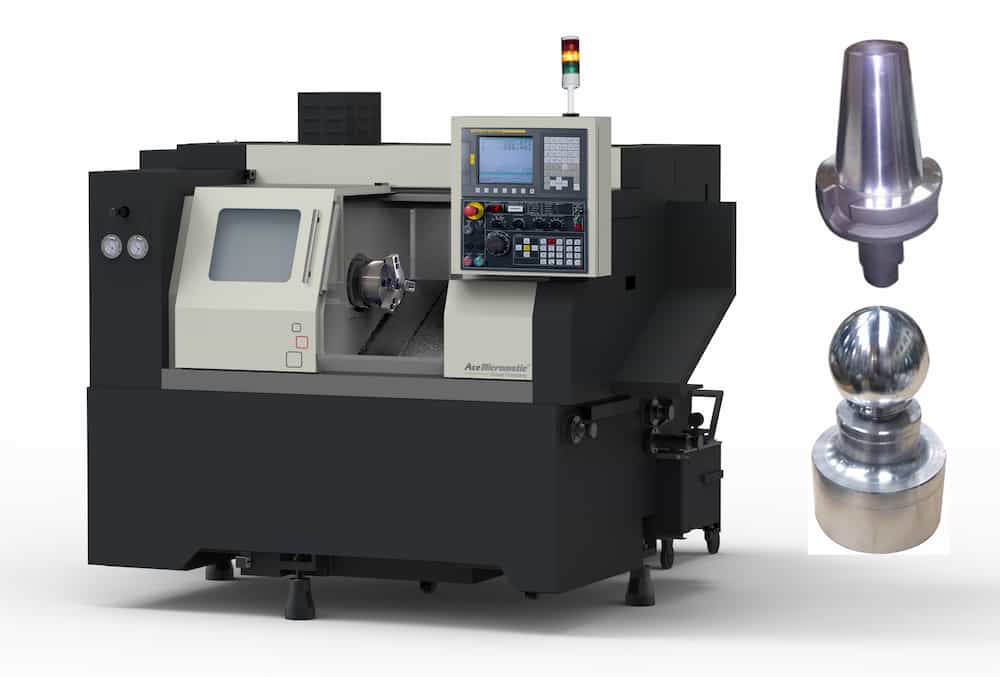 Hydrostatic Guideways Machines
Hydrostatic Guideways Machine from Ace Designers
Hydrostatic Guideways Turning Centers make a big difference in achieving better surface finish, circularity, and GD&T. So far, no Indian machine tool manufacturer has ever built a turning machine with a Mineral Cast Bed and Hydrostatic Guideways. Ace Designers Ltd envisaged this product as an import substitute and worked towards building several technologies that culminated in this product HPT 180 HS.
Features of the machine
Full Mineral Cast Bed provides excellent vibration damping and noise reduction. It has low heat conductivity than cast iron. The thermal capacity of mineral cast is about two times greater than cast iron.
In Hydrostatic Guideways, there is no metal-to-metal contact between the slide and the guideway. The friction of hydrostatic guides is a power of ten lower and proportional to speed. In contrast to plain guides, hydrostatic systems do not suffer from backlash when the direction of motion is reversed or the stick-slip effect. The guides are permanently play-free. Significantly higher level of positioning accuracy. Hydrostatic guides are more linear than the guide surfaces themselves.
Highly Accurate Spindle, which has a Thermo-symmetric structure. It is provided with P2 class (Grinding class) spindle bearings. The spindle is built-in with an oil-cooled headstock. A Spindle assembly with air-purging. Other features include special low friction wipers, bellows with lamella for axes, linear glass scale for axes.
Source: Ace Micromatic Group
Hall & Stall: Hall 5, Ace Micromatic Group Pavillion
Manufacturing Software
For Machining Multiblade Shapes
Mastercam's Blade Expert is a powerful solution for streamlining the process of generating toolpaths for impellers, fans, and marine propellers. These complex shapes often require specialized programming techniques to be machined accurately, but Blade Expert simplifies the process by providing a user-friendly interface that follows the standard Mastercam layout for multi-axis toolpaths. This ensures that users can quickly become familiar with the software and start creating efficient toolpaths with minimal learning time.
Blade Expert is designed specifically to address the challenges of machining multiblade shapes. With this tool, users can easily remove the material between the blades, finish the blades and splitters, complete the floor, and finish the fillets. This helps to turn what could be a complex and time-consuming process into a routine solution that can be easily implemented in a variety of manufacturing settings.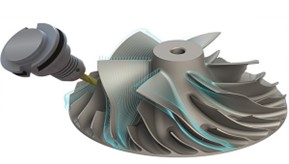 In addition to its comprehensive capabilities for machining multiblade shapes, Blade Expert also integrates seamlessly with other Mastercam products. This allows users to take advantage of the full range of Mastercam's advanced features and functionality, including multi-axis toolpaths, 3D design and modeling, and advanced machining strategies. With Blade Expert, manufacturers can achieve greater efficiency and accuracy in their machining processes, resulting in higher-quality products and increased profitability.
Source: Mastercam India
Hall & Stall: 4/C-122
CNC Spiral Bevel Gear Generators
Tarang-325 from UCAM
'Tarang-325', a new entrant in the Nimble Machines' product offerings, is a standard 5-axis CNC controlled Spiral Bevel Gear Generator machine which comes with SIEMENS 828D numerical control system and uses a sliding cutter spindle to obtain a high-speed backlash-free generating motion.
The machine is capable of producing components up to 7 modules and 325 mm diameter and can accommodate cutters up to 7.5 in. The maximum speed of the cutter spindle is 500 rpm and that of the workhead is 100 rpm. The gears manufactured can achieve DIN 7 quality on the machine.
The use of Direct Drive Technology in the spindle and work head and its quick tool change mechanism helps the user in reducing the overall cycle time and enhancing productivity with accuracy. The UCRIDE® filling reduces machine vibrations and enables higher precision. The machine structure has undergone FEM analysis for simulating various operating conditions and environmental changes.
The algorithm for the spiral bevel gear generation has been developed in-house and the user screens make the user very easy to operate the machine with fewer parameter entries. The machine enclosure gives a visually aesthetic appeal, further enhancing the outlook of the shop floor.
The machine has recently won the 'CII Design Excellence Awards and is gaining good traction in the MSME sector.
Nimble Machines - A strategic business unit of UCAM Pvt Ltd
www.nimblemachines.co.in
Hall & Stall: H1A/A-102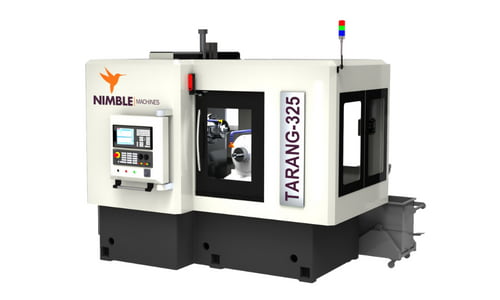 Direct Cooling Systems
DirectCooling from CERATIZIT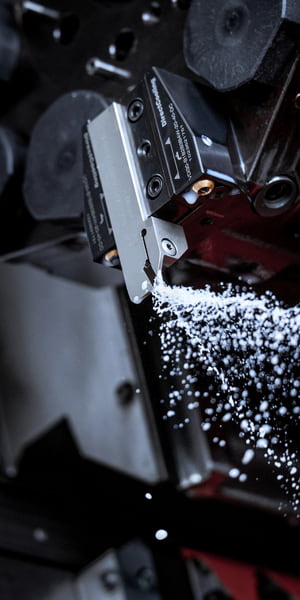 Flood cooling remains unbeatable in most applications. However, more targeted delivery of cutting fluids is a welcome alternative, not least in the context of sustainability. Toolholders with DirectCooling (DC) are equipped with two inner holes that guide the coolant to where it has the greatest impact: directly at the cutting edge. One hole targets the rake face from above and the other the flank from below. So, in terms of transfer, instead of emptying a bucketful into the machining zone, the cutting edges are targeted. Targeted cooling improves both the service life and general process security.
DC VDI holder with 4-in-1 functionality
DirectCooling can be used for any application. The only pre-requisite is that the coolant must be transferred via the turret of the turning or mill-turn center. In terms of versatility, the new VDI holder with DirectCooling truly shines: where two variants would typically be necessary for normal and overhead applications, CERATIZIT users only need one holder thanks to the double tooth profile. There is also the option of attaching clamping rails at the top or underside to eliminate the need for an extra holder on the left and right. The lengths of all DirectCooling holders can also be ideally matched to one another. This puts an end to interference and creates a compact complete package for optimal stability and unlimited flexibility.
The direct cooling system from CERATIZIT optimizes cooling lubrication: two coolant holes trained on the cutting edge ensure efficient cooling, lubrication, and chip evacuation.
Source: CERATIZIT India Pvt Ltd
Hall & Stall: 3A/A-114
Rust Preventive Oils
NOX-RUST® from Zavenir Daubert
In most manufacturing industries, part protection during shipping or storage before final assembly is crucial and the
usage of RP (Rust Preventive) oils is essential. The performance of an RP oil to get the best corrosion protection can
be demonstrated by high Salt Spray (SST) Life, an aspect in which Contact Corrosion Inhibition (CCI) based RP oils exemplify enduringness.
In specific cases, like in enclosed surface areas, VCI (volatile corrosion inhibitors) oils are recommended, and for the parts exposed to an acidic environment special acid protection RP oils are needed.
Invented by George Daubert, CCI technology is based on stronger adhesive intermolecular forces of the proprietary polar additives for superb rust protection even in tough conditions of high humidity and temperatures. The physical oil layer is thin as polar additives perform rust inhibition. This combination of adhesive polarity and thin film technology makes NOX-RUST® liquids form an impermeable layer for various corrosion-causing elements like moisture and oxygen that attack the metal surface. The thin film due to low viscosity results in high coverage, low consumption, easy removal, significant cost reduction, and performance benefits.
NOX-RUST® provides a range of specially formulated rust preventive oils, giving excellent protection in areas of high humidity and temperature. Other benefits include: Low evaporation losses - Higher flash points; Thin tack-free film - Very low aromatic content and strong demulsification; Higher coverage, low consumption - Lower viscosities based on thin film technology; and Excellent rust protection in severe conditions - High salt spray and humidity chamber life.
Source: Zavenir Daubert India Pvt Ltd
www.zavenir.com
Hall & Stall: 4/A-154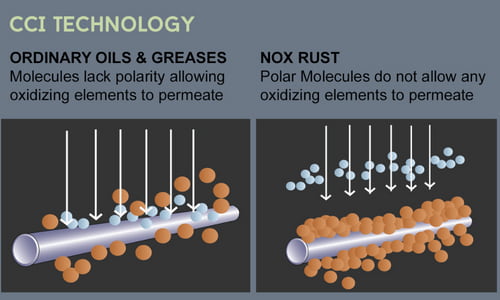 Vertical Shaft Turning Machines
VST 160 from Jyoti CNC
Turning Machines are a class of machines that have not stopped evolving to offer still higher productivity, supreme accuracy, and human comfort, a continuous demand of modern industries. For the shaft turning process, swift loading-unloading and quicker process time is the most important factor to achieve higher productivity. To meet this demand, Jyoti has developed a state-of-the-art Vertical Shaft Turning Machine VST 160 which is a perfect blend of proven machine design, innovation, and advanced technology to assure maximum performance in the area of the shaft turning process.
VST 160 has two turrets, which integrate simultaneous two-tool engagement in cutting, providing incredible improvement in productivity. VST 160 is a compact footprint machine as compared to Horizontal Turning Machine. In addition, the compact loader design of VST 160 offers the most compact footprint in its class of machines offered with a gantry design. Completion of shaft jobs in a single set-up is easily possible with the machine due to the face driver. The programmable tailstock is a standard feature of the machine, which permits to use variable force conditions during various cutting cycles. A motorized spindle is an added advantage of VST 160 to achieve improved accuracy. Job loading and unloading is done through a gripper provided on the turret.
Source: Jyoti CNC Automation Ltd
www.jyoti.co.in
Hall & Stall: 5/B-112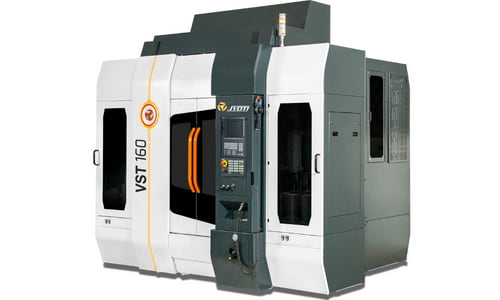 PIN MARKING MACHINES
MNS-HTC for Deep Marking
MNS-HTC (Touch Screen Model) comes with a robust construction with high-capacity motors and guides for deeper markings. All electronics built inside the marking head save floor space. The MNS-HTC pin marking machines are available as 2- and 4-axis versions in both Electric and Pneumatic working. The standard 2-axis marking heads, coupled with a manual or motorized Z stand and a true interpolated rotary axis, are available, especially for the Electric marker. The Electric markers also have an optional Auto-Sensing attachment that can be used with the motorized Z stand to mark different height components.
With unlimited storage capacity, the machine has a 7-inch display. A Resistive Touch Screen Display is built into the marking head. With regard to 2D Barcodes, Data matrix and QRCode marking are possible. It can directly print marking data to barcode labels from a barcode printer connected to the RS232 port. Any bus Converter Device for ProfiNET or Profibus Connectivity over RS485 Modbus can be used for industrial communication.
Source: Stamp 'It Robotai & Solutions Pvt Ltd
www.marknstamp.com
Hall & Stall: 2A/B-102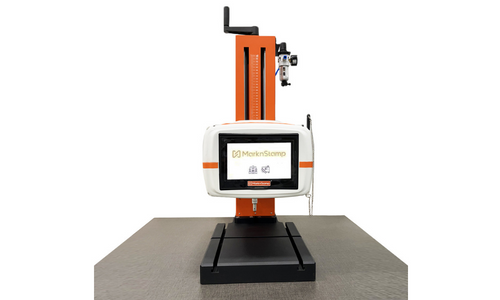 Gear Units
Gear Units for All Situations
Eppinger has the right product for every situation in the coaxial or angular arrangement between input and output.
Coaxial gear units
Eppinger's low backlash planetary gear units are designed for use in simple positioning tasks up to highly dynamic applications. They can be used both in intermittent and continuous operations. Planetary gear units have a small outer diameter; due to the cascading of the gear stages, the overall length of multi-stage planetary gear units is higher compared to cycloidal gear units.
The company's cycloidal gear units meet the highest demands in terms of rigidity, torsional backlash, and torque in the smallest installation space. They have a more compact design compared to planetary gear units. However, the diameter of the gear unit housing is increased compared to a planetary gear unit.
Types of Coaxial gear units available for different application needs include:
Planetary Gear Units: PE/PF/PA/PT/PS/PR/PX

Cycloidal Gear Units: C1T/C1F/C1Q/C1R/C3Q/C3R/C6F/C7R/C8R
Angular gear units
The robust bevel gear units are extremely compact, thanks to their monolithic housing. These gear units have a maximum gear ratio of i=5. If a larger gear ratio of i=5 to i=90 is required, single- and two-stage hypoid gear units are the right choice. The highest torque densities are achieved with the company's functionally designed angular planetary gear unit series, starting with a gear ratio of i=3:1 up to i=5500:1.
Bevel Gear Units: BM/BT

Hypoid Gear Units: HT/SHT

Angular Planetary Gear Units: PBE/PBF/PBA/PHT/PHR/PHX
Source: Eppinger Tooling Asia Pvt Ltd/ESA Eppinger GmbH
www.eppinger.de
Hall & Stall: 2B/B-101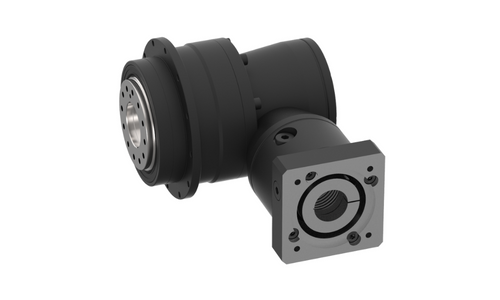 Optical Measuring Machines
ZEISS O-DETECT to Capture Things Easily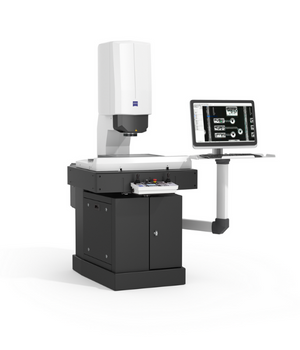 ZEISS O-DETECT is an optical measuring machine that offers intuitive operation, high-quality imaging, and flexible lighting for precise measurements in an instant. The technology is suitable for a wide variety of components but excels with those that are best left untouched.
Key characteristics
Excellent optics: The machine offers a large field of view at high resolutions. It offers increased efficiency and captures more details.
Stable precision: The calibration of the machine is in compliance with ISO 10360-7. It provides consistent and reliable measurement results one can trust.
Versatility and ease of upgradation: Options of classic multi-segment blue and white top lights for general part top lighting are available. There is also the option of homogeneous dome light for lighting shiny workpieces. The option for Darkfield optimized lighting for challenging edges will also be available soon.
Intuitive and user-friendly software: The machine comes with ZEISS CALYPSO software. Beginners can use ZEISS CALYPSO express, which is easy to learn and program.
Simple part navigation and visualization: The integrated 5MP overview color camera locates the part quickly to start measurements. Since it is controlled by the software, there is less need to use the joystick.
Fields of application
The industries where it finds applications include Electronics, Casting, Industrial Job Shop, Stamping, Medical, and Automotive. The parts where it can be used include 3D workpieces (one side), Small parts, Turned parts, and Flat parts.
Source: Carl Zeiss India (Bangalore) Pvt Ltd
www.zeiss.com/metrology, www.zeiss.co.in
Hall & Stall: 2B/A-101
Carbide Rod Cutting Solutions
Automated Carbide Rod Cutters
Carbide material is now the most common material for cutting tools. While producing cutting tools, the primary step is to section the carbide rod to decide the length so that the cutting tool can be produced from the stock by extensive further processing.
Carbide rod cutting is a sophisticated operation that requires specialized machines, blades, and processing. The need arises by the simple cutting of the carbide rod for small-volume manufacturing or high-volume cutting tools producers needing to cut parts rapidly with speedy production. There is also the need for bigger cutters for cutting bigger raw materials.
Chennai Metco offers a full range of carbide cutters, whether for simple low-volume cutting or high-volume automated cutting. The simple cutters can be manual or automatic. They employ appropriate blades and coolants for effective sectioning of carbide materials. Such a machine comes with coolant deliveries, work holding devices, and coolant filtering systems.
High-volume mass-producing carbide rod cutting requires sophisticated automated systems. They employ sensors, auto feeders, and auto cutters with modern PLC-based automation. It is a total system ensuring interruption-free operation and operator safety. As the carbide rod cutting requires specialized subsystems, the machines incorporate spark suppression, safety modules, fume extractors, coolant filters etc.
In any modern cutting tool production facility, carbide rod cutting is the first and most important step. Chennai Metco now offers an entire range of carbide rod-cutting solutions for all types of end requirements.
Source: Chennai Metco Pvt Ltd
www.chennaimetco.com
Hall & Stall: 1A/A-101