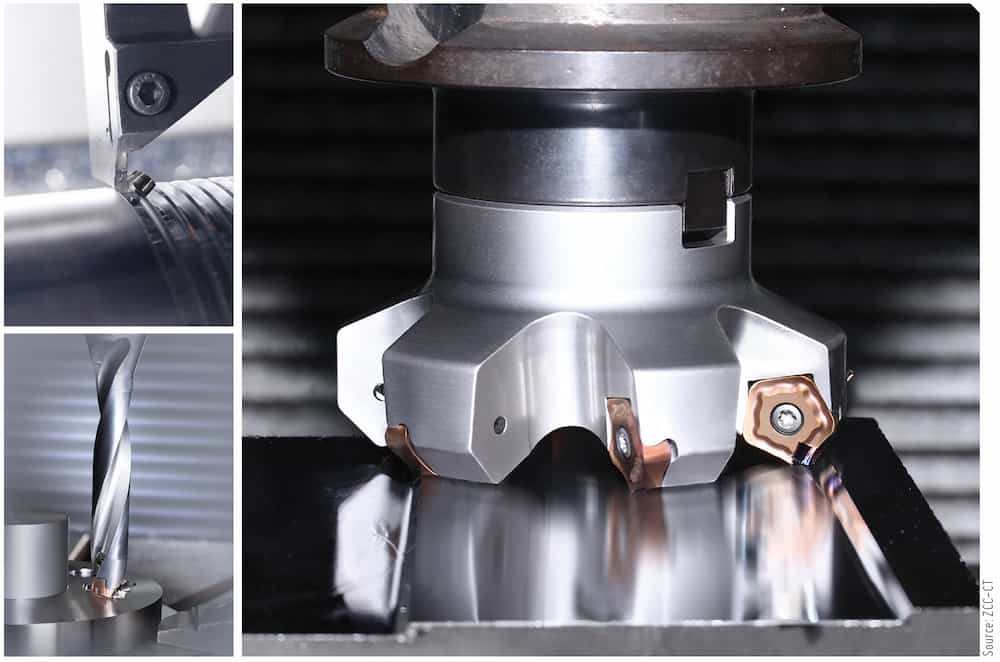 As India is predicted to be one of the top three economic powers in the next 10-15 years, it is inevitable for global companies like Zhuzhou Cemented Carbide Cutting Tools (ZCC-CT) to look to expand and invest big in India. Shen Qi, General Manager, ZCC-CT, discusses the company's key insights and future objectives for India
Zhuzhou Cemented Carbide Cutting Tools was founded in 1954 as ZCC (Zhuzhou Cemented Carbide). The company is China's first cemented carbide maker. ZCC-CT was established in 2002 as an individual company, targeting more cemented carbide tool research and innovations.
"Over the past 20 years, ZCC-CT has made tremendous growth with our customers in both domestic and international markets, with a forty-fold increase in the company's revenue. We are now the largest tooling supplier in China, and aim to provide the most valuable cutting solutions at more affordable pricing," shares Qi.
Eyeing the overseas market
ZCC-CT joined the Minmetals Corporation family in 2010, which is also a Fortune Global 500 company that specializes in mining and metal products. "ZCC-CT can provide a unique advantage that no other tooling company can guarantee, which is to upstream the manufacturing process from raw Tungsten ore mining, powder metallurgy, and carbide alloy to supplying various types of cemented carbide tools," Qi explains. "This complete production chain can secure upstream material supply, ensuring all costs and quality remain stable."
"Our solutions have been serving many high-end manufacturing enterprises in Europe, including industries in automotive, energy production, railways, and many other key components manufacturing businesses. Our sales in Europe and North America have been steadily and rapidly growing over the years," shares Qi.
He reveals that almost one-third of ZCC-CT high-precision tools are now exported, and the company hopes to extend this to 40 or even 50 percent by contributing more to the numerous entities with strong economic growth. "Among them, India is a vastly growing economy and a huge manufacturing nation, which plays an important role in the global supply chain, and ZCC-CT plans to build a strong partnership and support its manufacturing," he says.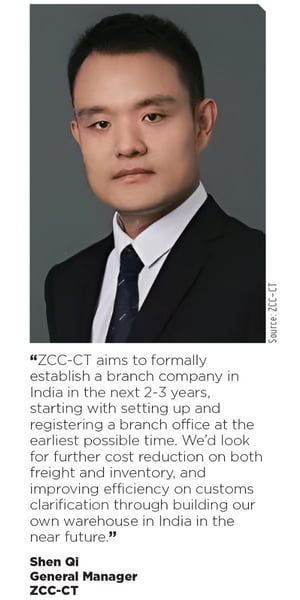 Supporting 'Make-in-India'
"As we work within the market, Indian customers are keen on high-quality products with the most cost-effective solutions, which exactly matches ZCC-CT's most-renowned strength in our services," mentions Qi. "Our products have been utilized by many Indian customers and used for a wide variety of productions, supporting their local manufacturing demand."
ZCC-CT's comprehensive product range can provide multiple selections and solutions that surpass customers' requests from different regions in the Indian market, demonstrating the firm's full strength in assisting local manufacturing. "Our new-generation tool grade, the YBS series, has been utilized by many of our customers as a perfect product to uphold the high-end turbine blade machining requests with a lowered-cost selection designed for our Indian customers," he elaborates.
To adapt to a wider range of Indian manufacturing demand, the company has launched the new ISO turning product series: -ZM and -ZMA geometries combined with YB6315 grade for steel materials and -ES, -EG, and -EH geometries combined with YB9315 grade for stainless steel materials. "These will soon become our top-selling products, and we will continue to bring out more cutting tools that are specifically designed for the Indian market," reveals Qi.
"To further explore the engineering demand in the local community, ZCC-CT is researching with local engineers and distributors/partners in Mumbai, Pune, and Delhi. Soon, we plan to expand our services with local partners in Chennai, Bangalore, Coimbatore, and Hyderabad. Together, we will build the best team for the 'Make-in-India' goal and a better outcome," he adds.
Catering to domestic sectors
Qi understands that there will be market differences and challenges. The company has already catered to Die & Mold, Energy, Automotive, Jewel-Crafting, and many other industries in the Indian market and aims to grow in these industries. "With our mature technology and proven applicable high-precision, premium-quality solid carbide products and customization services, we are working toward supporting Indian local key component manufacturing businesses in 3C industries," explains Qi.
He admits that in recent years, the ZCC-CT technical team and specialists have not been able to offer onsite technical support to Indian engineers and its distributors due to the pandemic and being far from the local market. "ZCC-CT is still deficient in local tech support and after-sale services. We are determined to soon solve these problems. We will be managing key projects with our customers through more efficient methods, collaborating with our local distributors/partners to study and solve technical difficulties case by case, appointing our sales engineers in India, sending our technical team and specialists to the scene, and adding field application engineers. We will also organize regular online training seminars for our distributors and customers, solve technical difficulties on a real-time basis, and introduce ZCC-CT's latest new product series," he shares.
The company aims to formally establish a branch company in India in the next 2-3 years. "We would be looking for further cost reductions on both freight and inventory and improved efficiency on customs clarification through building our own warehouse in India in the near future. A local management structure, sales team, and service center for the branch company will be founded because we believe a local team would not only be more acquainted with the market and closer to the market but also be able to respond more swiftly, thus solving problems for customers," Qi concludes.
To further explore the engineering demand in the local community, ZCC-CT is researching with local engineers and distributors/partners in Mumbai, Pune, and Delhi. It plans to expand its services in Chennai, Bangalore, Coimbatore, and Hyderabad.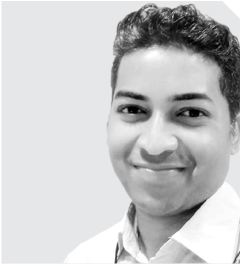 Sovan Tudu
Sub-Editor
Magic Wand Media Inc
Sovan.tudu@magicwandmedia.in