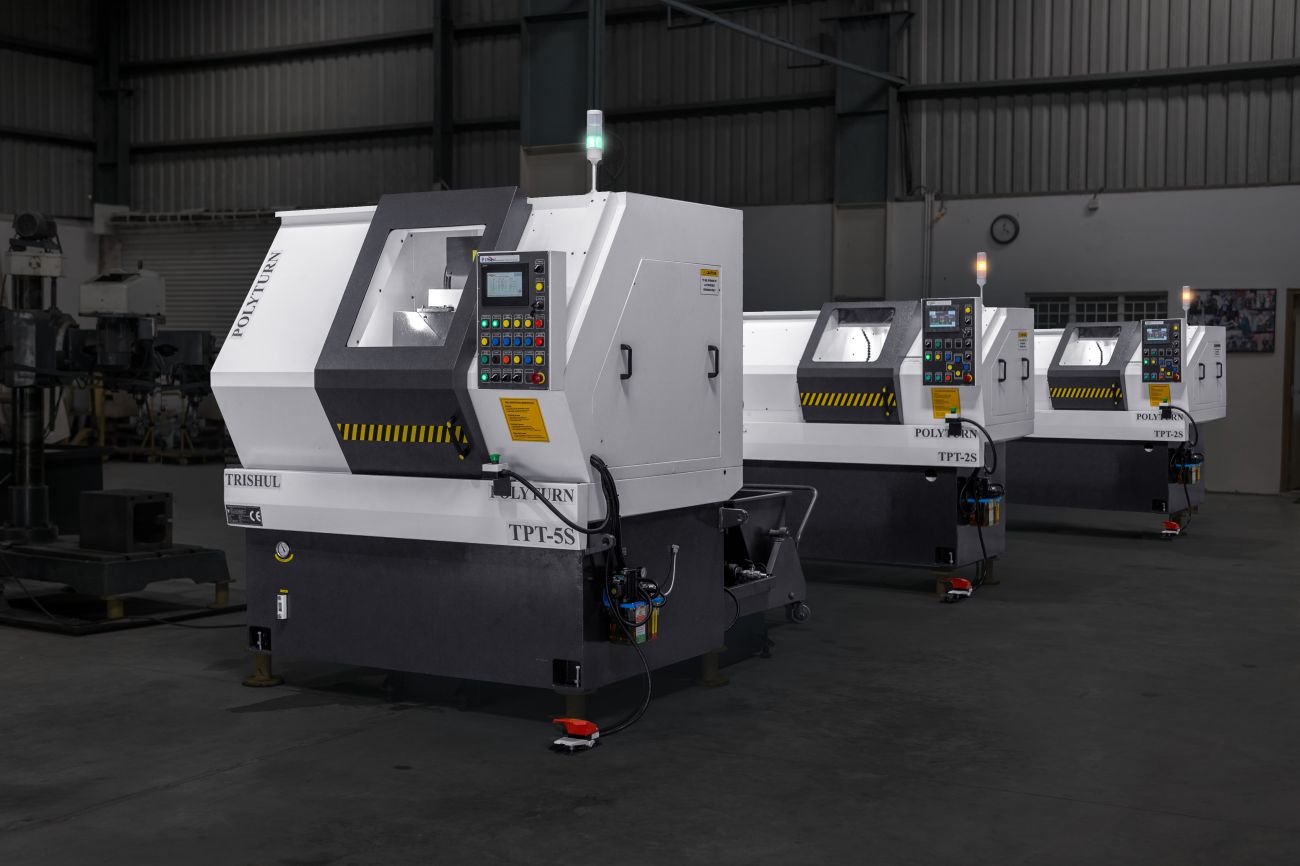 Trishul Machine Tools is widely acknowledged within the country as the top producer of Polygon Turning Machines. The company's unwavering focus and diligence, that has led to its current success, is likely to propel it to the number one position globally as well.
Trishul Machine Tools Pvt Ltd has gained recognition for its Polygon Turning Machines that cater to the Automotive, Fasteners, Aerospace, Valve, and Power Tool industries. While its position has remained unchallenged since its establishment in 1994 in Bengaluru, Trishul has also gained a reasonably good following in the international markets, especially in the United Kingdom and Turkey.
In the words of CS Shiva Shankaraiah, Managing Director, Trishul Machine Tools, the journey has been both eventful and enjoyable, with the company taking measured steps towards growth. "Each stage has been approached with caution to avoid any financial complications. While there have been ups and downs, the company has maintained an average growth rate of 15 percent. However, a few years between 2008 and 2013 and the COVID-19 period proved to be particularly challenging, resulting in significant setbacks. Despite this, Trishul machines have been well-received in the domestic market and have gained ample recognition," he shares.
Trishul's strengths
Trishul Machine Tools is in the business of manufacturing Polygon Turning Machines that are used as second-operation machines after the Turning operation. Polygon Turning is a highly cost-effective solution for machining Flats, Squares, Hexagons, and other Polygonal Surfaces on mass-produced components.
Certain automotive parts, such as Fuel Injection parts, Power Steering parts, Valves Stems, etc., require operations that need to be carried out on the Polygon Turning Machines for various technical reasons. Trishul specializes in providing solutions to these operations.
Currently, the company's Polygon Turning machines are sold in Mexico, USA, Turkey, UK, Germany, Kenya, Saudi Arabia, South Korea, China, and Taiwan.
"We have a significant number of our machines in the UK and Turkey. Although exporting machine tools can be a difficult undertaking, it is a fascinating opportunity as we engage with individuals from diverse countries, with diverse norms, professional practices, customs, and preferences," he adds.
In the post-Covid era, there has been a surge in export orders for the company, leading to its greater presence and influence in the market. "The pandemic has significantly impacted the Manufacturing industry, causing disruptions in the global supply chain. In response, OEM companies worldwide are seeking sustainable and reliable supply chains that are less vulnerable to the policy fluctuations of certain countries. In this regard, India has been seen as a preferred destination for sourcing, as it scores high on these parameters," Shiva Shankaraiah further adds.
Trishul's major domestic clients include Mahindra CIE Ltd, Sansera Engineering, and Ankit Aerospace Pvt Ltd. Whereas, its major international clients include Lonestar Group, Erlson Precision Components Ltd, and Alca Fasteners Ltd.
Setting a new standard
Trishul Machine Tools' machines are recognized for their superior speed, accuracy, and productivity. They are completely automated and simple to operate, leaving behind a high-precision finished surface on the machined components. The company's TPT series of Polygon Turning Machines are considered game-changers and, hence, require a special mention here.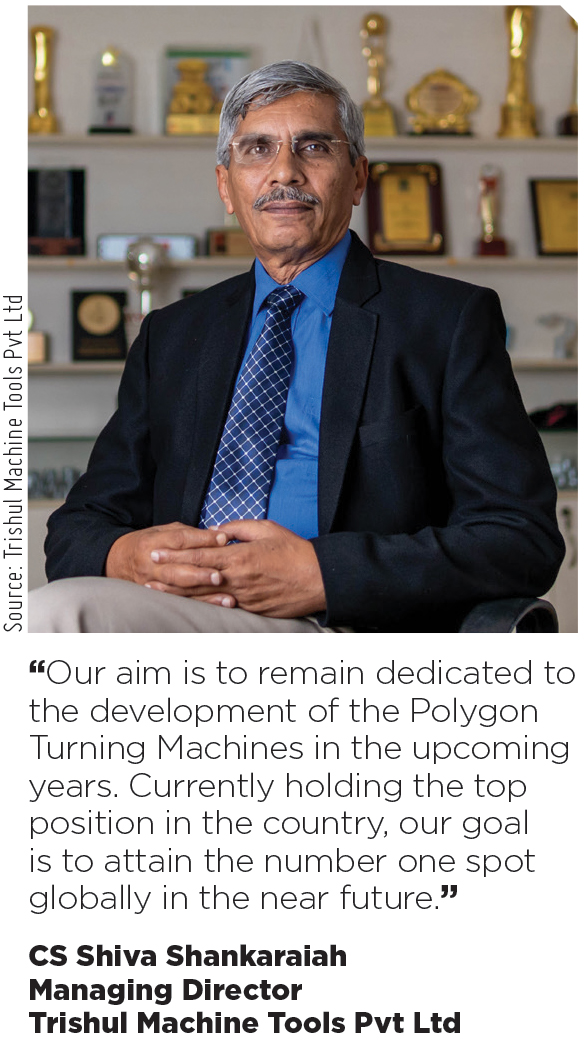 "Trishul Polygon Turning Machine Model TPT-2S is a highly popular model for machining second operation Milling operations. On certain applications, this model is reported to have replaced three VMCs, thereby bringing in enormous cost benefits for our customers," explains Shiva Shankaraiah.
The TPT-2S is a versatile, popular, and advanced model that takes care of most of the general engineering industry requirements.
The TPT-5S is another sophisticated model that is primarily useful to machine polar arrayed features like the ones found on ratchets, splines, and serrations.
"The Servodrives we use on the machines have the AI feature. In the Electronic Gearbox applications, the Gain corrections have to be on a real-time basis. There will be a time lag between the sensing, command, and delivery of the Gain Current. The AI learns the Gain patterns and Pumps the current at the right time, without any lag. This feature has enabled us to venture into hitherto unexplored applications," he shares.
Trishul Machine Tools has received numerous accolades, including the 'EEPC Export Excellence Award', the 'Outstanding Entrepreneur Award in memory of Vinod Doshi' by IMTMA in 2020, and the 'IMTMA Export Performance Award' most recently, due to the high quality of their machines and prompt service. Shiva Shankaraiah, when asked about the diligence required to receive such honors, states, "We simply focus on performing our duties diligently and strive to improve every day. We are not taking any special measures to attain these recognitions. We are grateful for the recognition and will continue to work hard."
The TPT-2S is a versatile, popular, and advanced model that takes care of most of the general engineering industry requirements. The TPT-5S is another sophisticated model that is primarily useful to machine polar arrayed features like the ones found on ratchets, splines, and serrations.
Highlighting problems
The SME sector has grown dynamically over the last five decades and contributes a substantial portion of the country's exports, creating millions of jobs annually. However, it still suffers from a burden of challenges. Shiva Shankaraiah points to the ones he believes must be looked at if the sector has to grow to its full potential.The SME sector, he says, has been facing a scarcity of manpower across all levels, and this has been a persistent complaint from SMEs. Despite discussions around unemployment in the country, the shortage of manpower in SMEs has remained a challenge. He notes that there has been no survey conducted on this issue in SME units. However, they are actively working on implementing various schemes to overcome this challenge and expect to see progress soon.
Meanwhile, the company aims to stay dedicated to the development of the Polygon Turning Machines in the upcoming years. "While we currently hold the top position in the country, our goal is to attain the number one spot globally in the near future," says Shiva Shankaraiah, signing off.
Poonam Pednekar

Chief Copy Editor

Magic Wand Media Inc

poonam.pednekar@magicwandmedia.in