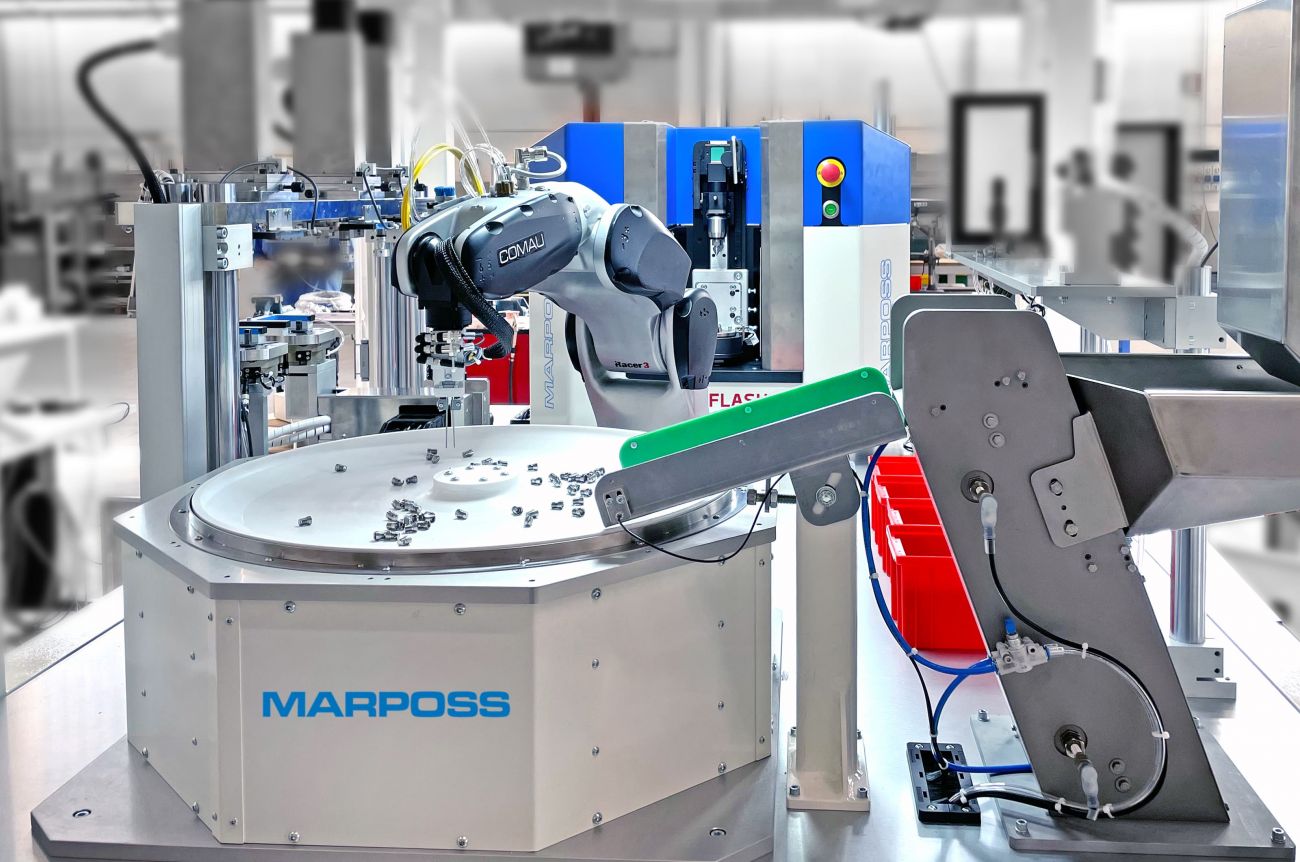 Marposs' offerings to the biomedical segment include measurement and inspection solutions for medical devices and components. Here's knowing a few and the noteworthy advantages they bring to the table.
In the biomedical segment, Marposs is primarily focused on what we consider two main segments – disposable products and implants.
Disposable products, such as bloodlines, dialysis products, flexible pouches, syringes, filters, and glass or plastic bottles, are normally used outside the body or inserted for temporary purposes. They are designed to hold consumable products, such as pills in plastic containers or liquids in glass bottles.
Implants are considered long-term or extended-use products that are inserted in the body like joint replacement products or surgical pins, screws, and nails.
Marposs biomedical solutions can be used manually where an operator installs a part into the testing position for the type of instrument or sensor and then initiates the test cycle.
Optical measurement solution by Marposs
Marposs Optoflash XS is a unique optical measurement solution designed to meet the requirements of biomedical implantology. Thanks to the absence of Z-axis movement, Optoflash is extremely fast and guarantees continuous and stable measurement performance over millions of cycles. The measurement cycle is incredibly fast, taking 100 static measurements in just 2 seconds, regardless of the distribution of measurement sections along the part.
The user interface allows anyone to use Optoflash and configure new measurements. Features such as an intelligent visual representation of results, images of part details, and graphical configurations allow the operator to quickly check parts in production as well as detect causes of non-conformities.
Marposs Optoflash XS is used to measure items like nails, pins, and screws. The application is normally manually loaded. An operator loads the part into a tool holder and presses a start button. The tool holder rotates 360 degrees while 2D measurements are taken, creating a data file allowing a single combined image to be generated with hundreds of measurements. Those hundreds of measurements are used to verify if the part is within defined tolerances.
Thread inspection tools allow an operator to verify that the treads have been made correctly and that when used will travel the full length and not bind. This helps ensure that connections made will be tight and functional.
Marposs also automates that same technology into a turn-key automatic system where the operator is only needed to fill a parts hopper every 7 hours. A recent system for surgical implants consists of four automatic stations.
The flexible FlexiFeed robot
The company uses a standard modular and flexible FlexiFeed robot which consists of a turning table, six-axis robot, and a vision system to individually find and then place a part into the different inspection stations while being fed from a common parts hopper. An operator loads up to 7 hours' worth of parts into the hopper and FlexiFeed selects and identifies the component and selects the predefined recipe matrix which defines what needs to be tested and measured before presenting it to the first station.
FlexiFeed first puts the CUT (Component Under Test) into a cleaning station that uses a vacuum to remove all dust and debris. This system is not intended to test wet or oily parts that would impact test and inspection results. After removing the debris, the CUT is placed in an orientation station to get it into position for the next visual inspection station.
Marposs OptoFlash can be used manually if an operator inserts the part but in this system. Marposs is using the FlexiFeed robot to load the part into a special fixture that will allow the OptoFlash to create the measurement inspection file. Most of the pins and screws are inspected for diameter, length, radius roundness chamfer, and pitch. Each article will have its recipe for how many, where, and how many of the inspections will be needed, and these measurements are easily set up using the OptoFlash toolbox which has predefined measurement types.

After the dimensional inspection, FlexiFeed moves the CUT to the thread-checking station. This station is a dynamic inspection of the threads, verifying not only proper fit and travel distance, but the proper level of torque required, which is not dependent on the operator for a sense of feel.
FlexiFeed places the CUT into a special custom-designed tool holder mounted to a track that moves the CUT to one of three different types of manual thread masters, each integrated with a Marposs torque spindle to verify the proper dynamic parameters and store those data points for analysis. After the completion of the torque and thread inspection, FlexiFeed places the parts into either an accept or reject bin depending on the inspection results.
The flexibility of the Marposs FlexiFeed system will work equally well for dental implant hardware, but the modular design also allows for systems with other automated inspection requirements outside of implants.
Marposs Optoflash XS is a unique optical measurement solution designed to meet the requirements of biomedical implantology. Thanks to the absence of Z-axis movement, Optoflash is extremely fast and guarantees continuous and stable measurement performance over millions of cycles.
Marposs FlexiFeed can also be set up for disposable medical products. Replacing the dimensional inspection station with a leak test instrument and associated sealing components allows for pressure decay or mass flow testing of many different types of medical devices. Adding Marposs laser micrometers allows for accurate, simple diameter and roundness measurements for cylindrical parts.
The high flexibility of the application allows to configure it with additional controls or packaging systems, adapting perfectly to the customer's needs.
This solution integrates different types of controls in a single application, demonstrating how Marposs is a reliable partner
for quality control in the biomedical sector considered in its entirety. Not only implants, Marposs also produces numerous solutions for the control of disposable devices, such as syringes and dialysis equipment.