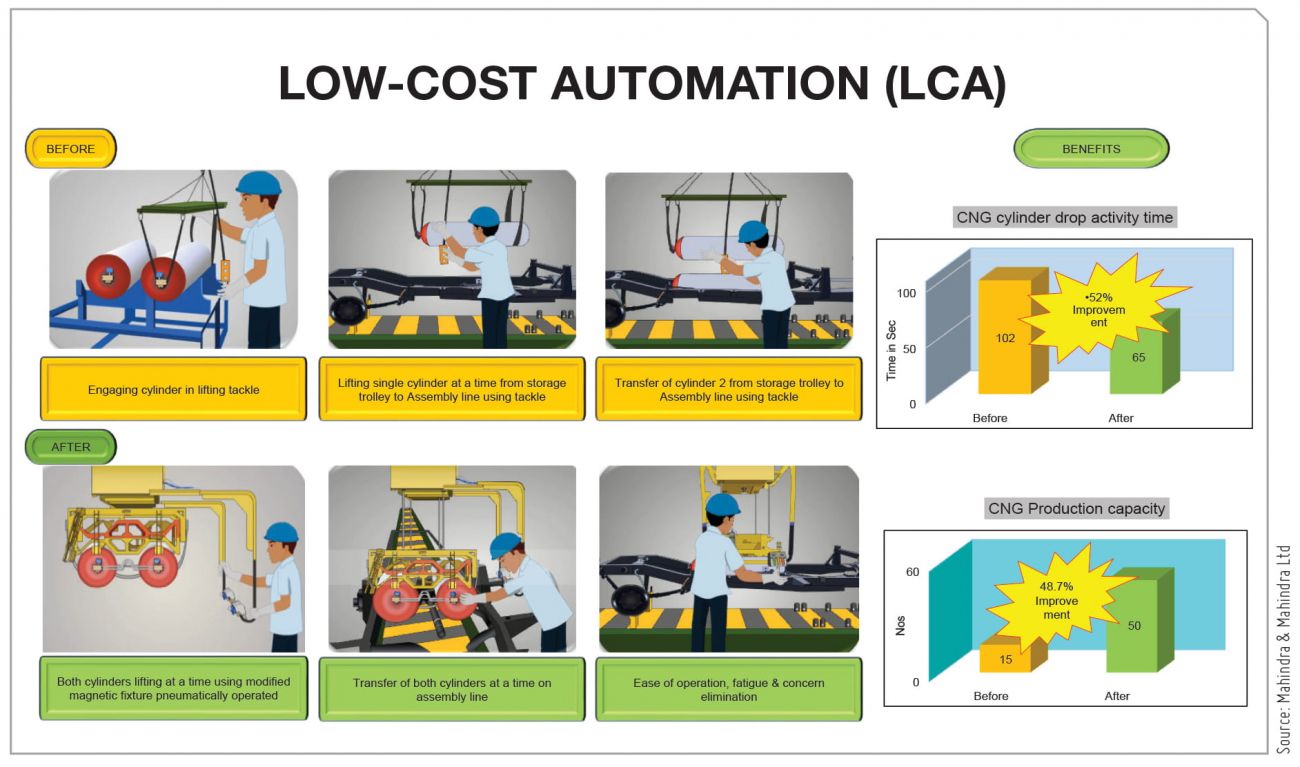 'Single piece flow' is a lean manufacturing method that has proven to be the key to boosting efficiency; it increases productivity, reduces waste, enhances quality, and shortens production lead time. Here's knowing how the Kandivali plant of Mahindra & Mahindra leveraged it to improve its overall manufacturing efficiency and to achieve its target.
Today's manufacturing environment is characterized by rising production costs. The Automotive sector is an industry that is constantly growing but keeping up with customer needs at the lowest possible cost is a challenge for many companies. To remain competitive in a turbulent environment, a company must reduce its production costs.
Customer satisfaction has become a much more critical competitive differentiator and a greater influencer. Being a leading automaker in the CV segment, Mahindra & Mahindra Ltd seeks to further strengthen its presence in the pick-up segment and grow the market share to 65-70 percent in the coming months, up from 54 percent currently, with the launch of more products, including new tech products built on its latest platforms with 'First time right, Every time right' approach. Single Piece Flow has proven to be an effective method of improving quality, reducing waste, and increasing efficiency, shortening production lead time.
Acknowledging limitations
The principles of lean manufacturing have revolutionized the Automotive industry, allowing the players to cut costs and improve their efficiency. Lean manufacturing is a series of methods designed to minimize the waste of material and labor while maintaining or increasing levels of production. This results in a net improvement in total productivity.
Mahindra & Mahindra's Kandivali plant, which was established in 1964, faced several constraints in meeting the demands of Single Piece Flow. These limitations included fitting precedence parts, tasks that take longer than the cycle time, and insufficient infrastructure accommodations on the current line due to the plant's age. Two significant obstacles were encountered by the company during the implementation of Single Piece Flow in the vehicle assembly line. These included a limited layout space and a high level of work-in-progress inventory of vehicles within the plant.
Towards productivity improvement
A special CFT (Cross Functional Team) was formed that took the challenge of 'No Fault Forward' for productivity improvement. Rather than focusing only on time and motion-based improvements, the team explored all possible levers to minimize efforts and maximize the output. A special task force of LCA (Low-Cost Automation) was roped in for innovative and frugal solutions to overcome various challenges.
The team started working on two major challenges. For the layout space constraint, the team brainstormed and came up with many alternatives for optimizing space. For reducing the high work-in-progress inventory of vehicles, different levers were identified to work on and bring in collaborative efforts to result in exponential growth in productivity.
These included

Fundamental Process Design Change

Process Improvement

Rework Reduction

Innovative Material Handling

Digitization

Automation

People Development

Strengthening & Sustenance through System Audit

Focus on the 'Cannot Make & Cannot Flow' Concept
Solution implementation: preparing for the new landscape
In order to implement the Single Piece Flow production process, we opted to balance the production line and establish a lean flow. This involved eliminating various forms of waste, such as intermediate stocks, transportation, and excess products at different stages of the process. By doing so, the team was able to reduce the waste rate, improve the quality of the product, and shorten the production lead time.
To achieve the production time, certain conditions had to be met. The operators needed to be qualified to perform all the steps of the process, and the cycle time and work content of the assembly process had to be completed within the given TAKT time. Moreover, it was crucial to eliminate any variations or inconsistencies that existed between the intermediate production cells or work stages that made up the production line.

During the implementation of the Single Piece Flow production system, we faced several obstacles and devised the following solution to achieve our target.
Line Balancing & Layout Optimization:
The vehicle assembly process was divided into three different sheds (with a total area of 9,317 sqm) and followed a discrete process flow, as depicted in the layout. The process comprised twelve production cells, each with its own work-in-progress inventory, which consumed a significant amount of space. Multiple movements of vehicles within the assembly line resulted in waste, poor quality, high lead time, poor on-time delivery, and handling damages.
The optimization of the layout and redesign of the process has resulted in several benefits,
including a reduction in lead time, space saving of 2,840 sqm, and a
decrease in the high inventory of vehicles from 300 to 150.
To implement Single Piece Flow, the complete vehicle assembly process had to be conducted within a single shed. While shed 1 activities were being carried out in accordance with Single Piece Flow, this was not the case for sheds 2 and 3. All activities within these sheds were being carried out offline and in a discrete process flow. As there was currently no space available in shed 1, the team brainstormed and devised a plan to merge two test lines. The test cell line activities were rebalanced using line balancing and MOST techniques, resulting in the creation of 550 sqm of additional space.
The subsequent challenge was to incorporate all activities of sheds 2 and 3 alongside the test cell line within shed 1. We addressed this issue by installing a slat conveyor and consolidating all Customer Acceptance Inspection (CAI) activities onto a single line in eight stages within the existing shed. The finishing line, where the final approved vehicle is handed over to the logistics team, marks the end of the process. This was a breakthrough project, as it challenged the conventional process flow of 58 years by adopting alternative thinking with minimal investment and optimizing existing resources using line balancing and MOST techniques.
The optimization of the layout and redesign of the process has resulted in several benefits, including a reduction in lead time, space saving of 2,840 sqm, and a decrease in the high inventory of vehicles from 300 to 150. However, the target was to further reduce the work-in-progress inventory to below 50 vehicles. To achieve this goal, several strategies/initiatives were implemented.
Fundamental Process Design Change:
In order to optimize existing resources and prepare for future growth, a review of the current process flow was necessary. Strategic priorities were adjusted accordingly, and several offline activities with high work content were transitioned to online platforms. This resulted in a reduction in lead time and an increase in productivity. Specifically, fourteen offline subassemblies were converted to online. An example of this conversion process can be seen with the CNG subassembly.

Process Improvement:
Employing continuous improvement is crucial in identifying bottlenecks, eliminating non-value-adding activities, and reducing processing cycle time. In fact, a total of 51 process improvements were implemented in the assembly line. One specific example is illustrated below.
ECOS is utilized in both the end-of-line testing and assembly levels. In the case of vehicles such as trucks and commercial vehicles, they are constructed in two parts: the chassis and the cabin. ECOS is implemented to individually test each part, ensuring that once the two circuits are joined, there are no issues present.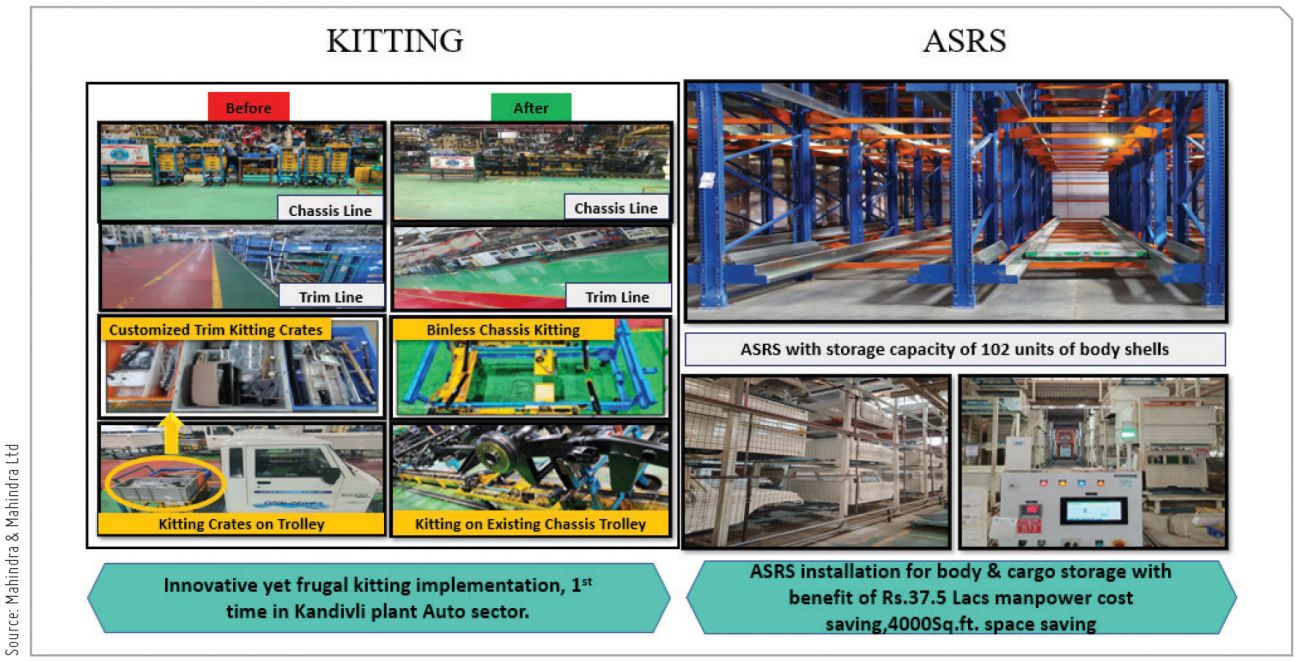 Innovative Material Handling: Kitting & ASRS:
Throughout the manufacturing process, materials require careful handling to ensure their safe arrival at their respective destinations. In order to optimize the movement of goods and materials around manufacturing and storage facilities, innovative material handling systems must be implemented. A properly designed material handling system can lead to improved customer service, lowered costs, and reduced risk of accidents and damage. With the integration of such a system, products
can be located with greater ease and orders can be more accurately fulfilled.
Employing continuous improvement is crucial in identifying bottlenecks, eliminating non-value-adding activities, and reducing processing cycle time.
People Development:
To sustain high growth for an organization, the most critical aspect is to develop a workforce that is prepared for the future. This can be achieved by bridging the gap between the demand and supply of manpower and addressing issues surrounding skills and quality. To this end, six approaches have been implemented under the theme of skill building and people development.
Focus on Zero Defect Stages:
The focus should be on achieving zero defects during critical stages, referred to as Z stages, that have a high impact on product severity and failure. Any deviation from the optimal 4M conditions during these stages may lead to customer complaints and dissatisfaction. To ensure quality, a layered audit of such stages should be conducted at set frequencies by individuals ranging from SMT and line officers to line managers, department heads, plant quality heads, plant heads, and sector heads.
Digitization:
Digitization and analysis play crucial roles in making information easily accessible and secure, ultimately leading to more efficient workflows and simplified activities. Collaboration among departments and the capture of real-time data are essential elements of digital transformation. The team has developed software for capturing defects during inspection stages, which has made real-time monitoring and stratification of concerns easier. As a result, there has been a significant improvement in the communication of concerns related to defects and the analysis of data for resolving defects from anywhere within the plant.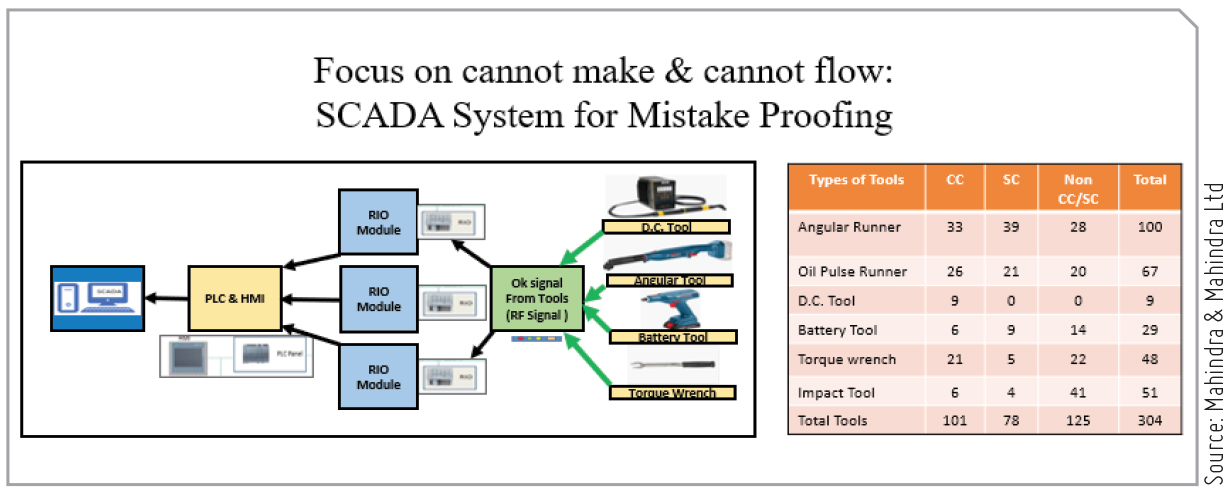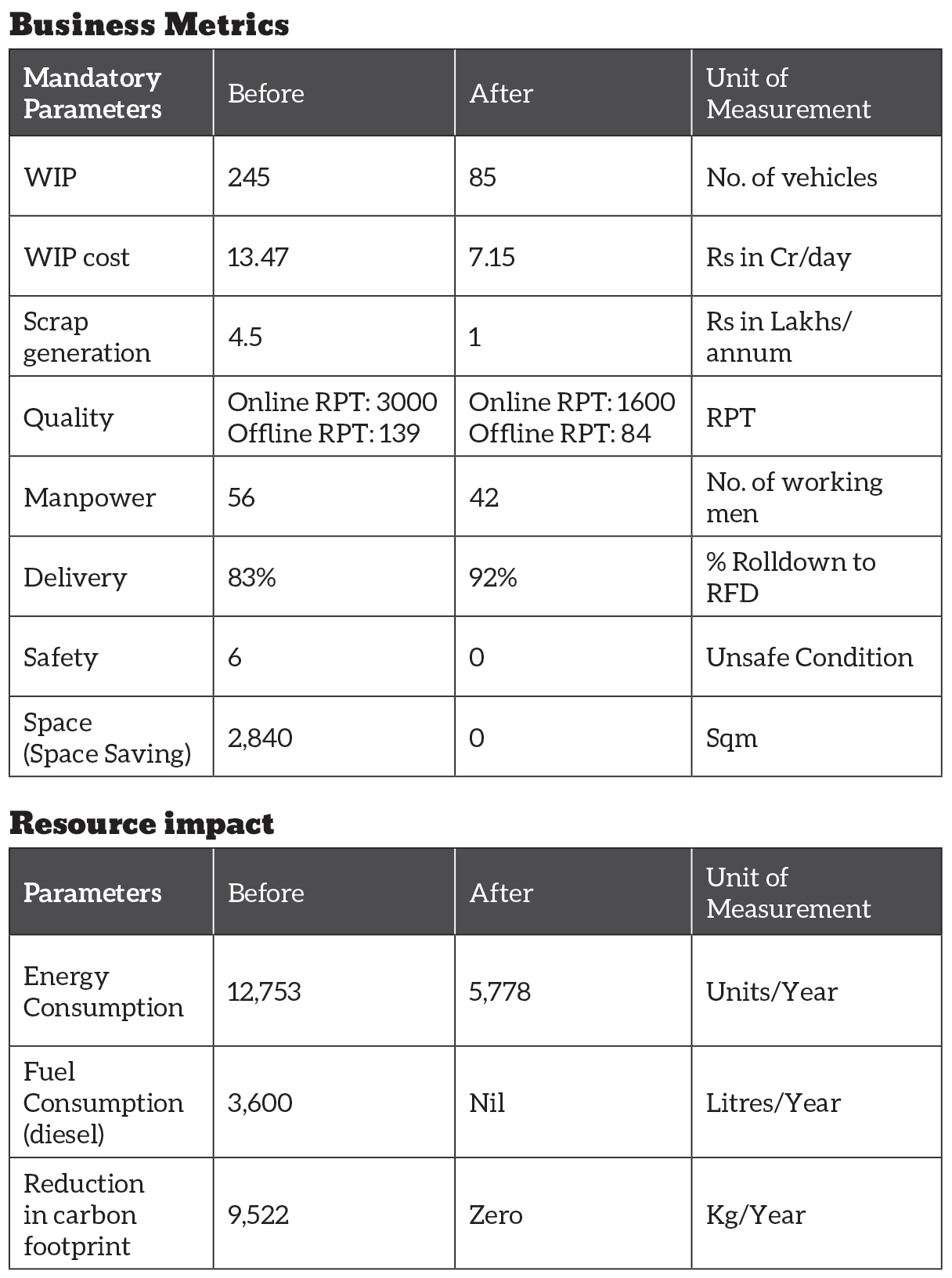 Focus on 'Cannot make & Cannot flow':
To minimize waste within the process, particular attention has been paid to reducing rework activities that consume valuable resources. To this end, the team has implemented seven design improvements, four process improvements, and 58 poka-yoke actions (mistake-proofing) to eliminate rework. An example of such a poka-yoke is illustrated in the figure, where a torque feedback control tool is utilized.
Transforming through lean approach
Through the adoption of a lean approach and the implementation of incremental improvements, all elements of the organization have been enhanced. This approach is based on the belief that a continuous flow of improvements, when executed diligently, can result in transformational outcomes. As a result, the organization has been able to establish a competitive edge within the commercial vehicle segment.
Way forward
By maintaining our current pace of work, we have successfully implemented a Direct to Dealer (D2D) system, whereby the vehicle is delivered to the dealer without undergoing any inspections by the quality team within the plant. It is a matter of pride that our Kandivali plant was the first in the automotive sector to implement this system. We have also taken on the challenge of implementing a wash-and-deliver system, which means that vehicles are delivered to customers directly without undergoing any PDI inspections at the dealership.
These improvements have been instrumental in helping our organization gain a significant market share of 62 percent within the commercial segment.
AMAR PATIL

General Manager

Manufacturing Unit Head- Body, Vehicle, Foundry & CMD

Mahindra & Mahindra Ltd