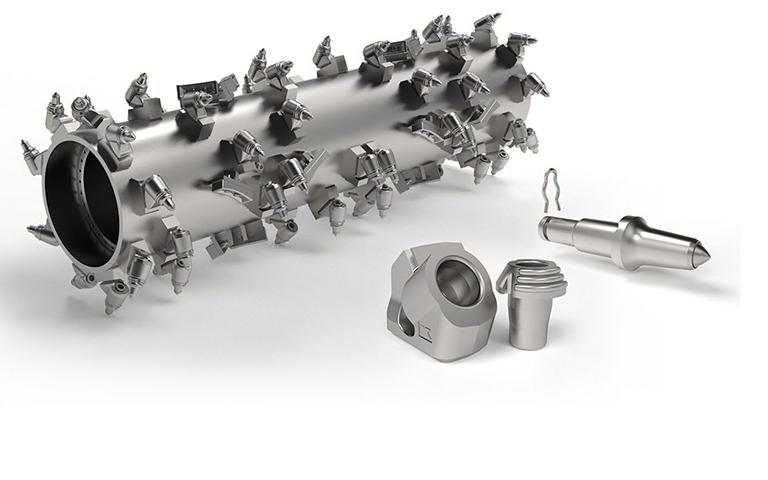 Bangalore, India – Kennametal India Ltd (KIL), a subsidiary of industrial technology leader Kennametal Inc, has a range of innovative foundation drilling, road rehabilitation, mining, and wear protection solutions that help customers solve their everyday challenges above and below ground. Commenting on these solutions, Rohit Reddy, Deputy General Manager, Earthworks Business, Kennametal India Ltd said, "With India witnessing an uptick in infrastructure development, our customers demand higher productivity and performance from their equipment in order to support the nation's rapid development needs. Kennametal's offerings in road rehabilitation and mining are developed to perform in the toughest conditions and deliver optimum efficiency. We look forward to partnering with customers to transform how everyday life is built."
In the foundation drilling category, KIL's premium 38/30mm shank series conical tools and concomitant holders for hydraulic rigs and wall cutters, as well as the KF Series quick change flat cutters, weld-on teeth, flat teeth with TC buttons, etc., are known for maximizing productivity and boosting overall performance. KIL has also developed a 25mm shank conical tool and holder along with a new 'core barrel ring' designed by in-house experts as per customers' customization requirements. These leading-edge cutting solutions for foundation drilling applications keep high-value equipment running longer and performing better in demanding environments while continually providing new and innovative solutions.
In the road rehabilitation category, Kennametal recently launched NEXT-GEN Road King® tool series, that provides superior milling machine performance. Its new design elements maximize tool life and make tooth changes easy and efficient for operators. The new RK31, RK32, and RK54 feature new design improvements like improved body, washer, and retainer design for optimum carbide tip usage, better rotation, and reduced axial play, which further improves holder protection as well as retention in the current generation of tool holders. Also notable is Kennametal's block system, which features a taper locking sleeve, and the new CB22 'Stack-on System' that converts an OEM's bolt-on system to a taper sleeve system—suitable for quick field repairs or maintenance to return drums to their original pattern.
In the surface mining solutions category, Kennametal is known for its conical tools with the industry's first Taper Tip for surface miners that yield new levels of performance and productivity, as well as KenCastTM wear protection solutions that prevent wear damage to equipment. This helps it last up to six times longer and ultimately prevents customers from experiencing costly repairs and downtime.
Image Source: Kennametal India Ltd