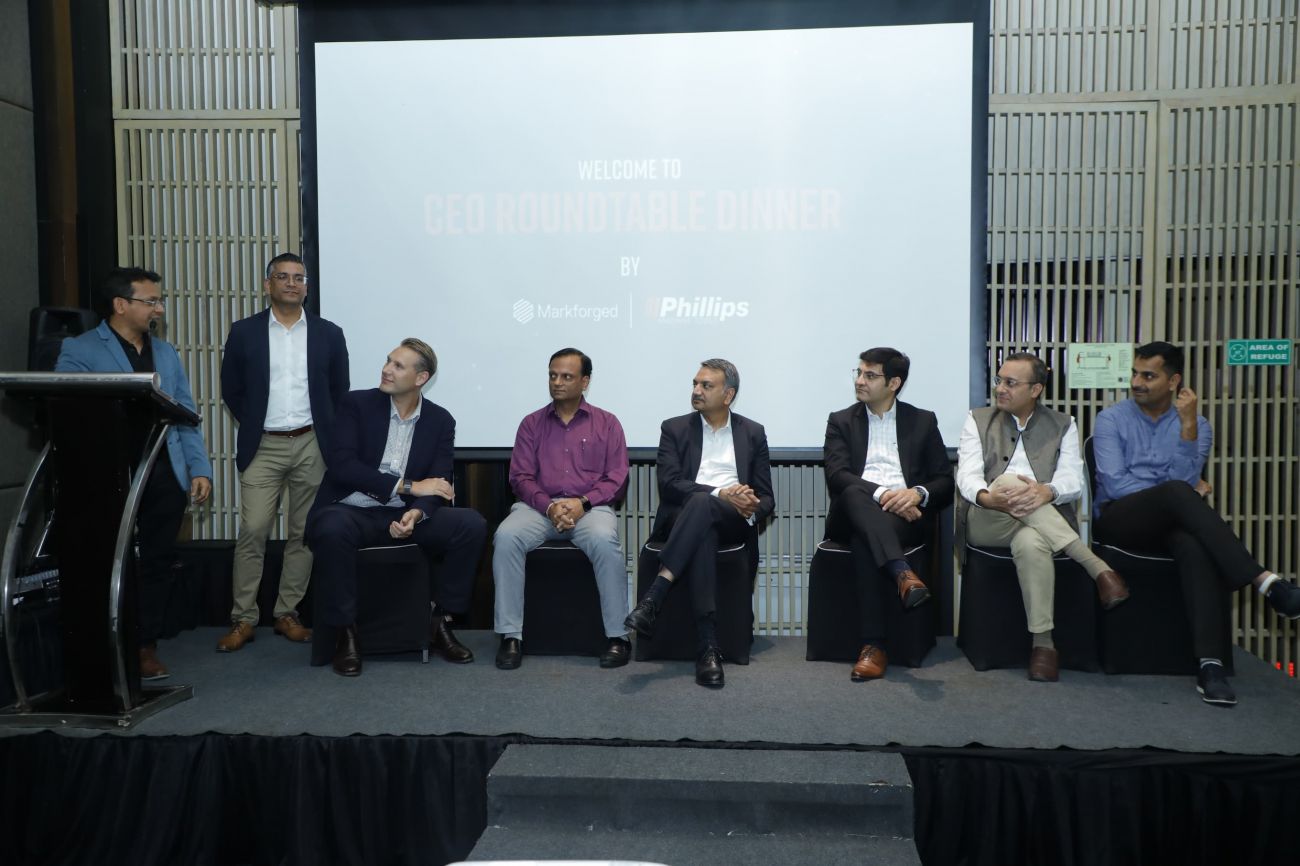 New Delhi, India – Phillips Machine Tools India Pvt Ltd and Markforged hosted a CEO Roundtable Dinner recently in New Delhi to explore the ever-evolving landscape of the manufacturing industry. The event brought together select senior industry leaders, experts, and innovators to discuss key challenges and opportunities in the sector.
Markforged is a pioneering company at the forefront of the additive manufacturing revolution. With a rich history rooted in innovation, the company has a vision to redefine manufacturing processes and unlock the industry's potential through the power of additive manufacturing. Phillips Machine Tools is a trusted name in the global manufacturing industry, specializing in making advanced and innovative solutions accessible to manufacturers of all sizes. With a rich legacy of excellence and expertise, the company is a wholly owned subsidiary of USA-based Phillips Corporation, which was founded in 1961. Phillips Machine Tools has numerous strategic partnerships with leading international manufacturers, and is one of Markforged's key global partners. As additive manufacturing is becoming an increasingly core component of advanced manufacturing, the event brought together over 30 industry thought leaders to learn, network, and brainstorm how to leverage advanced technology solutions like additive manufacturing to take Make in India to even greater heights.
The evening commenced with an opening address from Anuj Budhiraja, Vice President, Phillips Additive. The floor was then taken by Richard Elving, Senior Director, APAC, Markforged, who gave a thought-provoking presentation on the importance of shifting our mindset to conquer the post-pandemic world. When asked about his perspective on 3D printing driving the nation's economic interests, he explained, "Additive manufacturing is a game-changing technology capable of offering unprecedented opportunities for innovation and efficiency. The Indian economy is scaling at a phenomenal pace, with manufacturing forming a core element of its ambitious growth plans. Therefore, 3D printing is perfectly poised to help the country's manufacturers gain competitiveness, enable flexibility, and ensure robust supply chain efficiency."
There were representatives and presenters from different allied industries. Each speaker shared valuable insights, drawing from decades of experience and expertise in the manufacturing industry. The highlight of the evening was the CEO Roundtable, moderated by Amit Aneja, Director, KPMG India. The panel and presenters consisted of luminaries Elving; Aneja; Aditya Chaudhary, Director-Sales, Hexagon Connected Quality Solutions; Dr Deepak Panghal, Assistant Professor, NIFT; Amit Chawla, General Manager Tool & Design, Sood Plastic; and Tanuj Mittal, Director, Dassault Systèmes. The roundtable sparked a vibrant discussion on solving local manufacturing issues, addressing supply chain challenges, mitigating labor and skills shortages, managing rising costs, overcoming sustainability governance, and harnessing technology and automation to overcome industry challenges. The audience of industry CXOs was also encouraged to share their own expert opinions and experiences, making for a stimulating conversation on where Indian manufacturing is now and how to get where we wish to be.
Stating that the manufacturing industry is going through its biggest change in over a hundred years, fuelled by supply chain challenges, shifts in customer demands, and rising costs, the VP of Phillips Additive, asserted, "This means manufacturers are forced to explore new ways of creating and capturing value, which is why, we felt this roundtable was the perfect platform to induce much-needed conversation on how to make Indian manufacturing more competitive."
Terrence Miranda, Managing Director, Phillips Machine Tools, delivered the closing remarks, expressing gratitude to all the participants for their valuable contributions and insights. The CEO Roundtable Discussion by Phillips and Markforged provided a platform for industry leaders to share knowledge, experiences, and best practices, fostering collaboration and innovation in the manufacturing sector. The event concluded with a networking dinner, allowing participants to further engage in meaningful conversations and forge new connections to further the nation's position as a global manufacturing leader.
Image Source: Phillips Machine Tools India Pvt Ltd