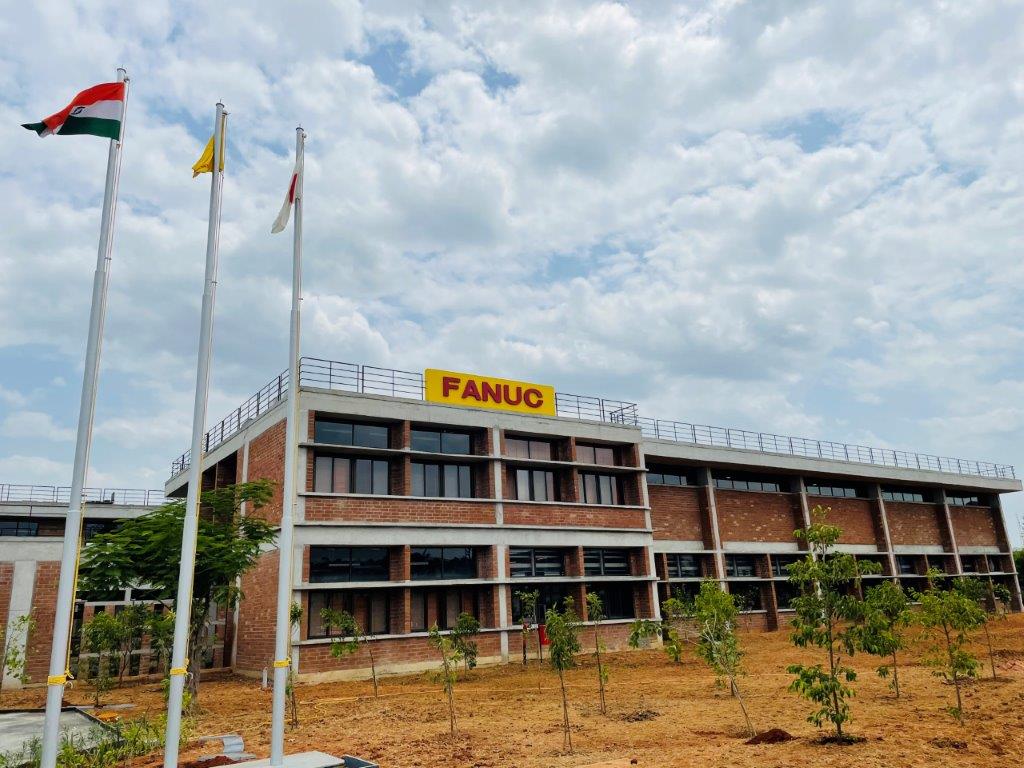 Chennai, India – FANUC India Pvt Ltd, a leader in Factory Automation, inaugurated its new Technology Centre in Sriperumbudur, Chennai, on August 4, 2023. The facility was inaugurated by Dr Yoshiharu Inaba, Chairman, FANUC Corporation. Headquartered in Bengaluru, FANUC India has been supporting the manufacturing industries in the Indian subcontinent for more than 30 years.
FANUC India provides industrial automation solutions – ranging from CNC controllers, Laser CNC, Robots, Vertical Machining Centres, Electric Injection Moulding machines & CNC Wire EDM. Coupled with complete integration of factory automation systems - lifetime service support forms a one-stop solution for its three core businesses 'FA - ROBOT - ROBOMACHINE'.
A global leader, FANUC has more than 260 offices in 107 countries. Since its founding 31 years ago, FANUC India has made great efforts in collaboration with the manufacturing sector to develop the industries in India. During this time, it has established more than 20 branches around India and has provided technical support and maintenance services to customers in each region.
In addition to the advantages of its geographical location with a port and excellent infrastructure, Chennai has many talented engineers and experts with high skills and has become a major industrial city in this country. This has attracted many big automotive manufacturers, which have set up production facilities here. FANUC is committed to supporting industries at every step in factory automation, technology advancement, and turnkey solutions. As a matter of policy, lifetime maintenance support is assured for FANUC Products. The energetic team of 33 young talented engineers is dedicated to serving the Chennai region and is well supported by FANUC India, Bengaluru, and FANUC, headquartered in Japan.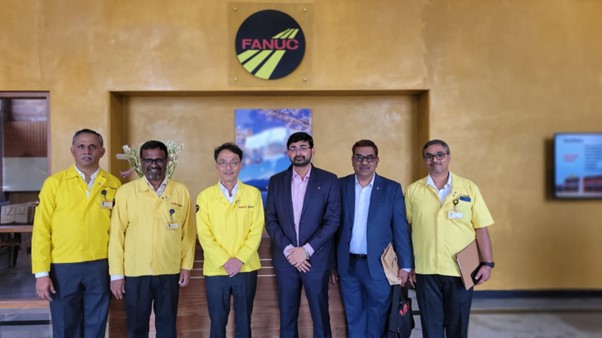 Yuki Kita, President & CEO, FANUC India (third from left); Jibak Dasgupta, Director General & CEO, Indian Machine Tool Manufacturers' Association (IMTMA) and Murali MS, Director, IMTMA along with senior members of FANUC India.
Reiterating that the company has been supporting India for more than three decades with made-for-India Factory Automation products, Dr Inaba stated, "This Chennai facility is a reaffirmation of FANUC's endeavor to serve the Indian manufacturing sector with a focus on Make-in-India and enabling the emerging sectors to be globally competitive. Technologies are advancing towards convergence and FANUC is at the forefront of digitalisation, among other exciting developments."
"Conforming to the spirit of 'Service First' FANUC provides lifetime maintenance for its products for as long as they are used by customers, through our 21 service locations supporting five countries in the Indian subcontinent," he continued. "Being the fastest growing economy in the world, India is a very important market for every business house. The well-educated, skilled, and English-speaking young population makes India an even more attractive place for business. In that, the State of Tamil Nadu plays a very crucial role."
Dr Inaba added, "Famous for its tradition, culture, and hospitality, Chennai city is very dear and close to our hearts. In fact, the first Branch Office, after establishing our headquarters in Bangalore in 1993, was in Chennai in 1994. Since then, we have been serving the region by enhancing our services day by day,"
"There are approximately 5,000 companies in Chennai that are customers of FANUC India. More than 50,000 FANUC CNCs, ROBOTs, and ROBOMACHINEs are in operation in these factories. Exceeding our expectations, this region developed extremely rapidly. In addition to the automotive industry, other industries such as the smartphone, household appliances, FMCG, and the plastics industry expanded into Chennai, increasing the city's importance even more," said Yuki Kita, President & CEO, FANUC India.
"To reach out and serve the industries even better than in the past, we decided to establish our own facility in Chennai and purchased this piece of 4 acre-land in Sriperumbudur, and built a 67,000 sq ft facility, equipped with all essential infrastructure and resources," he informed. "This is our 4th Technology Centre, after Bangalore, Pune, and Manesar.
The new building is designed to be earth friendly. Material that is optimal for thermal and acoustic insulation has been used effectively, as well as exposed concrete and exposed walls with compressed stabilized earth blocks. Such a structure offers a comfortable office environment that suits the high and humid climate of Chennai while being ecological."
Image Source: FANUC India