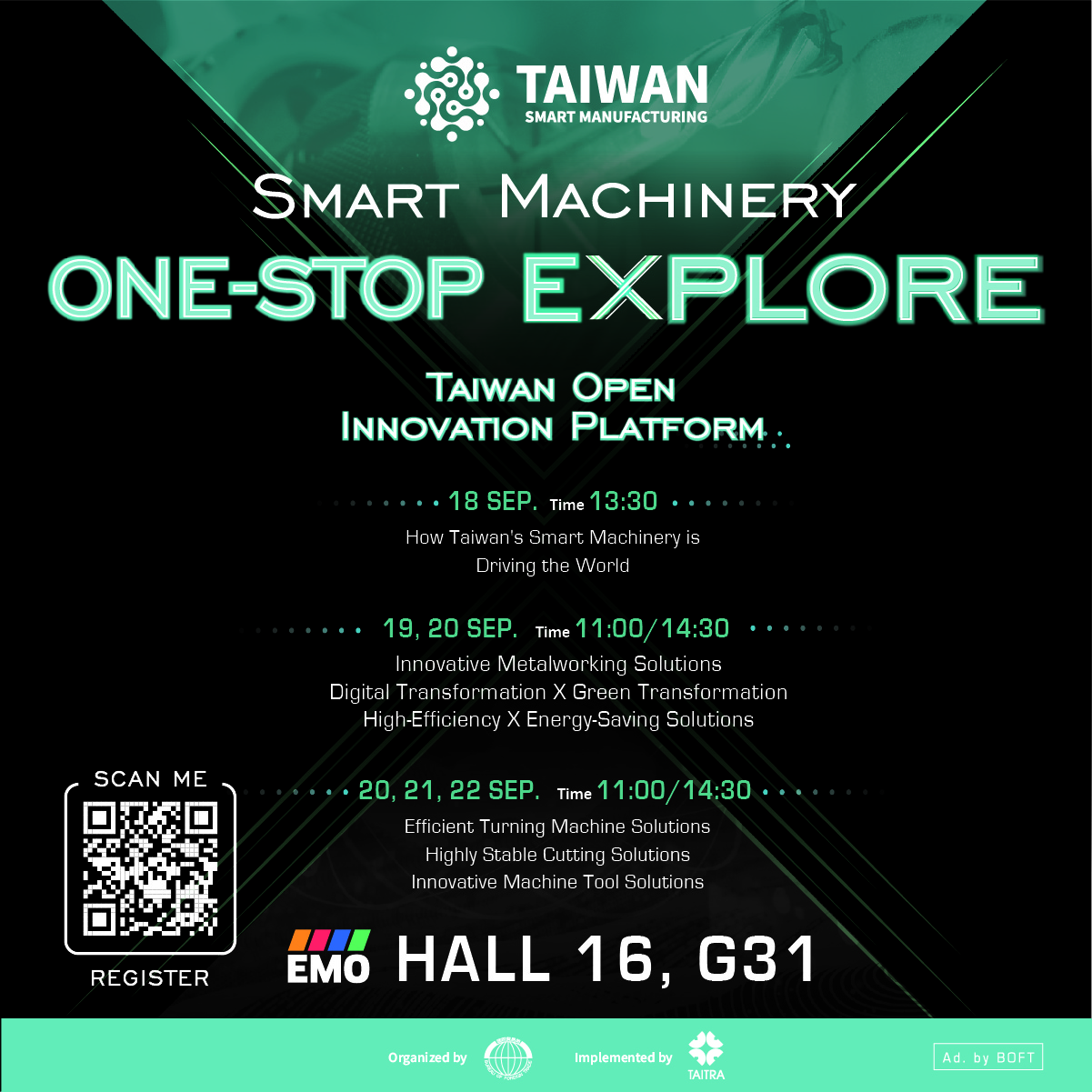 Hannover, Germany – Taiwan's Smart Machinery Industry is set to dazzle as its dynamic prowess takes center stage at EMO Hannover 2023. Ranked 7th globally with an astonishing output value of US$ 4 billion in 2022, Taiwan's cohort is set to make an awe-inspiring return with an entourage of 144 leading exhibitors.
This showcase is orchestrated by the Taiwan External Trade Development Council (TAITRA) under the 'Taiwan's Smart Machinery Overseas Promotion Program', sponsored by the Bureau of Foreign Trade (BOFT) at the Ministry of Economic Affairs. A testament to Taiwan's technological mastery, the Taiwan Smart Machinery Pavilion will be the heart of the event, hosting a series of interactive events designed to captivate and inspire.
A Glimpse into the Future
Emerging from a four-year hiatus, Taiwan's 144 exhibitors will unveil innovative concepts interweaving automation, eco-friendly manufacturing, intelligent streamlined processes, and high-performance components. In collaboration with esteemed partners, including the Taiwan Association of Machinery Industry (TAMI), the Taiwan Machine Tool & Accessory Builders' Association (TMBA), and the Taiwan Cutting-Tool Engineering Association (TACEA), TAITRA's 'Open Innovation Platform' promises an electrifying array of activities, from panel discussions and expert seminars to dynamic elevator pitches and illuminating solutions.
The group press conference and panel discussion will be held on September 18, at which distinguished leaders from TAITRA, TAMI, TMBA, and TACEA will converge to cast a spotlight on Taiwan's eminence in smart machinery. A testament to Taiwan's prowess in the industry, the event promises an engaging discourse on the future of smart machinery innovation.
Seamless Solutions at Your Fingertips
Post press conference and panel discussion there will be three themed seminars on September 19 & 20, curated in collaboration with TAITRA, TAMI, and TMBA. These seminars will encapsulate the forefront of modern manufacturing trends, converging on the key domains of precision metal processing, digital transformation, eco-conscious innovation, and high-efficiency energy applications.
The 12 participating companies—YCM, Tongtai, Buffalo, HIWIN, Honor Seiki, Palmary, 7-Leaders, Habor, Quaser, Accutex, HOLD WELL, and Walrus—promise to showcase the best-in-class. Adding to the excitement, September 20-22 will feature five dynamic elevator and solution pitches, offering comprehensive insights into high-efficiency cutting lathes, revolutionary automation techniques, and tailor-made applications. Eleven pioneers, including FFG, Kao Ming, SYIC, and Yinsh, will lead these presentations, offering buyers an abundance of knowledge in a mere 30 minutes.
Elevating Industry Through Innovation
TAITRA's Open Innovation Platform aligns industry associations and exhibitors to elevate discourse within the sector. Expert forums, themed seminars, and innovative presentations promise to encapsulate Taiwan's technological prowess, while elevator and solution pitches aim to amplify understanding of Taiwan's smart manufacturing industry, ushering in a new era of proactive and comprehensive information sharing.
Empower Your Future
Prospective attendees can secure their spot at the TAITRA booth, Hall 16, G31, during EMO Hannover 2023 to actively contribute to shaping the smart machinery innovation landscape. Taiwan External Trade Development Council (TAITRA) can be contacted at wjchen5@taitra.org.tw for detailed information and registration.
Image Source: TAITRA