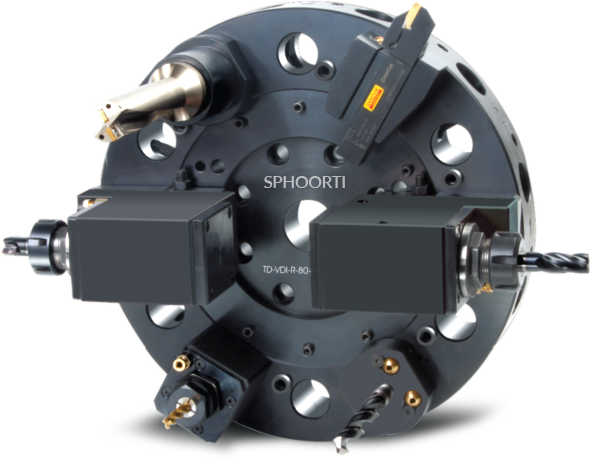 Sphoorti Machine Tools Pvt Ltd is a leading manufacturer of the widest range of world-class Turret Tool Discs and Tool Holders for any CNC Turning Centers and Turn Mill Centers. Tool holders are suitable for all turret makes like Pragati, Duplomatic, Baruffaldi, Sauter, EWS, GoldenSun etc. Below is the list of the company's product lines:
Static Tool Holders: These are holders for Axial and Boring Tools and Bar Pullers and are suitable for Electromechanical, Hydraulic, and Servo Turret versions.
VDI Tool Holders: Sphoorti's VDI Tool Holders come in Static and Live/Rotary/Driven versions, available in various sizes including VDI-16, 20, 25, 30, 40, 50, and 60. These holders encompass Turning Tool holders, Boring Bar holders, Collet Chucks, Morse Taper & cut-off tool holders, Bar Pullers, Reduction Sleeves, etc. The Driven tool holders are compatible with DIN5482, DIN5480, DIN1809, TOEM, and all other drive-end coupling types.
BMT Tool Holders: These holders are offered in Static and Live/Rotary/Driven versions in various sizes including BMT38/40/44/45/55/60/65/68/75/80/85. Boring/Turning/Facing tool holders are the Static types. Driven Tool Holders are offered in Axial, Radial types. These Tool Holders are compatible with any global-make CNC Turning and CNC Turn Mill Centers.

Details:
AceMicromatic Group
Sphoorti Machine Tools Pvt Ltd
Hall & Booth: 04/F-02
www.acemicromatic.net