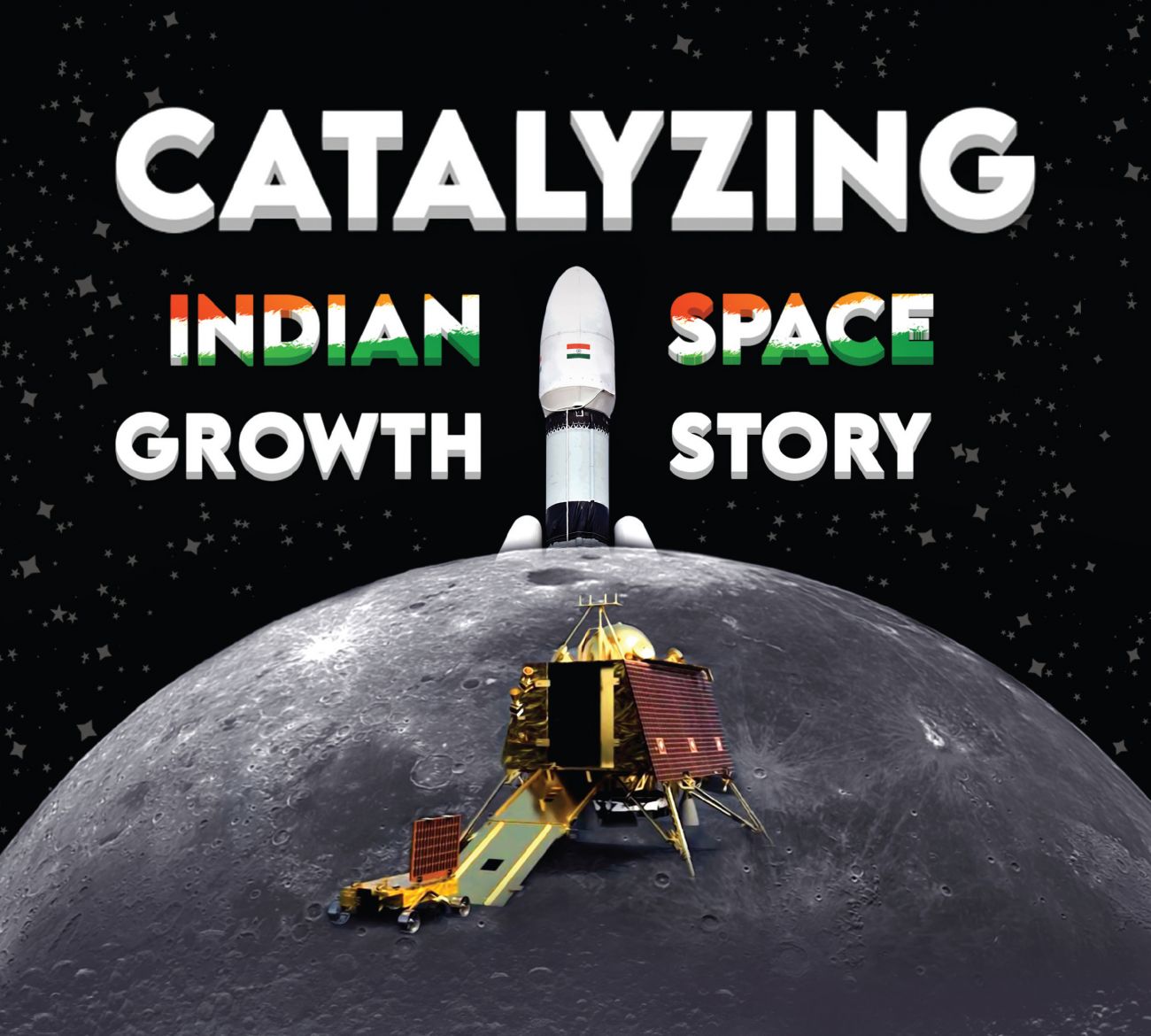 India now stands on the cusp of building a space ecosystem with ISRO being the guiding body, large enterprises and conglomerates diversifying into the sector, pulling up the value chain, and small and medium-sized enterprises (SMEs) producing sub-assemblies. With startups and technology innovators, India can now evolve as a space startup
hub for the world.
The engagement of Indian industry with the Indian Space Research Organisation (ISRO) dates back to as early as the 1970s, when private players started providing manufacturing support for the production of certain products for satellites and rockets. The initial space capabilities and missions involved high risk, large capital expenditure, and expert training necessary to handle such technologies, coupled with relatively low production volume requirements.
To navigate these constraints, ISRO invested mainly in generating the necessary Intellectual Property (IP) in-house, and engaged with the industry where they could, to provide manufacturing support for the production of several components needed for their missions. In the process, ISRO supported the industry by providing training and also put in place guarantees such as buy-back arrangements to guarantee procurement and mitigate commercial risk.
The recent reforms being instituted by the Government of India clearly have the ability to accelerate the growth of the private Space sector in India.
Recent growth of the Indian space ecosystem
| | |
| --- | --- |
| Over the last decade, India's Space sector has grown rapidly. Initially, India conducted an average of 1-2 launches every year, leading to a couple of satellites being placed in orbit. ISRO is now targeting up to 24 launches a year with the plan to bring tens of satellites into operation annually. Today, there are over 150 industry partners contributing to ISRO's space missions and several hundred more who contribute to the growing space program. | Figure 1: Breakdown of Indian space organizations by number of employees |
More recently, NewSpace is also taking hold in India, with over 50 new startups having emerged from the fledgling ecosystem within the last decade. The Government of India has kicked off systematic reforms to encourage activities undertaken by private industry in India's Space sector. These reforms are set to transform the Indian industry, enabling the private sector to serve both the local and the global markets with innovative products/services. With the changing landscape alongside growing opportunities in the sector, an understanding of the capabilities across the value chain within India becomes essential for stakeholders (both local and global) to be able to engage with the ecosystem.
Indian space ecosystem mapping
As there is little international understanding of India's Space industry capabilities or the contributions of individual organizations to the missions undertaken by ISRO, this project conducted by SatSearch focused on systematically capturing core insights pertaining to organizations across the value chain.

As a part of the effort to map the Indian space ecosystem, 281 organizations were identified as contributors to the value chain. For each of these organizations, pertinent data about the size, scale, and scope of work were curated. Specifically, their location (city and state), line of work/expertise, position within the value chain (OEM, tier 1, etc.), indication of annual revenues, and number of employees were captured.

Figure 2: Breakdown of Indian space organizations by type
Size and scale analysis
| | |
| --- | --- |
| Out of the 281 Indian space organizations identified during this project, the majority of them are privately owned, small and medium enterprises (SMEs) with typically less than 200 people employed. In fact, 60 percent of the 281 organizations are small organizations that have carved out a niche for themselves within the space program.Just over 8 percent of the organizations were identified as startups that have been established within the last 5 years and employ less than 50 people. This is perhaps a key indication of the interest and enthusiasm of space entrepreneurship developing in India. | Figure 3: Breakdown of Indian space organizations by annual revenue |
Fourteen percent of the organizations were identified as state-run institutions, which support specific requirements that may be too risky or too capital-intensive for the private sector to invest in.
There is tremendous potential for NewSpace actors who intend to produce end-to-end launch vehicles and satellites, to integrate the foundation that has built up over five decades of space activities driven by ISRO.
These include organizations such as Hindustan Aeronautics Ltd (HAL), BrahMos Aerospace, and Bharat Dynamics Ltd (BDL), which cater to key requirements in the aerospace and defence segment. Their expertise is relied on for critical subsystems, materials, or processes for either satellites or rockets, that are developed by ISRO.
Academic institutions and publicly traded companies are a small minority that were identified during the study, contributing to specific research or manufacturing areas. Interestingly,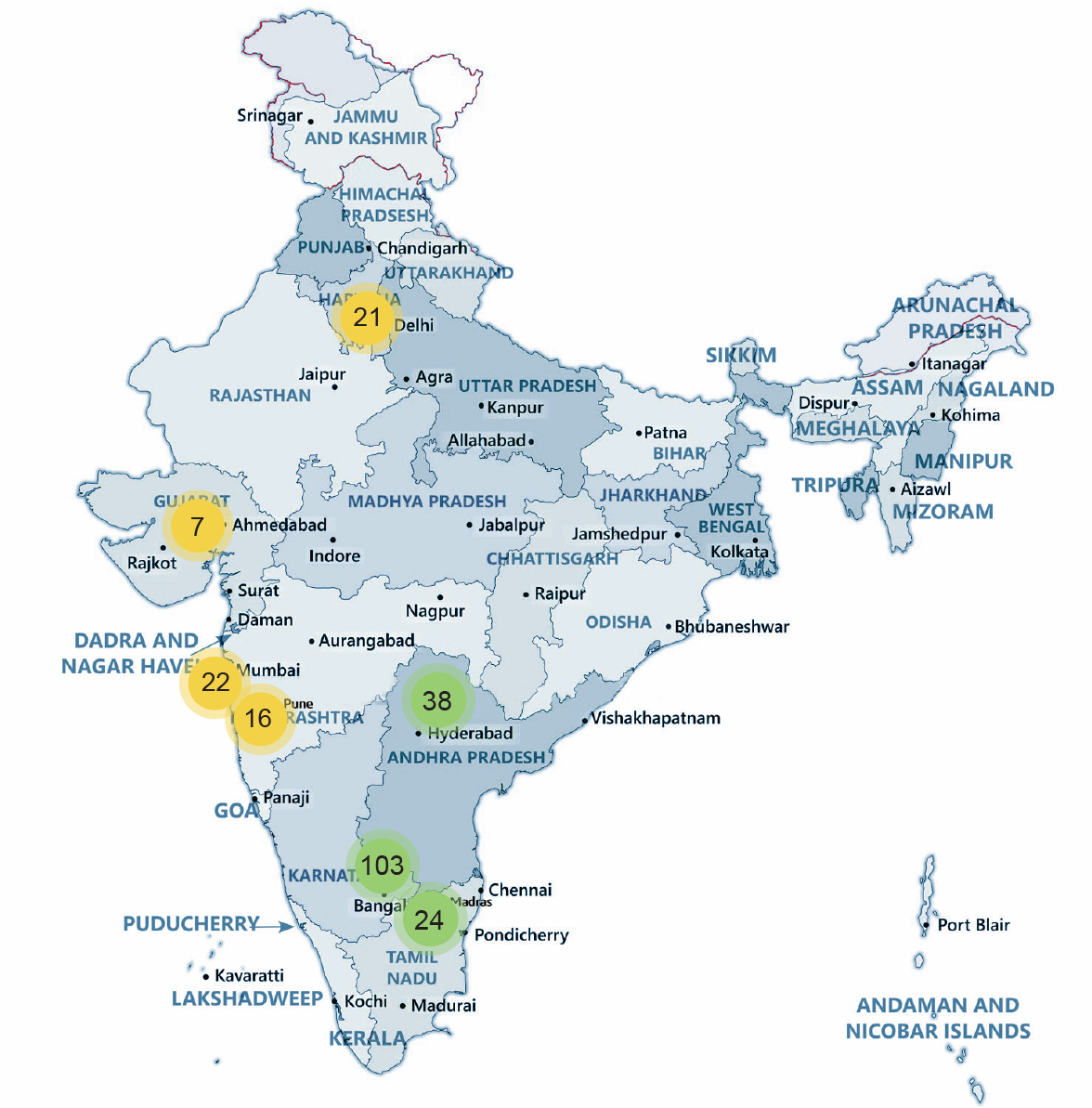 about 19 percent of the companies identified are large private companies that employ over 200 people and contribute to various ISRO centers. Private companies, both large and SMEs, tend to work across sectors, also contributing to the aerospace and defence requirements within the country (given they have the expertise to meet some of the stringent performance requirements for space).
Figures 1 and 2 show the breakdown of Indian space organizations identified in this study by the number of employees and organization type. As a part of the size and scale analysis conducted during this study, an effort to map their annual revenues was undertaken. Reasonable estimates from about 80 percent of the overall 281 organizations were collected. The breakdown is presented in Figure 3.
Only 30 percent of these organizations have revenues of INR 100 crore (€8,250,000) and above. Of these, about half of them are state-owned enterprises such as Antrix Corporation, Bharat Electronic Ltd (BEL), Hindustan Aeronautics Ltd (HAL), etc., and the rest are private sector SMEs/large enterprises. Forty five percent of the organizations fall within the bracket of having revenues of below INR 10 crore (€825,000). This raises the question of how precarious the industrial base is, and how well it can handle external shocks, like changes in macroeconomic factors.
There is tremendous potential for NewSpace actors who intend to produce end-to-end launch vehicles and satellites, to integrate the foundation that has built up over five decades of space activities driven by ISRO. This could be the silver lining for many of the SMEs within the ecosystem, to add both velocity and volume of orders, given their deep expertise in specific technologies, manufacturing processes, or other such facilities that can be utilized by these NewSpace actors.
Cluster and value chain analysis
The location of the organizations brings an interesting cluster insight to this survey (see Figure 4). The locational mapping revealed that a little more than 1/3rd of the organizations are located in Bangalore alone. Almost 2/3rd are located in the south of India, which is also the case with the majority of the ISRO centers as well.
Today, digital technologies are not only embedded in product development but also in the entire manufacturing process for components that fly on space missions.
There is evidence of strong clustering of companies around ISRO centers. The clustering becomes much stronger amongst NewSpace actors, with almost 2/3rd of them based in Bangalore and almost all the other startups also being based in cities such as Chennai, Hyderabad, and Mumbai. This could very well be due to the deep expertise available among ISRO personnel, as well as the SME base that supports several of these centres that are already clustered around Bangalore, Hyderabad, and Chennai.
The study also tried to assess the involvement of the organizations within the space value chain (see Figure 5). For the sake of the ease of segmentation, just three categories were chosen. The first being Original Equipment Manufacturers (OEM) who typically have the capacity (or in the case of some of the NewSpace startups are targeting) to manufacture end-to-end space missions. ISRO remains the central prime/OEM for all space-related missions in India. Approximately 6 percent of the organizations mapped are OEMs within the larger aerospace and defence landscape, who also contribute to the Space sector. About half of these are newly established startups that are looking to produce their own space missions (be it launch vehicles or satellites).

Figure 4: Breakdown of Indian space organizations by city location
Over 2/3rd of the organizations mapped in the survey deliver products or services that can be classed as Tier-2 or lower. This phenomenon may match some of the other prominent Space sector value chains in geographies such as Europe or the US, where SMEs bring in their deep technology expertise in delivering particular subsystems for space missions. There is a definite increase in the number of private companies involved in offering subsystems for various space missions in India. About 19 percent of the organizations surveyed contribute to the final delivery of subsystems for satellites, rockets and ground systems.
The upward mobility of companies from Tier-2 to Tier-1 and from Tier-1 to OEM is extremely challenging in a sector such as space, where both the size and scale of the organizations and the risk and investment needed to move up the value chain are significant barriers. Both the size and scale analysis, as well as cluster and value chain analysis, conducted during this study indicate that the SME/large private industry segment will primarily target meeting growing volume requirements within government-driven missions, and will look to support the emerging NewSpace actors, by sharing their deep expertise in specific, space-relevant capabilities.
Role of digitalization in the Indian space sector
Digital technologies form the foundation of being able to produce original IP in the Space industry. Digitalization has the capability to empower organizations to produce state-of-the-art, innovative products and services. One of the markers of innovation in the Space sector is the use of digital technologies by organizations around the world, to catalyze the development of new products and services.

To understand the competencies of India's Space industry to produce such cutting-edge products, a survey was conducted to assess how these suppliers use digital technologies and tools to streamline the generation of new space products and services that meet strict precision, reliability, and quality standards.

Figure 5: Breakdown of Indian space organizations by value chain position
Hence, the goal of the survey was to bring into view the degree of adoption of digitalization within the Indian space ecosystem.
There is a significant opportunity to mature the level of digitalization in the Indian space ecosystem, thereby supporting IP development for new space products and services that address commercial, scientific, and government needs globally.
Adoption of digital technologies
As a part of this survey, 93 respondents self-reported the level of expertise in digitalization within their organization (see Figure 6). Thirty-one percent and 35 percent of them reported that their use of digital technologies within their organization is at a beginner level and intermediate level respectively. Only 21 percent of them reported themselves as being at expert level.
How can NewSpace companies accelerate rocketry and satellite design and manufacturing with digital capabilities?
How exactly can NewSpace companies begin to drive the new frontier of satellite technology? The answer lies in the right business platform that helps them shorten rocketry and satellite development time to achieve first-time-right quality for successful launches.
The right business platform enables all of this by integrating different departments and information while providing digital capabilities to accelerate design and manufacturing. When it comes to rocketry and satellite design, the right business platform offers digital mission engineering with the capability to reuse data and models from past projects instead of starting from scratch. Stakeholders can collaborate with a real-time overview of designs in development to achieve innovative, sustainability-focused results faster.

Figure 6: Breakdown of digitalization expertise within Indian space organizations
Then, advanced virtual simulation capabilities allow companies to accelerate the testing and validation process. When they are equipped with multi-scale and multi-physics simulation capabilities that can rapidly reproduce complex space systems, they can explore more options and address quality issues and launch risks earlier.
Because rocketry and satellite manufacturing involves customized production, agility becomes a crucial competitive edge. The business platform not only enables companies to optimize production plans but also allows them to respond quickly to changes. They can rely on a Virtual Twin of their physical operations to rapidly evaluate the impact of different decisions before implementing any plans or plan adjustments.
This ensures that they can stay on track for the best results on the shop floor and ultimately increase manufacturing speed without sacrificing quality.
The adoption of digital technologies will be the backbone of the evolution of the supplier landscape in India (for both the traditional and NewSpace segments) from manufacturing partners to product and service owners.
Solution for faster and better satellite technology outcomes
The cloud-enabled 3DEXPERIENCE® platform is the integrated solution that NewSpace players need to succeed in the new frontier of satellite technology. It hastens their ability to design and manufacture sustainable first-time-right rocketry and satellite systems with the required quality at lower costs, and ultimately speeds up the delivery of satellites into
orbit.
By integrating technology into product development, companies can accelerate the product lifecycle from concept to take-off and gain a critical first-to-market advantage. This is possible through a suite of powerful digital capabilities that include real-time collaboration, virtual simulation, optimized planning, and the virtual twin experience. The virtual twin experience is an accurate and executable virtual model of the physical operations that allows companies to evaluate multiple what-if scenarios with ease and speed.
Bottom line
India's Space industry has credible capabilities but needs exposure to international supply chains, to integrate into the global market. One of the crucial aspects to address in the coming years is the ability of suppliers to move from being the backbone of manufacturing to being able to design and develop their own IP. This is a necessary step for the Indian Space sector to be able to produce new, innovative, industry-relevant products and services that address both domestic and international needs.
One way to achieve this may be by incentivizing suppliers with specific (financial) instruments that can enable competition between them to produce original IP for specific technologies that are required for the next generation of space missions. Suppliers can also be provided with clear visibility into the procurement of specific state-of-the-art products & services locally, to enable investment locally or through Foreign Direct Investments (FDI), Joint Ventures (JVs), etc. The recent reforms being instituted by the Government of India clearly have the ability to accelerate the growth of the private Space sector in India. The rise in NewSpace in India is especially interesting and has the ability to propel companies that can start providing end-to-end products and services that cater not only to local demand but are also globally competitive.