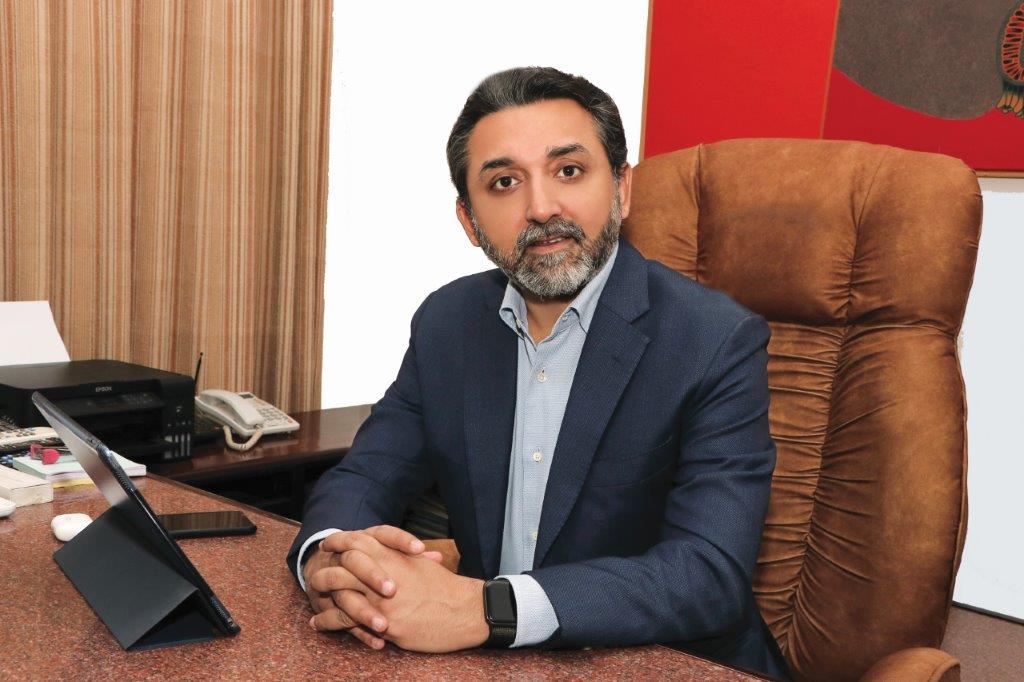 Chirag Doshi, Managing Director & CEO, Walchandnagar Industries Ltd (WIL), in a highly insightful interview with MMI's Editor-in-Chief Soumi Mitra, shares an overview of the company, its pioneering achievements in the Indian Engineering industry, contribution to nation-building activities, journey of the company's involvement in the moon missions, and the interesting initiative of building an industrial township for its personnel.

Kindly provide a brief overview of Walchandnagar Industries Ltd and the key industries and markets the company operates in.
Walchandnagar Industries Ltd (WIL) is a 115-year-old diversified heavy engineering and manufacturing company that has a strong presence in various core sectors, including Aerospace, Defence, Nuclear Power Plant Equipment, and industrial products like Gearboxes, Castings, Centrifugal Machines and Crushing & Grinding Equipment (for industries like Cement, Chemicals, etc). WIL was founded by the patriotic industrialist Seth Walchand Hirachand, who was among the very few captains of the industry in pre-independence India. Continuing his legacy and work, WIL constantly strives to play its role in India's nation-building process. WIL has three manufacturing locations in India with the mother plant located at Walchandnagar (130 km from the city of Pune).
WIL is known for pioneering achievements in the Indian Engineering industry and for its contribution to nation-building activities. Please tell us about your 50+ years of association with DAE, NPCIL, BARC, ISRO, and the Ministry of Defence.
WIL's association with many of the strategic Government agencies mentioned dates back to about five decades ago. This association has been a prime example of Public-Private Partnership (PPP) followed by select Government bodies in India like the ones mentioned. WIL has worked with these agencies during an era when access to technology was a big constraint. The manufacturing of such niche equipment – hardware for launch vehicles (SSLV, PSLV, GSLV); equipment for nuclear reactors; marine gearboxes for naval frigates, corvettes, submarines, missile hardware/launchers, etc had an element of trial and error involved both in terms of design development as well as manufacturing practices (welding, fabrication, machining, etc). WIL has displayed a deep commitment to the philosophy of nation-building by partnering with these agencies since its inception and is deeply embedded as a strategic partner today. Some of the major equipment/sub-assemblies supplied by WIL are as follows:
Aerospace: Solid Propellant Motors, Nozzle End Segments, and Strap-On Motors.
Missiles: Motor-casings for tactical and strategic missiles.
Defence: Mobile Missile Launchers, Mobile Bridges, Containers and Launchers.
Nuclear: Heat Exchangers, Calandria, End Shields, and Shield Tanks.
Kindly take us through the journey of your involvement in the Maiden Moon missions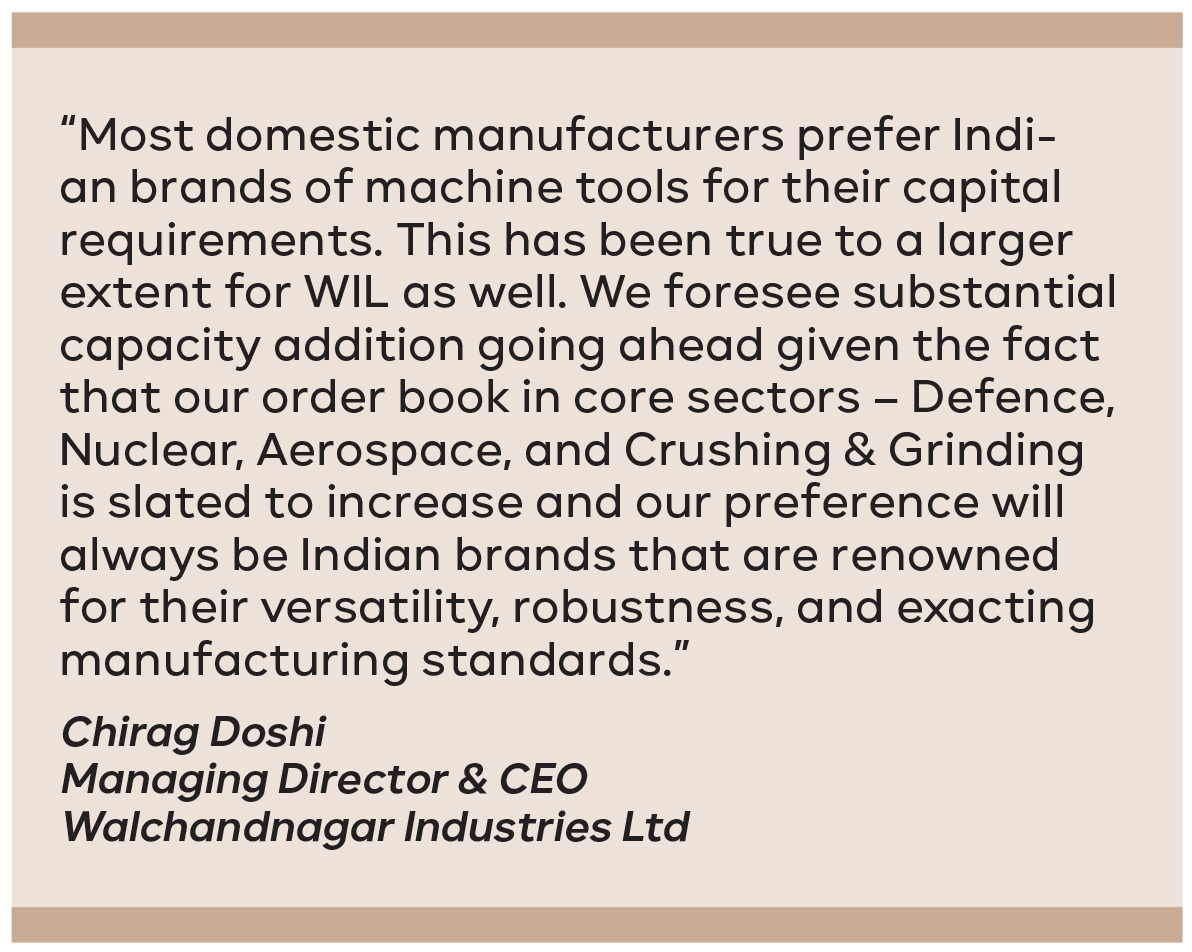 'Chandrayaan-I,' 'Chandrayaan-II,' 'Chandrayaan-III,' Mars Orbital Mission Mangalyaan, and India's Intercontinental ballistic missile (ICBM) program 'Agni V'.
WIL feels honored to be a trusted partner for various strategic and critical components of ISRO that it has been supplying over five decades for all space programs since SLV-3.
Our journey of involvement in the Indian space mission fills me with a deep sense of pride and gratitude. We, at WIL, are proud of our association with DRDO and our modest contribution towards many ambitious programs at various stages of development like the Agni series.
This path that we have walked together with ISRO/DRDO is marked by dedication, and unwavering teamwork coupled with trust, support and guidance from our valued customers.
Walchandnagar Industries is privileged to have been associated with the prestigious space missions of Chandrayaan-1, Chandrayaan-2, and Mangalyaan and shared the moments of glory.
WIL's key contribution to these prestigious missions is the S139/S200 booster motor casings and the strap motors of the launch vehicles used in these missions.
WIL feels honored to be a trusted partner for various strategic and critical components of ISRO that it has been supplying over five decades for all space programs since SLV-3.

Please help us understand the critical components your company provided for each project and how you were equipped to make such significant contributions.
To give an overview, the core stage of the launch vehicle PSLV used in Chandrayaan-1 and the MOM mission is the S139 Booster which is augmented by solid rocket strap-on motors (PS0-XL) to augment the thrust provided by the first stage. Also, GSLV MKIII/LVM3 (used in Chandrayaan-2 & 3) has two S200 solid rocket boosters to provide the huge amount of thrust required for lift-off.
Talking specifically about the recent LVM3 Vehicle of Chandrayaan-3 mission, it was at WIL's exclusive facility that the critical booster segments S200 comprising of three segments namely the Head-end segment, Middle segment, and Nozzle end segment of 3.2 m diameter and totaling 20 m length were manufactured and then proof pressure tested. Other hardware that we contributed to this mission included Flex nozzle control tankages and S200 Flex nozzle hardware.
Our established state-of-the-art manufacturing facilities and robust quality systems help us give extraordinary service and experience while taking up large-sized jobs having complex geometry and meeting stringent customer specifications. What propels us to the future is our young team of passionate engineers with domain knowledge groomed to a continuous improvement culture in processes and manufacturing of Aerospace-grade materials.
Since our division's modest inception in the early 1970s, it's remarkable that we now have over 40 percent of
our resources, including both personnel and machinery,
dedicated exclusively to supporting India's space program. This commitment has enabled us to effectively manage production concerns and meet the rising demand.
The order from Vikram Sarabhai Space Centre of ISRO (Thiruvananthapuram) was a significant milestone for your aerospace business. It is reported that the order was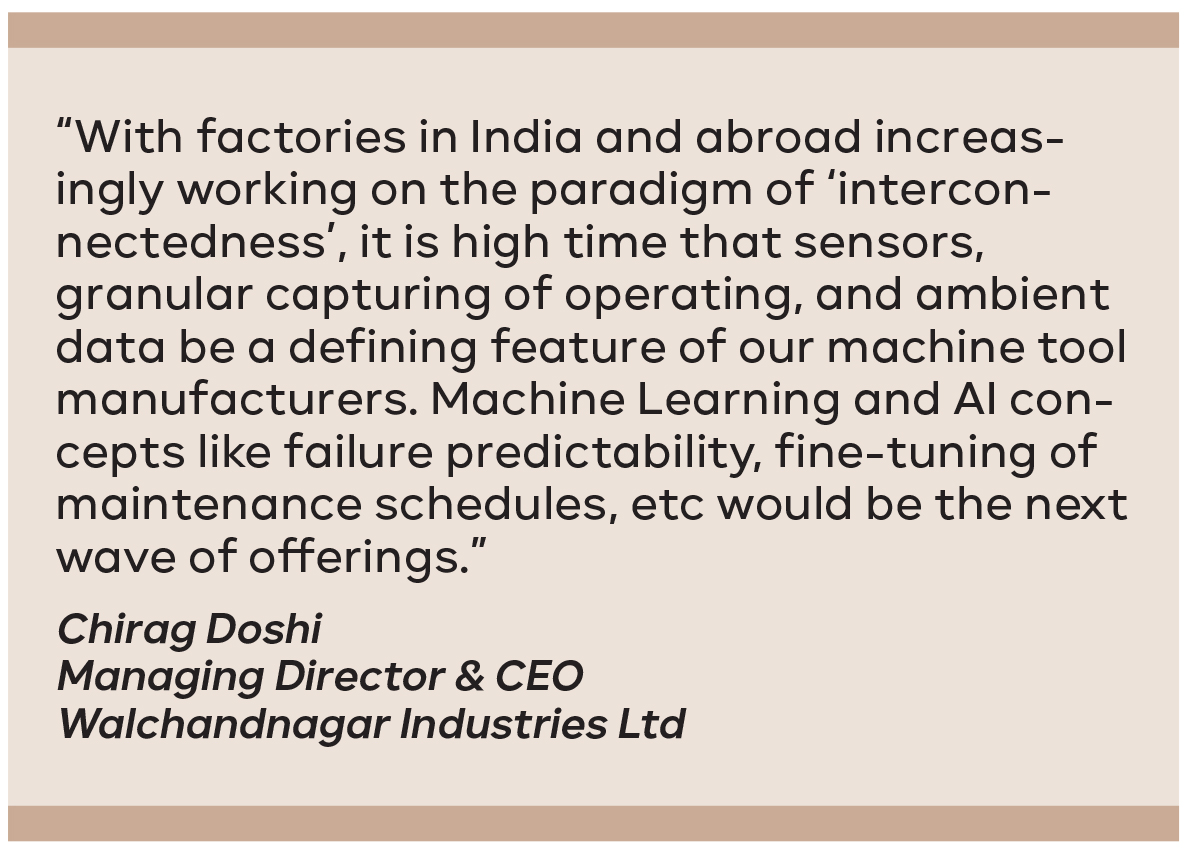 worth `77.20 crore and was the second-largest single order from ISRO and the largest as far as the GSLV-M KIII launch vehicle is concerned. How does WIL stand tall in terms of R&D and engineering innovation?
While the order that you have mentioned was definitely a landmark achievement for WIL in terms of numbers, it was even more important since ISRO reposed faith in WIL as a strategic partner for its upcoming critical missions. This confidence stems from the fact that we have been ISRO's partner right since the inception of India's space program. In terms of engineering and innovation, WIL's contribution has been in the area of development of specific welding, fabrication and machining practices to suit the needs of exotic materials from which such space flight hardware is manufactured. Today, WIL has the capability of not just manufacturing critical launch vehicle components but also testing them at our in-house testing facilities (Proof Pressure Testing Facility). WIL has a Welding Development Section (WDS) whose mandate is to constantly evolve our fabrication practices to meet stringent needs. We place a strong emphasis on the qualification of welders and the training of new recruits to ensure the establishment of a robust skill pipeline. WIL is also cognizant of new materials like composites, which may increasingly start playing a bigger role in missile and space flight hardware. Understanding and absorption of nuances around forming, autoclave operations, etc is something we are constantly striving for.
Today, WIL has the capability to manufacture critical launch vehicle components and also test them at its in-house testing facilities. It also has a Welding Development Section (WDS) to constantly evolve its fabrication practices to meet stringent needs.

Kindly provide us with comprehensive information about the industrial township of Walchandnagar. Please share its key features, infrastructure, industries present, and the overall development and significance of the township.
Walchandnagar has always been conceptualized as an industrial township since the inception of WIL, where talent from all across India could work and live together. Today, WIL has a total manpower strength in excess of 2,000, and most of our staff members and workmen stay within the township that has a solid infrastructure to cater to the living, safety, social and recreational requirements of its inhabitants. All modern amenities including a large central parade ground, sports facilities (tennis, badminton, swimming, etc), ample walking spaces and cycling tracks, etc make the township an ideal place to live a balanced and secure life. English and Marathi medium schools, which are known for their academic reputation and extra-curricular reputation, ensure that the children of all staff and workmen get the best possible academic facilities comparable to urban centers. A spirit of community and social welfare has always been inculcated since inception, and it is in the same spirit that all major national events and festivals are celebrated with a lot of fanfare. In order to ensure good health of its inhabitants, the township is equipped with a state-of-the-art hospital as well.
Apart from the township, the entire town has also seen the development of a supportive ancillary industry to cater to the needs of the mother plant. MSME units like fabrication and welding units, and machine shops are qualified facilities that ensure a steady augmentation of capacity and smoothening of man/machine requirements from time to time. This has also led to employment opportunities in the area. All in all, the mother plant at Walchandnagar and the township are a classic example of a progressive and socially conscious manufacturing ecosystem.
As an industry expert in the manufacturing industry, how do you see the growth of the Indian Manufacturing sector, with a particular focus on the Machine Tools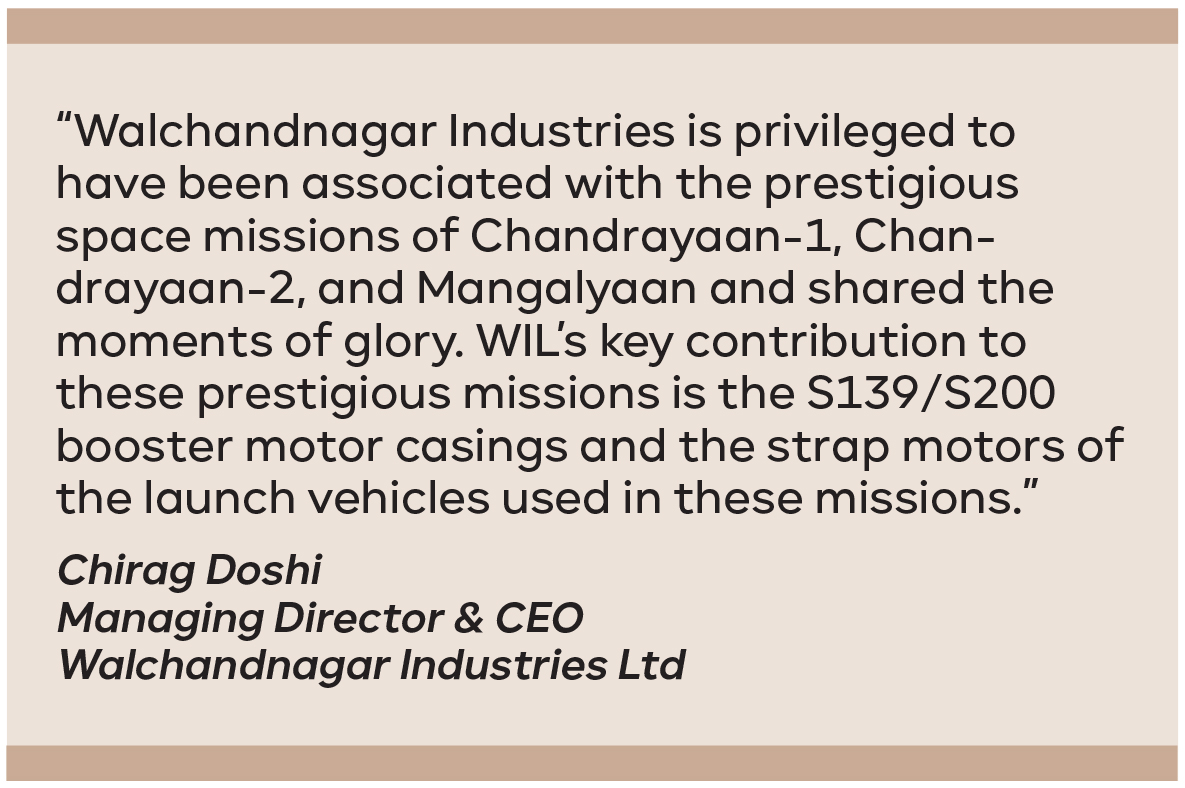 sector?
The direct correlation between manufacturing activity and capital goods demand (especially machine tools) is very well understood. As India strives to increase the share of manufacturing in its present GDP pie, there is no doubt that the Machine Tools sector will see a concomitant growth. Sectors like Automotive (E-Vehicles in particular), General Engineering (Pumps/Valves/Compressors/Gears), Electronic Hardware Manufacturing/Assembly, and Heavy Engineering (Defence /Other Core Sector Equipment) are all seeing multifold increase in investments and captive demand. This will invariably lead to an increase in the requirements of machine tools. The overall policy with enabling steps like Production Linked Incentive (PLI), ever increasing budgetary allocation to infrastructure development, etc., also seems to be moving in the right direction. As has been commonly seen post pandemic India has found its place under the sun as a reliable manufacturing partner. In general this should augur well for the Machine Tools sector.
Could you please provide us with insights into the trends, challenges, and opportunities prevalent in the machine tools manufacturing landscape? How does your company contribute to the advancement and growth of the Machine Tools sector in the country?
One of the basic advantages for the Machine Tools sector in India would be its very high captive consumption. Unlike other traditional machine tools manufacturing powerhouses that manufacture such equipment primarily for exports, India presents a tremendous captive base given its projected growth in manufacturing. Most domestic manufacturers prefer Indian brands of machine tools for their capital requirements. This has been true to a larger extent for WIL as well. WIL itself contributes significantly to the value chain of Indian machine tools manufacturers by supplying heavy CI castings from its Foundry unit. Some of the biggest names in the domestic Machine Tools industry – BFW, Micromatic, and LMW happen to be our esteemed customers. Even in this part of the value chain, we see a discernible shift away from erstwhile sources like China and a much deeper preference for India instead.
Unlike other traditional machine tools manufacturing powerhouses that manufacture equipment primarily for exports, India presents a tremendous captive base given its projected growth in manufacturing.

We would like to hear your perspective on the capabilities of machine tools players in India. From your experience and interactions in the industry, what is your assessment of their strengths and areas for improvement? Are there any changes or advancements that you believe are crucial for the growth and competitiveness of the Machine Tools sector in India?
Indian machine tools manufacturers have already evolved a great deal as far as contemporary requirements of manufacturers are concerned. I would, however, personally be delighted to see them making a much deeper mark in value-added features like Internet of Things (IOT). I would also like to see Indian machine tools manufacturers gradually contributing to additive manufacturing so that we have a footprint in 3D printing which represents a diametrically opposite philosophy to the traditional role of a machine tool, i.e., the removal of excess material. As the world moves towards manufacturing, which will involve faster prototyping and optimum usage of resources, it is these technologies that need to be embedded in our products going ahead.
SOUMI MITRA

Editor-in-Chief

Modern Manufacturing India

soumi.mitra@magicwandmedia.in