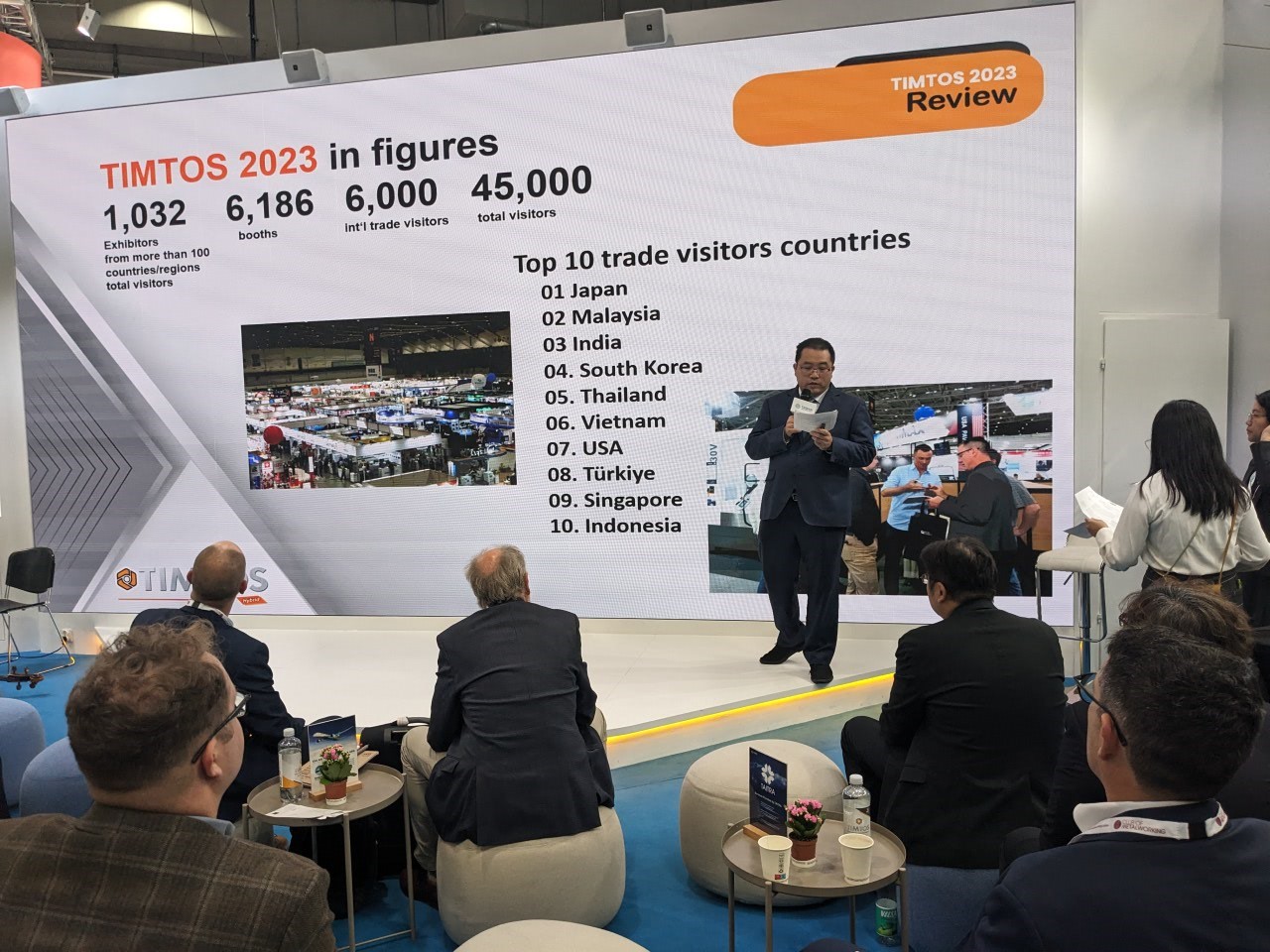 Hannover, Germany – Taiwan External Trade Development Council (TAITRA), executed the Smart Machinery Promotion Project—organized by the Bureau of Foreign Trade, Ministry of Economic Affairs—which held a press conference and expert forum on the first day of the world's largest machine tool exhibition, EMO Hannover 2023, which kicked off on September 18 in Germany. The event focused on the development trends of machine tool applications in the semiconductor, electric vehicle, and energy transition industries, highlighting Taiwan's strong R&D capabilities and industrial supply chain advantages. The speakers also shared their global market strategies and smart manufacturing competencies, attracting more than 10 countries and 46 global media to attend the interview, as well as nearly 30 agents, international buyers, and representatives to exchange views.
Taiwan Supply Chain Takes the Initiative to Capture Global Attention
In 2022, Taiwan's machine tool output value was about US$ 3.93 billion, ranking seventh in the world, and its export value was US$ 3 billion, ranking fifth in the world. After a four-year hiatus, EMO Hannover returned to the stage. Simon Wang, President & CEO, TAITRA, said that the Smart Machinery Promotion Project joined hands with leading organizations in Taiwan's machine tool industry, such as the Taiwan Association of Machinery Industry (TAMI), Taiwan Machine Tool & Accessory Builders' Association (TMBA), Cutting Tools Association (CTA), and Elimi for Women Managers Association in the Machinery Industry, as well as Taichung City Government, where the industrial cluster is located.
Through the expert forum, they conveyed to global buyers that Taiwan can meet the needs of various application fields, whether it is semiconductor equipment manufacturing, energy transition, or electric vehicle manufacturing. For example, in terms of semiconductors, Taiwan can supply not only advanced processes, but also related peripheral equipment that are essential for chip production. After years of cultivation and experience with foundries such as TSMC, Taiwanese suppliers can satisfy international demand for both direct and indirect processes, including companies such as Tongtai, Quaser, FFG, HIWIN, etc. Taichung has gathered many key components for electric vehicles, forming an electric vehicle industry chain. Well-known electric vehicle brands such as Tesla have chosen many Taichung manufacturers as their supply chain partners. The electric vehicle industry chain covers parts (Parts), modules (Module), system integration (System), and even complete vehicles (Integration Vehicle), with relevant manufacturers involved in various segments.
Global Market and Supply Chain Advantages
The expert forum further revealed Taiwan's global market strategies and smart manufacturing capabilities. Under the trend of supply chain relocation, diversifying markets is a necessary task for Taiwan's machine tool industry. Patrick Chen, Chairman, TMBA, said that the global political and economic situation is unstable, which leads to the shift of supply chain management from globalization and internationalization to short-chain and localization. In response to supply chain restructuring and production base relocation, machine tool and accessory manufacturers not only respond to the policy of Taiwanese businesses returning to invest in Taiwan, but also start to reallocate resources and conduct cross-border layout.
For example, YCM cooperated with TRIMILL to strengthen one-stop machining solutions for mold, automotive, and aerospace industries; FFG acquired Germany's MAG Group to enhance its presence in the automotive sector and European market; and Tongtai acquired France's PCI-Scemm and Austria's ANGER for technology cooperation and market channel sharing. David Chuang from TAMI said that machinery manufacturers must continue to upgrade and transform themselves. Whether it is R&D or manufacturing of semiconductors, green energy, electric vehicles, or aerospace industries, they all rely on the excellent technology and expertise of precision machinery. The development of these application industries also promotes the progress of the precision machinery industry. The close cooperation between industries demonstrates the strength and competitiveness of Taiwan's manufacturing sector. Moreover, enterprises themselves must also grasp their own core competencies and market differentiation.
This year's EMO exhibition has more than 1,750 exhibitors from 42 countries gathered together. Among them, there are 144 Taiwanese exhibitors, ranking fourth among participating countries. Taiwanese exhibitors showcase a series of forward-looking concept products to the world, including automation combined with green manufacturing, intelligent streamlining of machining processes, and integration of high-performance peripheral smart components. On the stage of the expert forum, they emphasized that Taiwan's smart machinery field has evolved from single automation equipment to comprehensive smart solutions. This exhibition provides Taiwan with a global platform to highlight Taiwan's active participation in semiconductor front-end equipment, common industrial communication protocols, components, and other industry trends. In addition, Taiwan also actively explores different machining application fields, further strengthening its position in the value chain.
Image Source: Magic Wand Media