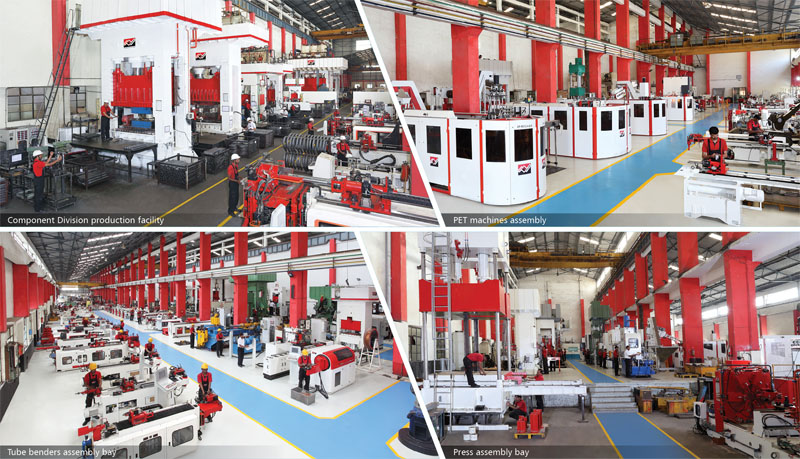 A family-owned and managed business, Electropneumatics & Hydraulics (I) Pvt Ltd has got all its basics right. From leading the path of indigenous manufacturing, through focusing on its high ethical standards to staying committed to its stakeholders and society at large, the company has laid down a firm foundation that attests to its phenomenal growth.
Established in 1972 by its late founder Chairman, Antony Rasquinha with a team of just five persons powered by a desire to innovate and develop new products and technologies for the Indian industry, Electropneumatics & Hydraulics (I) has come a long way.
"The first product rolled out was indigenous development and manufacturing of electrically operated pneumatic valves, a substitute to expensive imported ones," shares Sanjay K Saha, Vice President - Marketing, Electropneumatics & Hydraulics (I), as he recounts the company's initial feats on its remarkable journey.
From this humble beginning, the company gradually climbed the ladder of innovation by introducing many indigenous products such as hydraulic presses, tube bending machines, AC servo drives & motors, PLC/CNC systems, servo mechanical presses, special purpose machines, etc. along with technologies like hydroforming and hot forming. Many of these machines and technologies have been 'first-of-its-kind' in India.
There are five divisions in the company that operates out of a sprawling area of 15 acre :
Fluid Power Division manufactures pneumatic valves, pneumatic / hydraulic cylinders, hydraulic power packs and systems;
Machine Manufacturing Division produces metal forming machines, various SPMs and PET stretch blow moulding machi-nes;
Component Manufacturing Division is a mass production unit of parts by hydroforming process and specialised forming operations;
Drives & Controls Division is company's electronics wing producing AC servo drives/ servo motors of industrial and Mil grade, CNC and PLC systems, motion control solutions, etc;
Strategic Projects Division executes turnkey projects and several defence projects.
Catering to Diverse Sectors
Given Electeopneumatics' product range, it's only natural that the company's presence is spread across many sectors including Railways, Defence, Aerospace, Ship building, Boiler & Power generation, Infrastructure, White goods, Electrical & Electronics, General Engineering, etc. "Of all, the Automotive and Auto Components industries have been the biggest users of our products," informs Saha. However, to prevent over dependency on the two industries, the company has diverted into a newer product line of PET servo stretch blow moulding machines. "For the last few years, we have also been associated in a big way with Defence Research and Development Organisation (DRDO) Labs and other Defence Manufacturing industries in realizing the country's important and critical defence projects like Missile Launchers, Damage Control Simulators, Nuclear Biological Chemical Training Facility, etc.," he adds.
Only a few of the company's products like CNC Tube Benders come under standard category. "Around 70 to 75 percent of our product portfolios are customized solutions. That is how we have carved a niche for ourselves in the industry, implementing cutting-edge technologies to achieve cost-effectiveness and being ahead of the curve," notes Saha.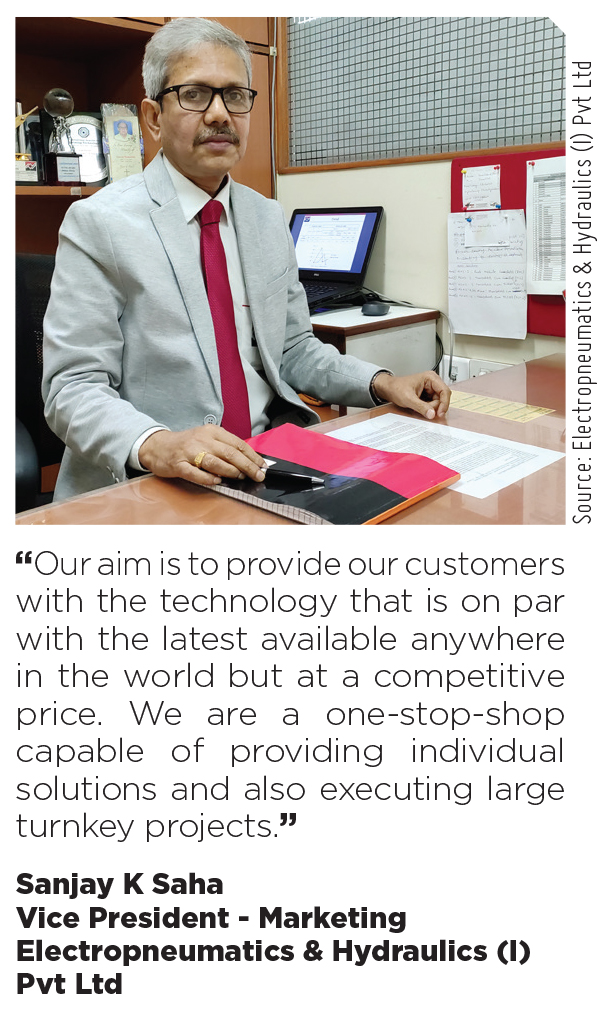 Playing to its Strengths
The culture of R&D and innovation, and a belief in indigenization have been the bedrock of Electropneumatics. Saha shares the strategies that the company implements to stay attuned to its customers' diverse needs. "Our strength lies in the total indigenous designing, manufacturing and testing capabilities in the area of mechanical, hydraulics, pneumatics, electrical, electronics and software, helping us maintain a leadership position," he points out.
"From the beginning, we have been investing in R&D for the development of new technologies and equipment using our indigenous experience and know-how. Hence, today we are able to offer our customers the latest technology products to meet their demands of productivity and reliability," he adds.
The company is DSIR, Government of India recognized in-house R&D center. It has distinguished itself from the rest with its technological innovations and built a tradition of anticipating demands of the future and being ready with the solutions to meet them.
That explains its impressive clientele including Tata, Bajaj, Mahindra, Hero Motocorp, TVS group, Godrej, L&T, Bharat Forge, JBM, IAI, Supreme Treon, Indian Navy, Goa Shipyard, GRSE, BHEL, RITES, IRCON, etc.
Its international customers comprise Trantor, USA; Samsonite Corporation, USA; Langbow, UK; Zamil Ladders, Saudi Arabia; Bill Forge Mexico; Sri Lankan Railways, Myanmar Navy; Ananda Shipyard, Bangladesh; Taigene Metal Industries Co. Ltd., Taiwan; etc.
Green Practices
In line with its commitment to a bigger cause, the company is on board with the green movement and is currently taking initiatives to ensure its reduced environmental footprint. "Sustainable manu-facturing practices are being employed in many areas of our daily production processes. The heavy-duty hydraulic presses in the Component Division shop floor employs smart servo pumps with intelligent drive system. This advanced hydraulics system directly contributes to energy efficiency, reduced noise and heat generation, improved efficiency and better shop floor environment," informs Saha.
Similarly, the latest technology servo mechanical presses, a tool for green manufacturing, are also being used by the company for the manufacturing of parts. These manufacturing methods not just control the manufacturing cost, improve the process and the product, but are also safe for the environment.
Responsibility Towards the Society
'Only a life lived for others is a life worthwhile' has been the guiding principle for Electropneumatics' CSR initiatives. The company has been consistently contributing in the fields of education, health care, skill generation, community empowerment, etc. It has aimed at providing a better life to the people of surrounding villages through several projects including Pius Memorial English Medium School; Rasquinha-Don Bosco Technical Training Centre; Dulcine-Pius Memorial Home for the Aged; Pius Memorial Clinic; Mahila Unnati Vikas Mandal; Lift Irrigation Project and Dulcine-Pius Memorial Park for Children.
For the last few years, Electropneumatics is also associated with Defence Research and Development Organisation (DRDO) Labs and other Defence Manufacturing industries in realizing the country's important and critical defence projects like Missile Launchers, Damage Control Simulators, Nuclear Biological Chemical Training Facility, etc.