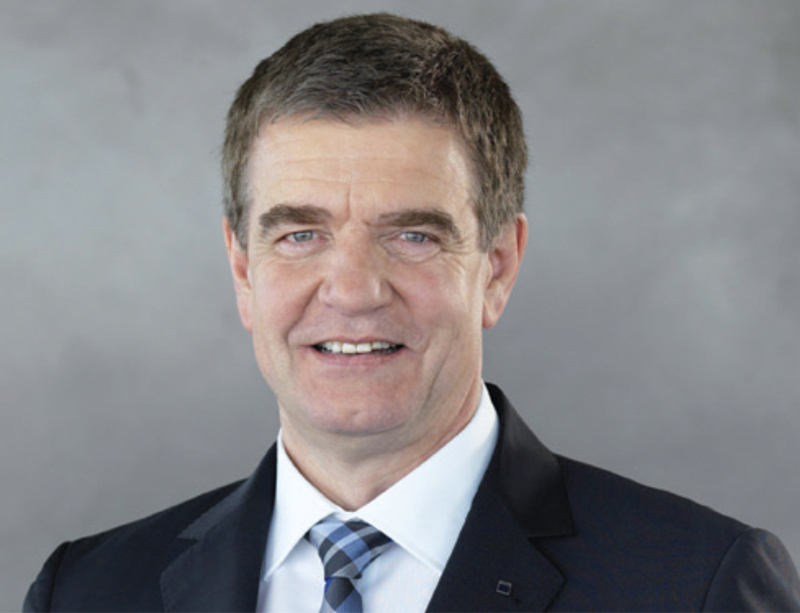 In an exclusive interview with MMI's Chief Editor Soumi Mitra, Dr Heinz-Jürgen Prokop, Chairman, VDW (German Machine Tool Builders' Association), sheds light on Asia's growing presence in EMO Hannover; the show's focus on Artificial Intelligence (AI) Technologies and Additive Manufacturing; VDW's initiative to support start-up companies; and umati, a quantum leap in the world of manufacturing. Excerpts…
EMO Hannover 2019 is slated to be a mega affair with one of its distinctive features being Asia's growing presence in the leading Metalworking trade fair. How do you perceive the reasons for this increase in the participation?
Dr. Heinz-Jürgen Prokop : Around 2,200 exhibitors from 47 countries have registered for EMO Hannover 2019. In fact, the number of Asian exhibitors has increased from 21 percent in 2017 to 31 percent in 2019. The largest Asian exhibitor contingents come from Taiwan (239), China (235) and Japan (99). Taiwan and China recorded the highest increases in terms of exhibitor number and exhibition space. In my view, the Taiwanese and Chinese manufacturers want to rise their exports. Meanwhile, they also offer technology that could be in demand internationally. Due to its international audience, EMO Hannover is certainly the right and most efficient platform to test this.
Manufacturing players from all over the world are looking forward to umati (universal machine tool interface), which is regarded as a breakthrough in the manufacturing world. Please elaborate on the objective behind umati.
Dr. Prokop : Everyone is talking about Industry 4.0 and wants to exploit the value creation potential. But this requires a standard interface for connecting machine tools from different manufacturers to a higher-level software system. That is exactly the goal of umati. Thanks to the industry initiative of the VDW (Association of German Machine Tool Manufacturers), companies – especially small and medium-sized enterprises – can advance the automation of their production much faster and cheaper. With umati, we are creating an important building block for the introduction of various value-added services making Industry 4.0 applications possible for the first time. Only with this standard interface, it is possible to fully exploit the value creation potential of the Industry 4.0 concept. This, in turn, allows companies to survive in international competition in a long-term perspective.
How would VDW as a premiere technology association facilitate manufacturers to adopt and implement umati in their manufacturing processes?
Dr. Prokop : Under info@umati.info our experts are available for all questions and help gladly with the practical conversion. Also, at the end of the year, the VDW is planning various support programs. Interested parties will be provided with comprehensive documentation on the topic and implementation guidelines by the VDW.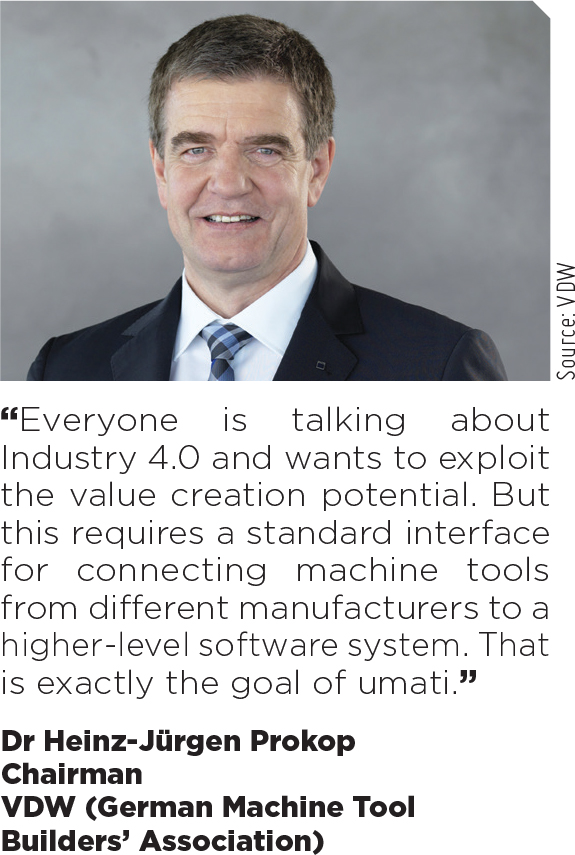 It is slated that Artificial Intelligence (AI) Technologies will contribute 40 percent of production processes by 2025 and increase economic growth in 16 industries by an average of 1.7 percent. Against this backdrop, how do you think the AI will affect the Internet of Things (IoT) in manufacturing?
Dr. Prokop : Not only governments, but also research institutions from production science have discovered the topic for themselves and invest a lot of money, time and know-how in the implementation of AI. For example, in Germany, the WGP (Wissenschaftliche Gesellschaft für Produktionstechnik) is currently working on a position paper to be published in September that is intended to be to be a wake-up call for companies to address the topic of AI. In addition, it will be shown how AI can be systematically integrated into production processes. First applications in the machine tool environment are, for example, the self-learning optimization of process or cutting parameters. Due to the increasingly digitized and networked production, we can assume that AI will further increase the automation and efficiency of production in the future. The fact that new business models are also emerging as a result to AI is demonstrated by the start-ups exhibiting at EMO Hannover 2019.
This edition of EMO Hannover has a special area dedicated to Additive Manufacturing (AM) showcasing the entire value chain of AM. How would 3D Printing and AM change the course of doing business in the metalworking sector in the coming years?
Dr. Prokop : Additive processes are becoming an increasingly important factor. This applies above all to the automotive and aircraft industries, but more and more products are also being printed in medical technology. The aim is to find new product properties and applications that justify the high costs of additive production. There are increasingly more convincing examples to this.
The technology itself must be further optimized, as not all materials are suitable yet and the surface quality of the workpieces is not yet high enough. But also, for this challenge, research is constantly developing new approaches and solutions, such as combination machines.
So-called hybrid machines combine the advantages of additive processes with classic cutting technologies.
EMO Hannover's initiative to support start-ups in the production environment in the form of 'Digitalisation in Production' award, with € 10,000 prize money, deserves a special mention here. It must have garnered an amazing response from budding entrepreneurs. Kindy tell us about it.
Dr. Prokop : In fact, it was possible to collect more than 250 applications for the first edition of the start-up competition 'Digitisation in Production'. We were very pleased, because people in Germany often complain that too few people dare to take the step into self-employment. However, there are many ideas and activities in the production environment. The jury will meet in the next few days and select the best applications. Up to six main prizes and up to 15 recognition prizes will be awarded. The price-giving ceremony will be on the second EMO day, September 17, as part of a festive event. However, the winners will not only receive the prize money of € 10,000, but also a written assessment of their founding idea on strengths, weaknesses, opportunities and risks. For young start-up companies, this can sometimes be worth more than the sum of money.
The winners of the start-up competition, 'Digitisation in Production' will not only receive the prize money of € 10,000, but also a written assessment of their founding idea on strengths, weaknesses, opportunities and risks. For young start-up companies, this can sometimes be worth more than the sum of money.