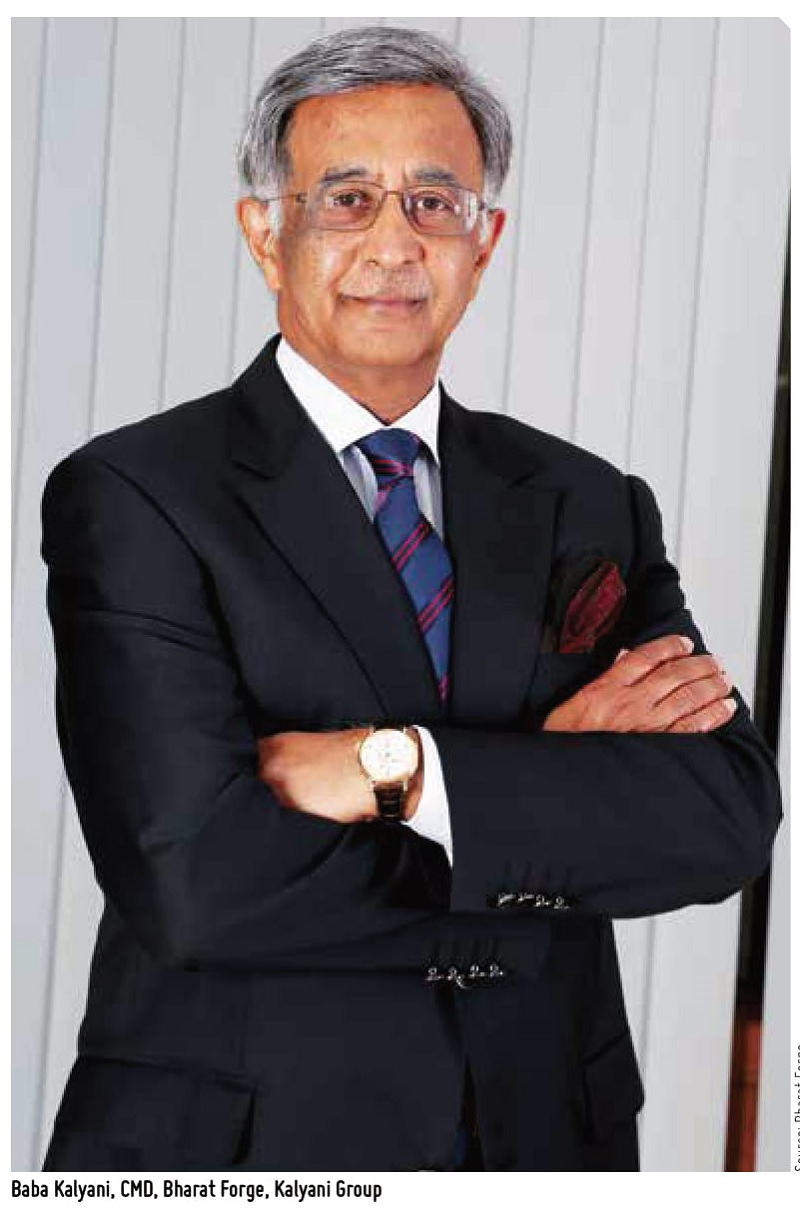 In an earnest interview with Team MMI, Baba Kalyani, CMD, Bharat Forge, Kalyani Group, shares how the company has always focused on portfolio diversification for its growth, and sheds light on its foray into several new business initiatives.
How has the journey of creating the world's largest forging company, which is also one of the best automotive forging companies, been?
Baba Kalyani : For a couple of decades after India's independence, the automobile industry was almost non-existent like most other industries. Almost everything including the ancillaries and infrastructure were either scarce or absent and, therefore, were being imported. It was during those times when my father, Neelkanth Kalyani of Karad, near Sangli, set up Bharat Forge around 1964, and over a period of five decades now, it has grown to become India's largest and one of the top three global forging companies with a strong metallurgical expertise, design, engineering and manufacturing capabilities.
Today, we have a manufacturing footprint across India, Germany, Sweden, France and the US. The company has always focused on portfolio diversification to amplify growth and de-risk business. Even though our primary business is to cater to the automotive sector, we have also created a significant presence in industrial sectors across aerospace and defence, oil and gas, marine, railways, etc. Our expertise in metal forming helped us in diversifying to these segments. The industrial business now accounts for about 44 percent of overall FY19 revenues.
In FY19, our consolidated revenue crossed `10,000 crore-mark and despite the global slowdown that year, our company managed to win about $50 million of new business.
Our journey so far has been a fair mix of highs and lows, but we have managed to overcome every challenge coming our way. By 2050, the company envisions to become a technology company from a forging company.
---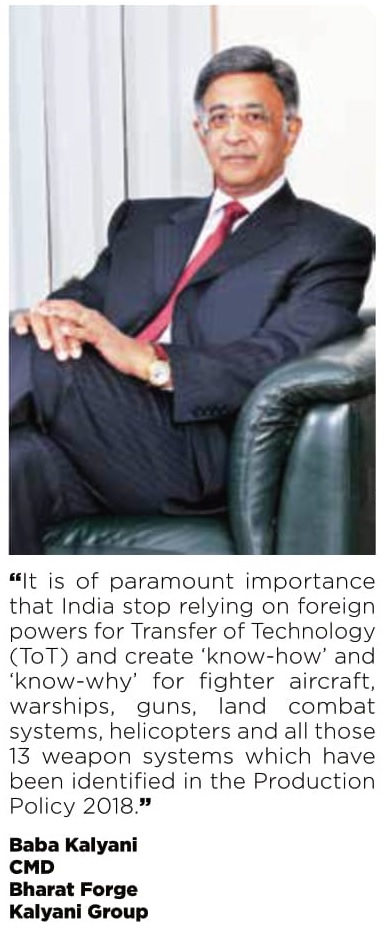 Bharat Forge's revenue mix is expected to move away from commercial vehicles and industrial segment, and towards passenger vehicles and new business initiatives in the long-term. The latter two segments are expected to significantly contribute to the company's top-line by FY25. Kindly shed light on this.
Kalyani: In future, forging may just be one of the parts of Bharat Forge's overall portfolio as the forging industry shall undergo dramatic change and the conventional industry as it is today shall not survive.
As the world is slowly moving towards greener forms of mobility, we do not want to be left behind in the race. And, therefore, we started our journey some four years ago on becoming a vertically integrated technology company.
We have already been putting a lot of resources in developing solutions across the entire spectrum of Electric Vehicles (EVs), from low voltage to high voltage electrification technologies and increase content per vehicle.
This is apart from exploring business development opportunities in the electric two- and three- wheeler and commercial vehicle space.
We have already invested in almost eight startups in the last one year covering electronics, composites, high technology and electric motorcycles. We have also set up big tech centers where technologies are being developed including those for AI, digitalization, defence electronics, microwave technology among others.
We have invested `34 crore in Pune-based Tork Motors, a developer of technology for e-motorcycles and electric three-wheeler powertrains. The company is in the process of setting up a plant in Pune with a production capacity of 60,000 units of the T6X e-performance bikes.
In June 2018, we also picked up a strategic stake in UK-based Tevva Motors, for £10 million. It is an electric powertrain provider for CVs and its technology can be used on a 7 tonne or a 14 tonne bus for city or school transport.
---
Kalyani Rafael Advanced Systems (KRAS) has bagged $100 million order from the Indian Army and Air Force for 1,000
Barak-8 MRSAM missile kits. What are the opportunities you foresee post this?
Kalyani: For many years, we have been suppliers of components for the defence industry — whether components for tanks or guns, or shells for artillery; we have been doing that for more than 30 years. It was only in the last four-five years that we realized that we were at a stage where we could move from components to designing complete systems, and we took up the challenge of doing this with an artillery gun.
Today, we can boast of having developed a highly sophisticated indigenous gun to enable our artillery force to fight Indian wars with Indian solutions. The gun has successfully completed trials in deserts and is now under trial in hilly terrain.
We are working on five gun platforms and have developed small indigenous jet engines for drones. This is a smaller engine (for UAVs (unmanned aerial vehicles) and drones) and has about 120kg thrust. We will now target a 400kg thrust, then we will go to a helicopter engine, which is a 1,100kg thrust.
---
There are encouraging signs of growth in the Indian A&D industry since the country is now being preferred by global OEMs for parts manufacturing. What, according to you, are our country's competitive advantages that draw them to us?
Kalyani: Never in the past have so many measures been taken to give a fillip to the private sector in defence than in the last four and a half years. However, going forward in the next 12-15 months, the focus must be on implementation, expediting execution of major procurement programmes and awarding contracts to the private sector.
During the last few years, there has been a special emphasis on promoting Made in India equipment to countries abroad. Markets around South East Asia is a natural area for us. Even the Middle East is a market. But we have to go to markets where the government of India would allow Indian companies to export — the green channel countries, so the opportunities rest there. Plus, we can also become a sub-supplier to the US and European OEMs (original equipment manufacturers) and defence companies, the largest defence market in the world.
Implementing the Defence Production Policy 2018 in right earnest and with speed will give the much-needed fillip to investments, production scale capacities and indigenous capability building. This is much required in the sector if we wish to become top suppliers of defence equipment to the world.
---
Bharat Forge has invested $56 million to set up a new plant in the US as part of the company's strategy to increase focus on lightweight materials. It seems the country's automobile industry is gearing up to embrace electric mobility. How far have we come in our efforts to build a robust EV ecosystem?
Kalyani: We are focusing on the future of mobility and looking at a combination of greenfield and brownfield expansion, focusing more on greenfield for capacity enhancement and new developments. Ours is a very cyclical business. I think now we are in the down-cycle but our normal capex has always been somewhere in the region of `200-300 crore, which is largely equal to our depreciation. I think our capex for the next two or three years will be at least double of that and this is evident from the $56 million we have invested in setting up a new plant on lightweight materials in the US. This strategically located new plant shall serve to our customers across the North American continent.
We have also set up a lightweight materials plant in Nellore district of Andhra Pradesh. This plant is being set up to serve the Indian customers in their efforts of providing an efficient mobility technology.
Talking about the Indian EV ecosystem, it is still in a nascent stage as compared to China, the US and Europe. It is largely dominated by e-rickshaws and two-wheelers with a very less percentage of four-wheelers presently, but the present government seems committed to making a robust EV ecosystem in the country as evident through recently launched FAME II policies. This policy aims at India's EV fleet to keep moving forward, the need for which is adequate charging infrastructure. This policy provides an assurance for the stakeholders to firstly make investments to set up and develop the suitable infrastructure, followed by manufacturing of EV components and systems in the country, and gives clear measures which are further backed up with incentives and mandates to give stakeholders a clearer picture of the future. India shall soon emerge as the top destination for supplying EVs to the global market.
---
Are the Indian machine tool builders well equipped with the machines, technologies and know-how needed to cater to the EV sector and precision-oriented A&D sector?
Kalyani: The Indian machine tool industry needs continual improvement in productivity and costs to sustain itself in the global market. With Additive Manufacturing (AM) offering several advantages over CNC machining, there is a general belief that it would replace subtractive manufacturing process in selected areas. But AM will also work together with CNC machines to deliver productive solutions. Manufacturers who have understood the benefits of this have merged these technologies to create 'hybrid machines'.
Taking another example, although internal combustion cars may be phased out over time and replaced by EVs, hybrid vehicles will most likely ease the transformation for several years and so the machine tools required for conventional IC engines won't be phased out all at once.
Our industry will embrace the changes in the automotive sector and adjust accordingly by providing new machine tooling solutions and automation of processes into manufacturing and engineering sectors will drive this.
The aerospace and defence manufacturer looks for a machine tool builder who has proven solutions to meet their requirement. Since the references are not available, the machine tool builder finds it difficult to cater to the needs of the aerospace and defence sector.
---
Our vision for 2050 is very clear – we shall no more be just a forging company for sure but a technology company. That is a long-term vision, but in the medium term, I do see the capabilities we are learning to start adding to the top-line and supporting our growth.