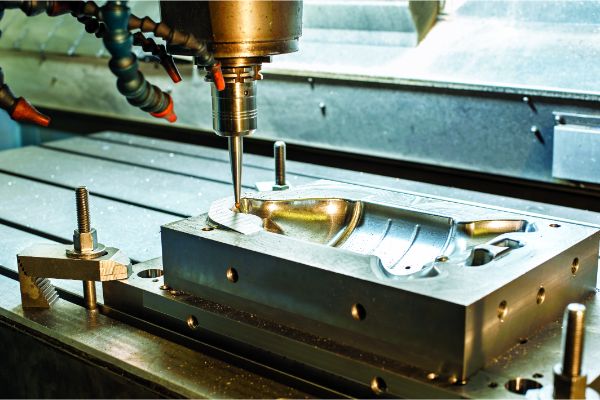 An insight into the current state of the European machine tool industry and why is it demanding fairness in competition…
The economic situation of many die and mould making companies, especially in the automotive supply chain, is coming to a head because new orders have been increasingly absent for nine months in some cases. Many companies have already started to lay off highly qualified skilled workers. The number of insolvencies and takeovers is increasing. There is a threat of a domino effect if this key sector for industrial series production does not soon receive adequate orders again.
VOLKER SCHÄFER
Deputy Chairman
VDMA - Die and Mould
Association
Diverse current situation
In the automotive customer segment, to which my company Kuhn & Möhrlein also belongs, the companies have been running empty for about a year now, because the customers in the transition phase, due to the uncertainty of the future direction in automotive engineering, have stopped placing orders. Inquiry activity has also fallen dramatically. Other customer segments that are not directly or indirectly linked to the automotive industry are fortunately doing still better, but they too are already seeing signs of the general economic downturn in their order books and the decline in prices.
New tools for new vehicles
According to their announce-ments, most car manufacturers want to come into the European market in the next few years with new models, which will partly be electrically or hybrid driven, and also produce these in Europe. They will need new tools but the 'dry spell' is very long, and for some companies, probably too long. This underestimates the strategic importance of tool making because as Bob Williamson, President, the International Tool Manufacturers' Association (ISTMA), always says: "There is no series production without tool making!" He comes from South Africa, where in the last few years, significant money and effort have been invested in rebuilding the toolmaking industry as a key sector for domestic industrial production.
Time's running out
Unfortunately, we have to assume that most companies will run out of liquidity in the next three months and that several German companies will disappear irretrievably from the market. Thereafter, customers will have to purchase an increasing share of body tooling elsewhere in the world. Furthermore, the loss of the industry's know-how, which has been built up over decades and guarantees extremely high tool quality and the quality of the parts produced with the tools to this day, is to be expected.
Competition with China
In China, there are already state-subsidized, fully automated tool factories, which in recent years have increasingly put European tool manufacturers in dire straits with fierce price wars. There, a powerful tool manufacturing industry is currently emerging, which our customers could become dependent on. Basically, there is nothing wrong with competition - and if it is fair, we are happy to face it with our excellent products. With regard to China, however, I have my doubts about fairness. We demand a level playing field!
One should not underestimate the political influence of the Chinese government on such partly state-owned companies. As it is quite dangerous for Germany and Europe as a business location. And I can well imagine that foreign competitors of the Chinese vehicle manufacturers, as B-customers, might rank behind the Chinese competition. It is, therefore, to be feared that the European vehicle manufacturers will be at a severe competitive disadvantage in the world market in all vehicle segments, even in the luxury class. This could certainly have consequences for other jobs in the automotive industry.
Chinese tools quality
So far, most Chinese tools are not quite up to our level in technical terms. But the Chinese competition has, also due to their governmental support, a much longer endurance than our medium-sized companies and cost advantages due to their high degree of automation and low wages. In this respect, it is important to know that tool making in China is part of a central governmental strategy to promote their own industrial production and its position in the world market. And once Chinese toolmakers have built up sufficient market power, prices may well be adjusted upwards. We have often experienced this in other sectors of industry, especially when competitors are no longer able to supply.
COVID-19 effect
Currently (March 02, 2020), Chinese tool factories are not fully able to deliver. Projected into the future, this means that car manufacturers will have to adapt to similar scenarios as they become increasingly dependent on a few large suppliers in individual countries. This means that in the event of an epidemic or natural disaster occurring somewhere in the world, they will suddenly no longer be able to deliver worldwide.
European players must raise their bar
We have to become even more competitive, more innovative, and automate more. We certainly have to take China as a benchmark here and then convince customers worldwide with our products in a fair market. In the short term, we need liquidity, preferably from private investors and banks, and instruments such as short-time work to bridge periods of scarce orders. Here, we also need the support of politicians. Only together are we strong! Every entrepreneur and decision-maker must personally make his constituency candidates from all political parties aware that we are not only about to lose a key industry for our industrial production, but that this might also lead to a domino effect that could endanger many more highly qualified jobs in the automotive-related industry.