In its strive to become a one-stop shop for all laser requirements, Laser Technologies has equipped itself with the latest technical know-how, an efficient team eager to offer prompt service, and customers that vouch for it.
The widespread applications of Laser in a variety of industries including manufacturing, auto-motive, medical, aerospace, military and defense, telecommunications, electronics etc. has boosted its demand. This has resulted in the companies of the Laser industry striving for innovations so as to achieve a competitive edge.
One such company that is ensuring it leads the pack is Laser Technologies Pvt Ltd which was founded in June 2011 by Rakesh Agarwal with a group of technocrats with the idea of creating a large umbrella organization to assist the growth of the Indian Laser industry with its years of experience in the field of Lasers and its applications.
The company represents a multitude of global manufactures, covering a wide range of solutions – Laser Marking, Laser Welding, 2D Laser Cutting, 3D Laser Cutting, Laser Cladding, and Laser Hardening. Its Laser solutions can process a wide range of materials like metal, paper, acrylic, wood, textile, leather, plastic and many more.
"Our main objective is to serve our customers with cost-effective and innovative solutions with our know-how of applications and help them fulfil their objectives," notes Agarwal.
The leader's edge
Agrawal has traveled a long way both literally from a small town in Northern Rajasthan to the financial capital of India, and metaphorically from a humble beginning to being an entrepreneur par excellence. The Founder and Managing Director of one of the fastest growing companies in the field of Lasers in the country has a corporate experience of 15 years, which was gained after his Master's degree in Electronics.
From a two-member company along with his good friend Late Sunil Rangari, Agarwal, with his remarkable business acumen and vision, has transformed Laser Technologies into a multimillion-dollar company in less than eight years with customers all over the country and liaisons with manufacturers in Europe, America and Asia.
Agarwal is also a life member of the prestigious Indian Welding Society (IWS), Indian Laser Association (ILA), Bombay Industries Association (BIA) and Laser Industries Association of India (LIAI). He is also a well-known International consultant for the Laser Industry worldwide, having affiliations with Ridgetop Research, USA; Cognolink, UK; and Coleman Research Group, USA.

Surmounting challenges
During the initial phase, the company underwent a series of challenges. The team of two had no financial back-up or any office and staff. "The customers too had trust issues as there were no references," he shares.
The duo then had to take help of the industry friends for the office space and personal loans for finance, and hired some acquaintances at low salaries in addition to commission. Due to less manpower they worked almost 14 hours a day for the initial six months. "Within a year, we got established and never had to look back. Hence, one must never lose hope or quit. Just do your best and the best will follow you," he stresses.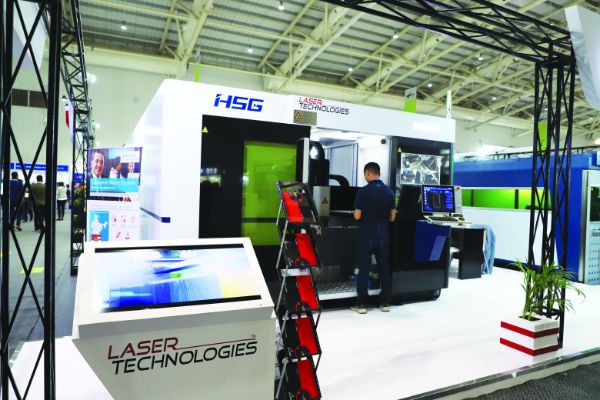 A force in itself
With a well-built Sales and Service team, Laser Technologies' offices are spread out in cities such as Delhi, Mumbai, Pune, Ahmedabad and Bangalore. "Our endeavor is to become a one-stop shop for all Laser requirements," he shares.
The founding members of the company are also interested in the formation of an international Laser community in India. To demonstrate its commitment towards the Laser Technology and the growth of the Indian Laser industry, they conceptualized the idea of India's first exclusive Laser Exhibition in 2010, which provided the customers and the industry a common platform to share their applications and solutions.
"We were was also the first to advocate Fiber Laser Technology in 2011 when all the established players were selling conventional machines. We also promoted Handheld welding machines ahead of our peers in the industry," shares Agarwal with evident pride.
With an efficient team, high-quality and value for money products, good business ethics, strong customer relationships, technical know-how, and prompt service, Laser Technologies has ensured it has all the keys needed to achieve an edge over its peers.
The efforts have borne fruit with the company having earned a wide spectrum of clientele ranging from small shop owners to big MNCs like Siemens, Godrej, Bosch, and C&S Electric.
"It is extremely vital that we maintain the trust that we have built with our clients. And one of the ways is to keep communicating with them for which we engage them with a multitude of promotional activities, and update them with the latest technologies we come up with. We explain them the benefits of our technologies. They will only agree if we prove to them the value addition we can bring to the table," says Agarwal.
When asked about the plans ahead, he discloses, "The short-term goal is to become a `100-crore company within this year and give employment to 50 more people. And, the long-term goal is to manufacture in India and bring India on the chart of top five Laser countries." With all the moves that Laser Technologies is making, there is no room left to doubt its goals.
Accolades that deserve mention
Laser Technologies was the first to sell 6KW Fiber Laser in India;
First to sell high-speed Paper Cutting machine in India, installed at Archies;
First to sell high-end Back Light Unit making Laser machine, installed at Bangalore;
First to sell the fastest Leather Processing machine, installed at Chennai;
First to sell the largest CO2galvo-based Textile Processing machine;
First to install 100 Fiber Laser Cutting machines within 2 years;
40 percent repeat order because of on-time service.

Laser Technologies represents a multitude of global manufactures, covering a wide range of solutions – Laser Marking, Laser Welding, 2D Laser Cutting, 3D Laser Cutting, Laser Cladding, and Laser Hardening.
POONAM PEDNEKAR
Chief Copy Editor
Magic Wand Media Inc
poonam.pednekar@magicwandmedia.in