India's supply chain and logistics sector is one of the largest globally, with a logistics industry of $215 billion, growing at a CAGR of 10.5 percent. However, despite its size and criticality to economic growth, India's supply chain faces several barriers to growth – an unbalanced logistics modal mix, high indirect costs, fragmented infrastructure and networks, and limited technology adoption.
The Covid-19 pandemic has accentuated supply chain weaknesses, with nearly 75 percent of companies worldwide experiencing disruptions. Worse still, most companies have reported lack of any contingency plan to deal with a problem of this magnitude.
Seeking a breakthrough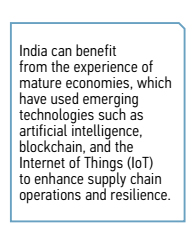 A new report by Arthur D. Little and the Confederation of India Industry (CII) highlights the need for immediate attention to the sector, given the high logistics cost of 14 percent of GDP in India compared to 8-10 percent of GDP in the US and Europe. Titled 'Reimagining India's Supply Chain: A Bold Vision for 2030', the report brings to light these issues and sets a bold Vision 2030 and roadmap for ensuring global competitiveness of India's supply chain. The report was recently released by Pawan Kumar Agarwal, Special Secretary (Logistics), Government of India, at the CII National Packaging Conference.
The report details the improvements needed to make India's supply chain competitive. It provides a glimpse of learnings from around the world, presents five imperatives for the Indian supply chain, and sets aspirations to achieve Vision 2030. It also brings to light the vulnerabilities that the supply chain network is exposed to if transformative actions are not taken.
Experts' take
According to Barnik Chitran Maitra, Lead Author of the report and Managing Partner of Arthur D. Little India and South Asia, the supply chain industry in India needs to be reimagined and efforts need to be made to move towards creating an optimized and digitized logistics ecosystem, a delayered distribution system and a green, resilient, and flexible supply chain. "The reimagined supply chain will help realize the Hon'ble Prime Minister's Atmanirbhar Bharat vision and supplement Make-in-India and Start-up India strongly, catering to the global supply chain," he adds.
Thomas Kuruvilla, Global Board Member and Managing Partner of Arthur D. Little Middle East, says, "To manage the supply and demand shocks in the supply chain, India needs to find new ways of doing businesses and bring innovation into their planning and operations. The report discusses at length international learnings that Indian supply chain leaders could take inspiration from."
Harinarayanan S, Supply Chain Expert and Facilitator of the CII-Supply Network & Procurement Forum, & Co-author of the report, states, "A national supply chain taskforce with five working groups will focus on the crucial dimensions of supply chain operations across the sectors of relevance. These groups will meet monthly under the leadership of CII and Arthur D. Little to realize the aspirations set in the Vision 2030 report."
Key findings of the report
Logistics cost in India stands at 14 percent of GDP, compared to the global average of approximately 8 percent, creating a competitiveness gap of $180 billion for India, which could increase to $500 billion by 2030.
Supply chains are transforming globally by adopting Industry 4.0 trends including agile networks, disruptive technologies, end-to-end visibility, and risk mitigation vs. risk management.
India can benefit from the experience of mature economies, which have used emerging technologies such as artificial intelligence, blockchain, and the Internet of Things (IoT) to enhance supply chain operations and resilience.
To make India's supply chain competitive, efficient, and resilient, Vision 2030 aims to pare logistics cost to 7-8 percent of GDP, optimize the logistics modal mix, digitalize 90 percent of supply chain operations, develop omni-channels, move towards green supply chains, and enhance skill development.
India ranked 44th in the World Bank Logistics Performance Index, last released in 2018, far behind the US at 14 and China at 26. Other South-Asian countries, such as Thailand and Vietnam, also have high logistics costs. These countries' costs reach 14 and 16-17 percent
of GDP, respectively. However, they fare slightly better than India on the logistics performance index, with Thailand at 32 and Vietnam at 39.

Logistics cost in India stands at 14 percent of GDP, compared to the global average of approximately 8 percent.




Hurdles in the way
Any improvement of India's performance depends on how we overcome barriers to competitiveness that impede the supply chain's operation and growth. A few are as follows:
An unbalanced logistics modal mix — Transportation represents approximately 40 percent of logistics costs, which amount to 6 percent of GDP. Transportation by road makes up the lion's share of this cost, at about 64 percent, followed by rail at 30 percent and waterway and air transport at 5 and 1 percent, respectively. This heavy dependence on the road networks, combined with
poor transportation infrastructure, makes transportation costs balloon.
High indirect or 'hidden' costs — Indirect logistics costs in India are four times the average of those in developed countries. The main reasons are excessive layers in distribution channels and inventory mismanagement. Inadequate demand forecasting due to lack of technology adoption leads to inventory mismanagement.
Poor-quality infrastructure — India has one of the largest road and rail networks, globally, which totals 5.5 million kilometers and 1.2 lakh kilometers, respectively. Yet national highways account for less than 2.7 percent of the total network, putting the national highway network under severe strain, which carries about 40 percent of the road traffic.
On the other hand, the average speed of freight trains in India is 24-25 kmph, compared to 38-40 kmph for those in the US and China.
Furthermore, India has a shortage of warehousing space. According to the Indian Council of Food and Agriculture, 30 percent of agricultural produce goes to waste every year due to lack of cold chain infrastructure.
Limited adoption of the latest technology — The slow adoption of supply chain technology, such as artificial intelligence, blockchain and the IoT, remains a major shortcoming. Organizations globally have adopted the latest technologies to ensure full visibility and real-time information on processes in the supply chain. Lack of digitization, inventory mismanagement and inaccurate demand predictions in the absence of technology contribute in large part to the competitiveness gap between India and its global peers.
Uneven channel mix for domestic retail and FMCG sales — India's retail market is dominated by unorganized retail such as kirana stores, which amounts to a massive 90 percent of total retail, comprising nearly 12 million kirana stores. Digital/e-commerce platforms account for a minuscule 2 percent of sales, and organized retail just 8 percent.

According to the Indian Council of Food and Agriculture, 30 percent of agricultural
produce goes to waste every year due to lack of cold chain infrastructure.



Five aspirations for Vision 2030
Optimize the logistics and warehousing network — Reduce logistics cost to 7-8 percent of GDP; optimize the logistics modal mix with roads constituting 25-30 percent, railways comprising 50-55 percent, and waterways accounting for 20-25 percent; reduce indirect costs to 20-25 percent; expand cold chain storage infrastructure.
Hasten adoption of cutting-edge technology — Digitize more than 90 percent of the supply chain network; implement technologies such as artificial intelligence, blockchain, and the IoT.
Restructure the supply chain — Build omni-channels and simplify supply chain network; ensure visibility; and collaborative planning.
Enhance skill development and talent management — Senior management in organizations to become more comfortable with digital transformation, data analytics, and AI; develop cross-functional teams to facilitate supply chain decision-making.
Move towards a green supply chain — Move towards greener modes of transportation to reduce carbon footprint by 50 percent; use electric vehicles for deliveries, targeting a 50 percent electric fleet; optimize transportation routes; use biodegradable or recyclable materials for packaging and deliveries.