An interesting account of how Blaser Swisslube's Synergy 735 and Vascomill CSF 35 helped Sigma Surgical in India achieve tool cost savings and stable processes…

Ahmedabad-based Sigma Surgical Pvt Ltd is an upcoming leader in the Indian Medical Implant and Surgery Instrument sector. The company produces bone screws, bone plates, spinal implants more out of Titanium and Stainless Steel (316 LVM), as well as surgical instruments. Founded by JJ Gothi in 1998 with just three employees, Sigma Surgical has grown consistently and is currently well known in the industry for its high-quality implants. Now under the leadership of Mehul Gothi and his vision of providing international quality implants at affordable price to Indian customers, the company is set for the future with its state-of-the-art facility.
Challenges to overcome

However, there were certain hurdles that needed to be surmounted for the smooth running of operations. One of the issues Sigma Surgical would face was its previous coolant. The company, hence, did not have a stable process and suffered from unpredictable tool wear. "In the Medical segment, there are various challenges including the difficult to machine materials, as well as the know- how transfer from the suppliers. Therefore, stable processes are key," explains Mehul Gothi, CEO, Sigma Surgical.

The company faced other difficulties such as component cleaning and cleaner machined parts. The unpredictable wear of inserts was varying to such an extent that it did not allow the team to plan and work accordingly. There was also a gap as some tools showed a higher tool wear than the other. This also resulted in component rejection and affected the productivity negatively. "Defined tolerances for produced parts in the Medical segment are very strict. Hence, more rejections lower the output of finished parts," he adds.
"Amol Pawar, Regional Sales Representative, Blaser Swisslube, approached us and explained how to analyze the production situation and what we can expect further down the road in regard to optimization and cost savings," shares Gothi.
Pawar introduced the team to the comprehensive Blaser approach and offered to run a test with the Blaser coolant solutions. The produced part for the test was a Twin Lock BCP Screw and Proximal Tibial Plate made of titanium.

Since 1936, Blaser Swisslube has stood for lubricant solutions that offer measurable added value and are gentle to people and the environment. The family-owned Swiss company develops, produces and sells a comprehensive range of metalworking fluids for a variety of industries. With a team of application experts, customized services and excellent products, Blaser Swisslube helps manufacturers fully capitalize on the potential of their machines and tools and turn the metalworking fluid into a key success factor – a Liquid Tool.
Challenge

Sigma Surgical's coolant was a challenge that led to unpredictable tool wear affecting the stability of the process.

Solution

With Blaser Swisslube's Synergy 735 and Vascomill CSF 35, the company was able to reduce tool costs
by almost 50% and achieve a stable process.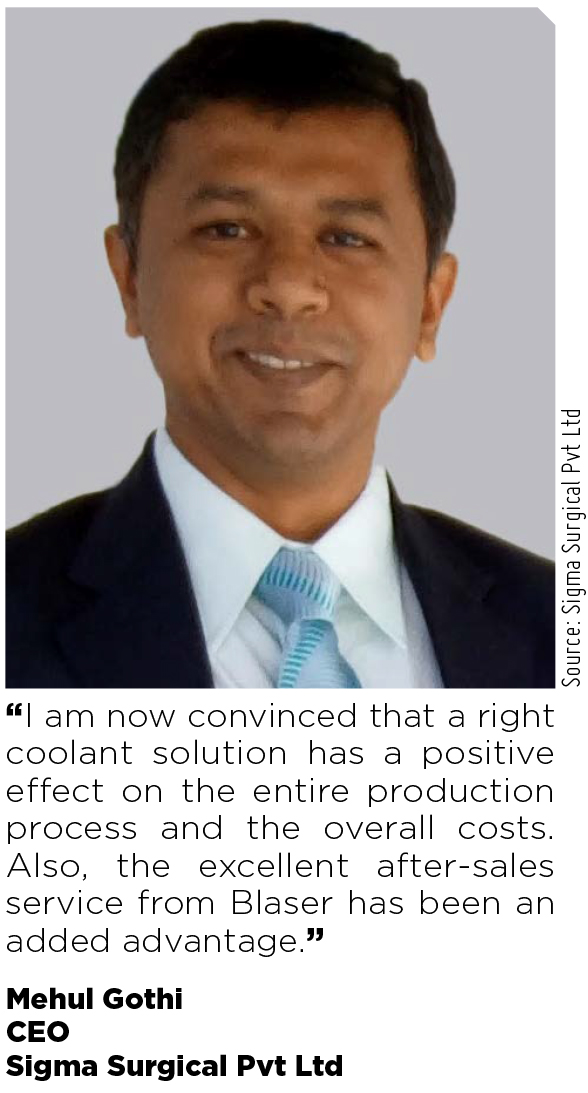 Holistic approach of Blaser

Taking a holistic view on the production process, the Blaser coolant specialist recommended to perform the tests with Vascomill CSF 35 on the Swiss type turning machine and Synergy 735 on the 5-axis VMC. From his experience he knew that Vascomill CSF 35, a specially designed cutting oil, will be great for this turning application in the Medical segment. The oil is very low in emissions and ensures a highly clean working environment, which was important to Sigma Surgical.

"Synergy 735 is an innovative formulation which outstands with an excellent surface quality and extremely low foaming" informs Pawar. With Synergy 735, the tool life of the drilling application on the 5-axis machine was raised from 8.5 to 13.7m. Before the change to Vascomill CFS 35, the tool life on the Swiss type turning machine varied from 57 to 72m. Later, 120m was achieved consistently.

The increased and consistent tool life resulted in the overall cost savings of `2.5 million per year. Even though the coolant costs of Vascomill CSF 35 and Synergy 735 were higher than the previous product, the investment quickly paid off.

For Sigma Surgical, its workforce plays a highly important role and its safety is the company's first priority. "Hence, we prefer investing in tailored training programs. The standout feature of Vascomill CSF 35 is the flash point of 310oC. Our facility is now smoke- and mist-free. This has helped us to maintain a pleasant and safe work environment for our team," shares Gothi.



Before the change to Vascomill CFS 35, the tool life on the Swiss type turning machine varied
from 57 to 72m. Later, 120m was achieved consistently.



Proximal Tibial Plate
Source: Sigma Surgical Pvt Ltd
Collaboration to follow

Gothi is convinced that a right coolant solution has a positive effect on the entire production process and the overall costs. "I have now experienced first-hand how important it is to use an optimal coolant for the entire process," he notes. Also, the excellent after-sales service from Blaser was an added advantage. Going forward, Sigma Surgical and Blaser Swisslube India will work in close collaboration to ensure that with a bigger production plant, Sigma expands its production with additional machines within the next two years and the production processes continue to run smooth and stable with Blaser coolant solutions.

(L-R) Amol Pawar, Regional Sales Manager, Blaser Swisslube India, along with Mehul Gothi, CEO,
Sigma Surgical Pvt Ltd

Sigma Surgical and Blaser Swisslube India will work together to ensure that in Sigma's bigger
production plant, the production processes continue to run smooth and stable with Blaser coolant solutions.



Synergy 735

Synergy 735 is a full-synthetic, water-miscible oil-free metalworking fluid that offers excellent surface quality and cleanliness. Spotless surfaces, thanks to neutral pH, even with sensitive aluminum alloyscan be achieved. It is extremely low foaming and ideal for high-pressure systems. The crystal-clear coolant allows a clear view of the machining process.

Titan Gilroy from Titans of CNC loves it. "This coolant is an absolute game changer. I get amazing tool life in all super alloys and it is perfectly clear in color. My team loves it, I love it and have now switched all 17 of my CNC machines to Synergy 735. I deem it as the best coolant in the entire world."

Gilroy is the owner of TITANS of CNC, a CNC manufacturing workshop in Texas, US. He has founded his online platform TITANS of CNC Academy to offer free training for those interested in machining, students and many more in the field of CAD, CAM and CNC. Titan designed the curriculum used by the trainers and students. The online portal is the first training platform of its kind and now has fans and visitors from all over the world.

Vascomill CSF 35

Vascomill CSF 35 is a cutting fluid based on ester oil for flooded applications and for minimal quantity. It can be used in operations including milling, turning, reaming, threading, gear tooth forming, shaving, slotting, sawing and punching on materials such as steel alloys, stainless steel, titanium, titanium alloys, aluminum, aluminum alloys, cast iron and non-ferrous metal.
Since it is ester oil based, its benefits include renewable raw materials, good skin compatibility, and being more readily biodegradable as a mineral oil. Its reduced emissions result in a cleaner workplace. Also, its lubricating properties lead to good surface quality and higher tool life.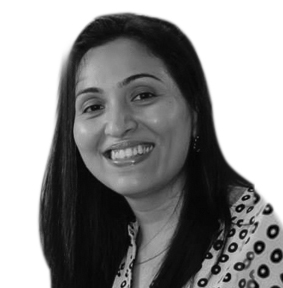 Poonam Pednekar
Chief Copy Editor
Magic Wand Media Inc
poonam.pednekar@magicwandmedia.in