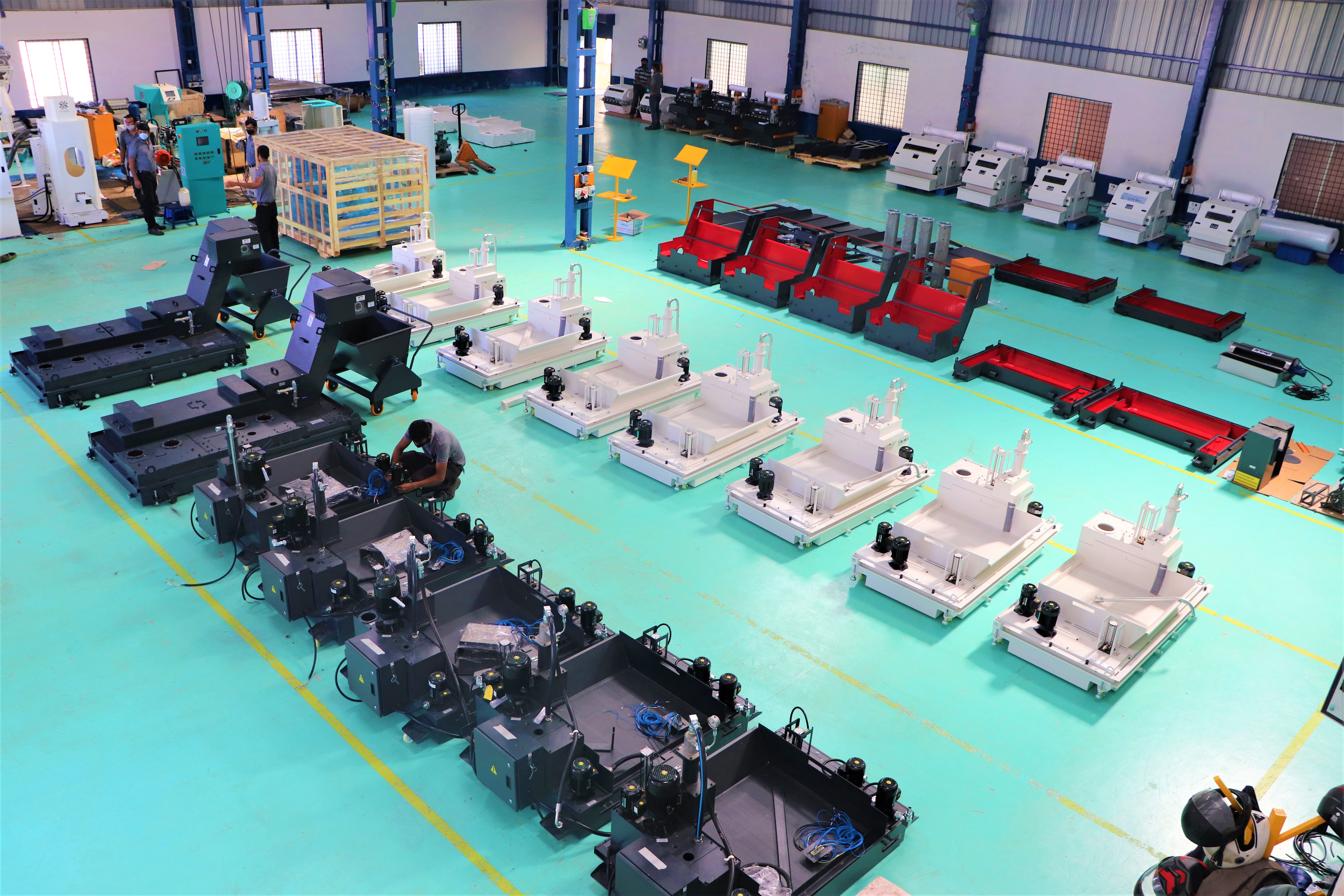 U-Tech Group's meteoric rise to success is a culmination of focus, determination, and a constant strive towards it. Its separate business units for sales and manufacturing are independent entities that work in synergy for the group to achieve its future goals.

This was in the late 90s when the Indian economy was booming, and Indian machine tool builders were looking for quality products to go into their machines. As European products were expensive, the less expensive Taiwanese products were fast gaining acceptance. It was during this time that a chance meeting with a Taiwanese company resulted in U-Tech Associates that could bring quite a few machine tool products to India.

"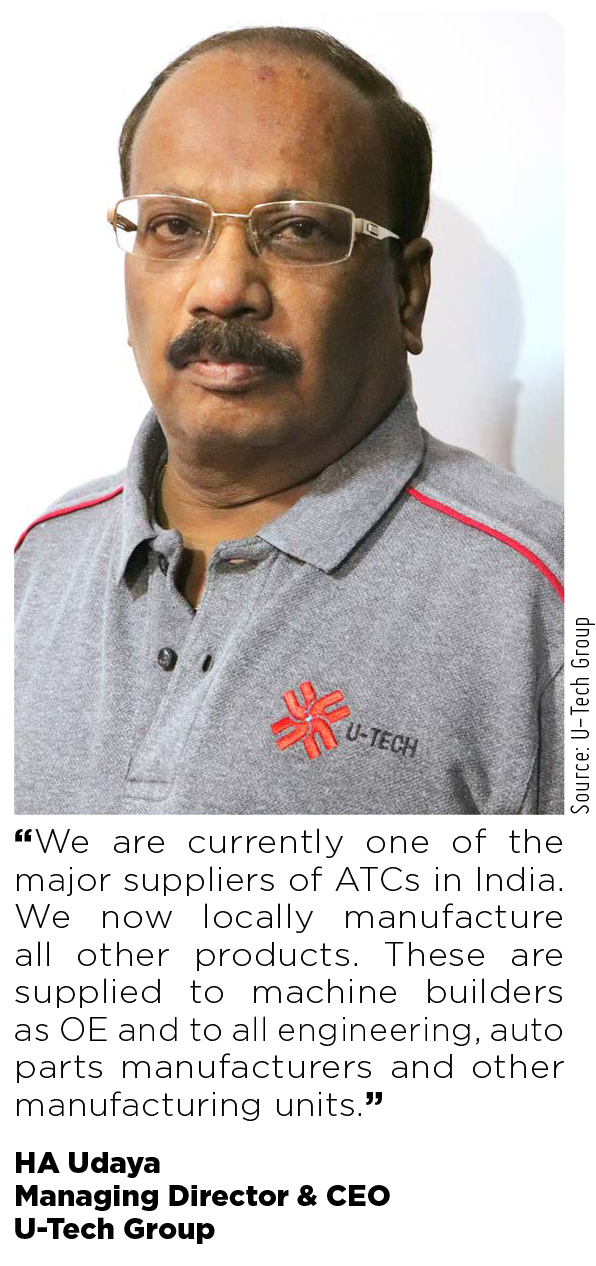 All components that go into machine tools like ATCs, Pallet Changers, Spindles, Rotary Tables, Telescopic Covers, Coolers and Chillers, Chip Conveyors, Filtration products, etc. were brought by us to the Indian manufacturers. The machine tool manufacturers in India helped and supported us in expanding our product lines," shares HA Udaya, Managing Director & CEO, U-Tech Group.

Overtime, the company realized that imported products were expensive as compared to some of the Indian makes available then. "As a logical step, we started manufacturing the products locally. Our associates in Taiwan supported us with the technology and supply of critical parts. In a span of 4 to 5 years, we were manufacturing most of the products, barring a few which were still cheaper to import," he adds.

The supply of products was in small numbers till about 2015, which started increasing since then. The biggest breakthrough for U-Tech, shares Udaya, happened in 2018 when Bharat Fritz Werner (BFW), India's leading machine tool builder, entered into an agreement with the company to manufacture and supply all its requirements. "This called for major investments and two of our manufacturing units came up in 2019. Although we are still relatively new, we today are one of the top three manufacturers of these products in India. Our products are not just well-accepted by machine builders in India, but also other MNCs who bring machines to India. These imported machines go with our products as OE," shares Udaya proudly.

It would be more appropriate, he continues, to address the entity as the 'U-Tech Group' since along with U-Tech
Associates, the group now comprises two more companies in the machine tool related business – U-Tech Seva and U-Tech Utpadan. "U-Tech Associates is the marketing and sales setup for all the business we do. U-Tech Seva focuses on after-sales service and supply of spares for all the products we sell. U-Tech Utpadan is the manufacturing unit of U-Tech Group," he informs.

U-Tech Group has associated itself with many Japanese and European machine builders and
aims to be the preferred supplier for the top ten machine builders in the world.



On a high growth path

The only major product the group still sources is the ATC from Taiwan, which it started selling in India from the year 2000. "We are currently one of the major suppliers of these products in India. We now locally manufacture all other products. These are supplied to machine builders as OE and to all engineering, auto parts manufacturers and other manufacturing units," states Udaya.
A Dual Chip Conveyor and Tank - total system

"In a short span of 5-6 years, we have turned from being a marketing company into a full-fledged manufacturing company. U-Tech Group's Anant Deshpande, Executive Director; Raghupati, Director, Fab Shop; and Santosh, Director, Assembly Shop, have made this changeover possible; our facility has emerged as one of the best in this segment," he adds.
Coolant Tank Assembly Line

Strong together

U-Tech Group, while big on vision, innovation, and quality, believes in the power of being small and efficient. Udaya elaborates on this principle that has led to such rapid growth of the group, "We are striving hard to be at the pinnacle in our line of business. Well-aware that it's a long way to go, we are determined to achieve our objective."

The group wanted to foray into exports and has already started in a small way. For this, it has associated itself with many Japanese and European machine builders and aim to be the preferred suppliers for the top ten machine builders in the world.
Product placed in the Assembly Line
"Whenever we spot a new business opportunity, we start it off as a separate unit headed by a designated business head, preferably a U-Tech stakeholder. As an example, U-Tech Seva was formed to concentrate on providing after-sales service and supply of spares. This unit head has the responsibility of providing pan India service in less than 24 hours," he says.

"Similarly, our business units for sales and manufacturing are independent, focused outfits, fulfilling their obligations, while at the same time, working towards the overall group objectives. We plan to achieve our goals by being a group of fast-action compact units working together in synergy," adds Udaya.

Pandemic challenges

Covid-19 and its subsequent lockdowns posed a gamut of challenges for all. Udaya shares the ones U-Tech had to deal with and how were they coped with, "With the seemingly insurmountable economic and social challenges, the toughest we realized was the responsibility of taking care of our people. Many who were tested positive with Covid had to be provided with the necessary help. The office and factory remained closed for long stretches due to Covid spurts. When the units opened, there was the challenge of making everybody adhere to the pandemic protocols. We ensured there was no spread of the disease and adapted to work from home in possible cases."
Chip Conveyor
And then, there was the financial challenge of keeping the company afloat for months without revenues. "Fixed costs could not be avoided. We ensured that barring all senior staff, everyone else got their salaries on time. To our relief, everyone cooperated. As reserves were being rapidly used up, belts needed to be tightened. Supplier payments were also delayed but, luckily, we found understanding there too," he adds.
The recovery phase has now begun, he further adds, "With the economy picking up, the order books are filling up. A semblance of normalcy should hopefully be seen in the coming few months."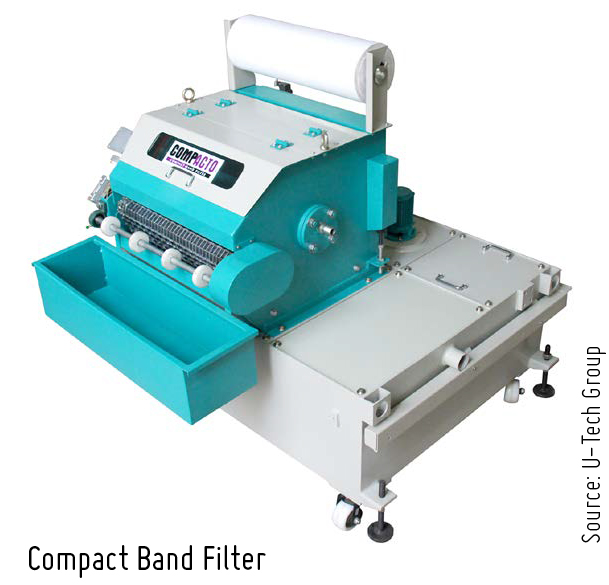 Compact Band Filter
Retaining talent in SMEs

Although the SME sector has grown dynamically over the last five decades and contributes a substantial portion of the country's exports, creating millions of jobs annually, it still suffers from a burden of challenges. Udaya tells us about the way U-Tech achieved breakthroughs through the hurdles it faced, "Apart from the financial challenges an SME faces, the other major challenge is to attract talent and retain people. Good people with talent find opportunities in MNCs or bigger industries. SMEs cannot match packages offered by MNCs. So, we find it very difficult to get the right people."
One lot of Compact Band Filters ready for
export to the UK

He adds that SMEs end up becoming training centers, "We hire people and train them for a few years. They then find jobs in larger setups and leave. To overcome this issue, we handpick the talent and make them partners whenever we start a new company."

This has worked to a very great extent for U-Tech. People who joined the Group as engineers are today part owners of its companies. It is beneficial in both ways, believes Udaya, "They, as owners, are eligible for profit sharing and the company retains the talent."
Positive outlook

Udaya staunchly believes that India has the potential to become a manufacturing powerhouse. However, he feels that those who invest and take risks in setting up new enterprises or scaling up their existing facilities should be supported by fulfilling their requirements on priority.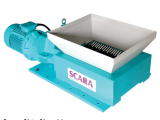 Scara Chip Shredder

"With the production linked facility announced, we are seeing several companies investing in India to manufacture smart watches, mobile phones, laptops etc. Many of them are Indian companies. They are investing in crores and employing lakhs of people, which is a boost to the Indian economy. The Government needs to support them to make it all work," he adds.

"With the Chinese products taking a beating the world over, countries are looking at us to fill the gap. It is a big opportunity for India to show its manufacturing mettle. If not now, when then?," he sums up with a rhetoric question.

Apart from the financial challenges an SME faces, there is a challenge to attract and retain talented people. Since SMEs cannot match packages offered by MNCs, they find opportunities there or in bigger industries.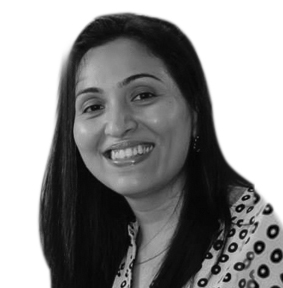 Poonam Pednekar
Chief Copy Editor
Magic Wand Media Inc
poonam.pednekar@magicwandmedia.in