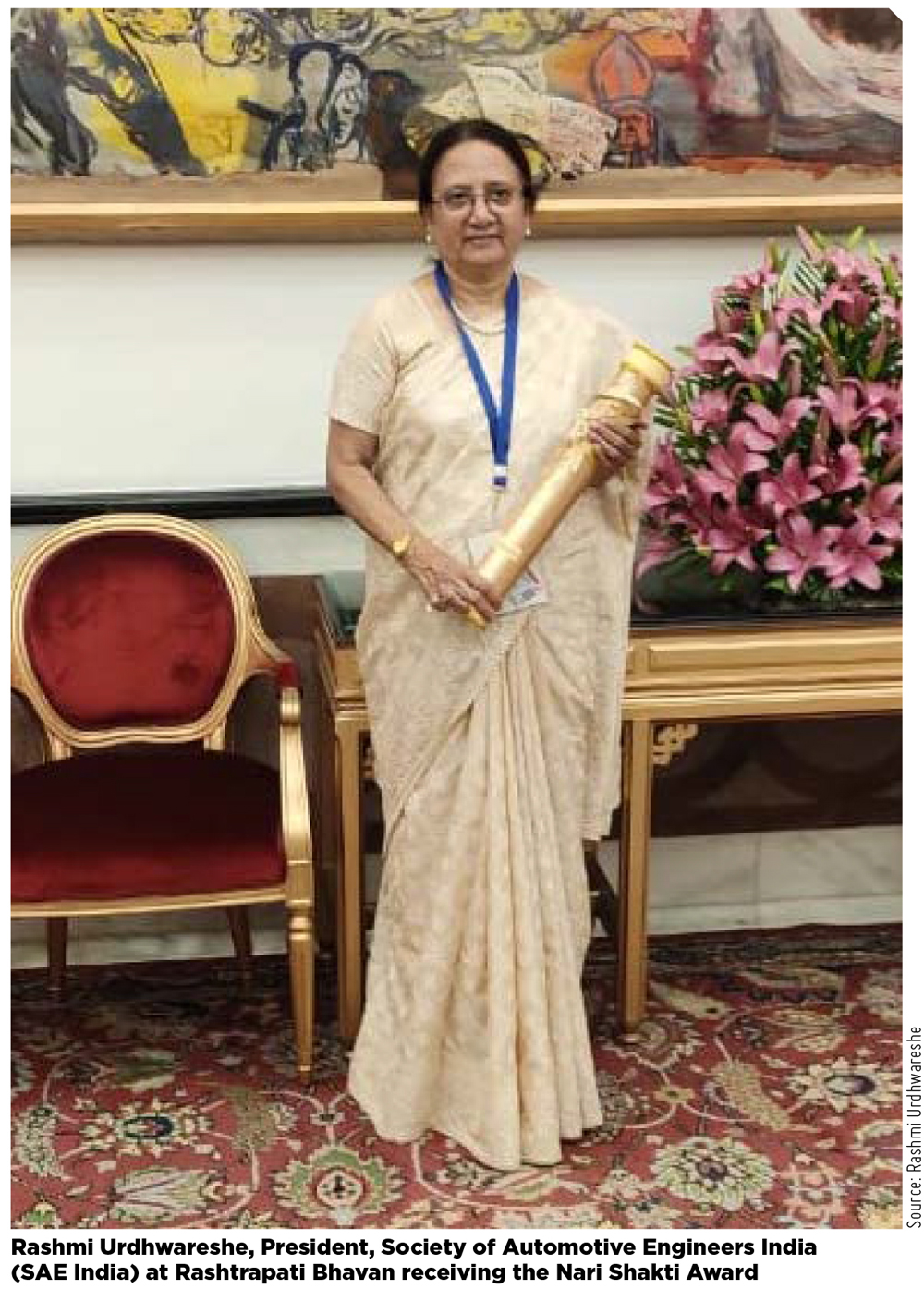 Rashmi Urdhwareshe, President, Society of Automotive Engineers India (SAE India), in this free-wheeling interview with Soumi Mitra, Editor-in-Chief, MMI, talks about how is it being a woman leader in a primarily male-occupied industry, the challenges encountered and overcome with uncommon élan, SAE India's vision, the future of green mobility in India and our machine tool players' readiness towards catering to it…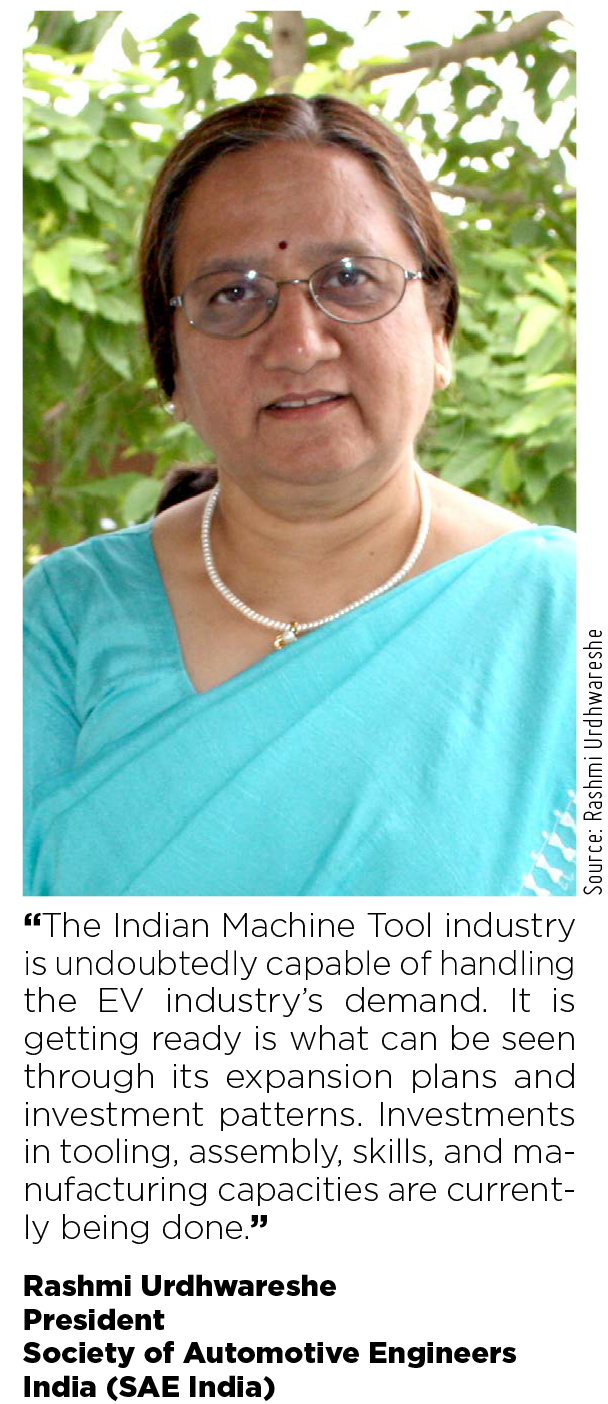 You carry a rich legacy of over 37 years in automotive research and development and are a recipient of the prestigious Nari Shakthi Puruskar 2019 at the hands of Honorable President of India, Shri Ram Nath Kovind. How has been your experience in handling various national and international leadership positions as a woman in the areas of automotive safety and emission regulations?
I love challenges! As a student, I always dreamt of carving out a place for myself in the Research and Development field. Engineering came as a natural choice. Getting a degree in Engineering from an extremely male-dominated college was a challenge in itself.
With the humble beginning as a Trainee Engineer in 1983, I rose through the ranks to become in 2014 the first Woman Director (CEO) of ARAI, the prestigious National Institute. The journey was eventful, exciting, and highly fulfiling. During my career, I had the opportunity to work with some excellent bosses, motivated teams and world-class technologies. I was also fortunate to receive national and international assignments/projects right from the start of my career. It helped in widening my horizon, vision and also aspirations.
During the course of career, I handled technical, management and subsequently leadership roles within the organization as well as at national/international level. I quickly learnt to overcome gender issues, biases and hurdles with my strong commitment to the organization and the roles that I handled from time to time. In troubled waters, my family became my strong anchor and my ethics and values, the beacon light.
I must also highlight that I never did allow my professional goals and direction to drift away from organizational and national goals. When I started taking technical leadership role, I influenced, to a large extent, the strategic goals of the organization to address sustainable transportation, green mobility, and road safety.

Please tell us about Society of Automotive Engineers (SAE) India and its goals. How do you plan to align your experience and expertise with SAE India's goals?

SAE India is a professional body having headquarter at Chennai. We operate through four sections – North, West, South and Bengaluru – to address the needs of mobility sectors in the regions. The vision of SAE India is:
– To be the most preferred technical body for knowledge dissemination and skill development of mobility professionals, students, and faculty;
– To be the trusted think-tank advising policymakers on mobility-related matters;
– To be a self-sustaining society with mobility professionals as members.
SAE, as a professional society, has a rich pool of resources spread in small pockets across the country. My first goal is to bring them together and consolidate their expertise as part of the common platform. SAE can thus take the lead in co-developing more of the new standards, algorithms, etc. along with its cohort in the areas of autonomous driving and e-mobility.
With my strength of handling challenges, I aim to take SAE to the new heights of professional thought leadership in the automotive domain. It is important to capture the changing expectations of each of the SAE members including students, professional members, faculty, corporate members, etc. and have our action plan ready.

With the government policies and other favorable factors, it is a matter of a few years before
we can declare ourselves as country committed to meet sustainability goals in transportation.



I also aim at creating more women SAE leaders. I am proud of my SAE experience of over 25 years, which has taught me the lessons of organizational leadership through leading and volunteering positions within regional, state, national, and international level events. Therefore, I intend to keep empowering women and enable them to take up active and challenging roles within the SAE community as well as in their own employments.
You are at a vantage point where you can gauge the exact readiness of Indians for green mobility. Please comment.
Thanks to the early investment and commitment by the Indian Auto industry, we do have good access and capability of absorbing technology. Another big asset is our strong, committed, and skilled human resource. To offer cost-effective green solutions to the consumer, we need to now focus on manufacturing excellence and reap the advantage of scale. We can soon reach the critical mass so that more investments could be justified.
On the demand side, Indian consumer is very picky, cost-sensitive but also brand loyal. The market development of EVs and other green vehicles shows that consumer is interested in trying out green vehicles, provided his long-term interests are protected (in terms of battery life, replacement costs, running costs, charging facilities, etc.) and he gets the value for his money.
Government policies are currently focused on incentivizing public transportation to give boost to the green technologies and their development in India. With these favorable factors, it is a matter of a few years before we can declare ourselves as country which is committed to meet sustainability goals in transportation.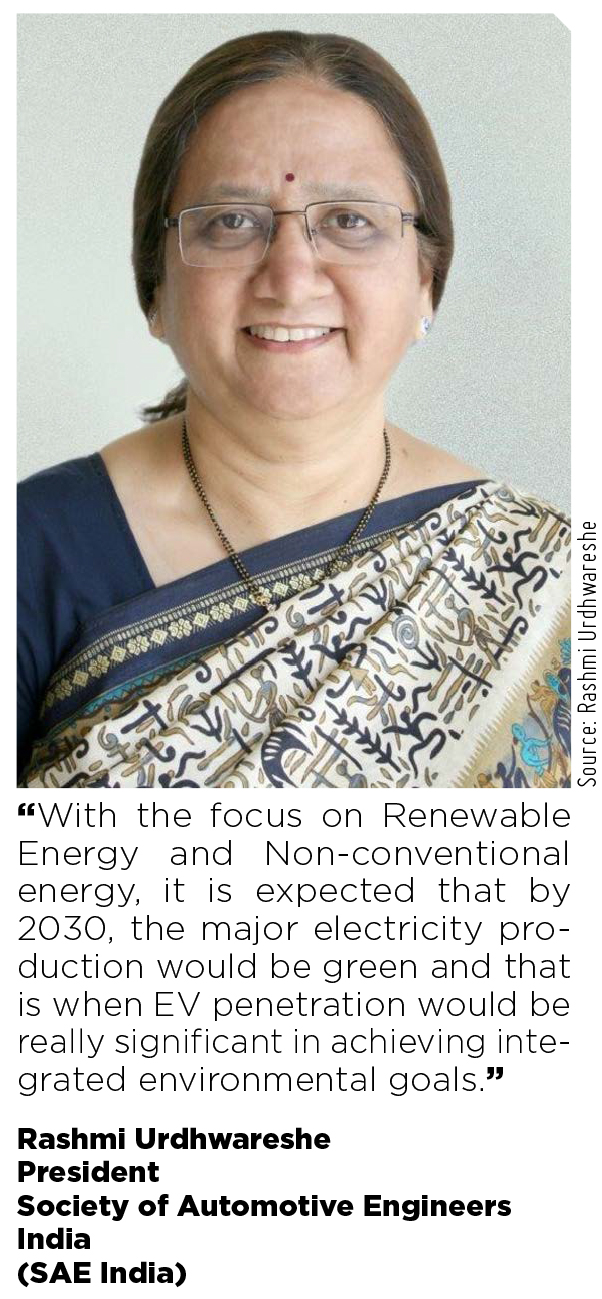 Our Automotive industry is based on the conventional engines. For the large-scale adoption of EVs, the entire ecosystem has to be transformed. How is SAE India helping the industry to smoothly transition this change?
SAE India has a very wide base of membership. The four strong pillars of our membership include Students, Faculty Members, Professional Members, and Industry/Corporates. With the changing focus of powertrain development, SAE India was quick in identifying the upskilling requirements of each of these stakeholders. We meticulously planned and executed Proficiency Improvement Programs on top technology areas such as Powertrain development, Battery Management, EV materials development and many more. These programs were conducted in virtual as well as hybrid mode. National and international experts came forward in this endeavor. I am very proud that a significant penetration in terms of the number of programs as well as the breadth of knowledge was achieved over the last few months, despite Covid pandemic setback in business operations.
The second aspect was to support in bringing in right technology to Indian auto companies. Through our partnership with SAE-International and other world-wide organizations like FISITA and IEEE, we hosted international conferences and expositions which were focused on green mobility. FISITA World conference, held in Chennai in the year 2018, put India on the global map of technological advancements. ITEC 2019 (International Transportation Electrification Conference), held in Bengaluru, had a very apt theme – 'e-Mobility Solutions for Community'. SIAT 2019 (Symposium on International Automotive Technology), hosted by ARAI in Pune, themed at 'Empowering Mobility the Safe and Intelligent Way' and brought in many green mobility solutions on the forefront.
The third and more significant contribution from SAE India was engineering student competitions and their engagement in developing capabilities to design electric powertrains and controls. OEMs greatly supported these events and worked closely with SAE India to become 'future-ready'.
One more strategic advantage to SAE India is that we cover all mobility sectors. Our close collaboration with Aero, Off-highway and Automotive industry brought in collaborative development across these businesses, especially in powertrain, storage, materials, manufacturing, and power electronics areas to achieve accelerated growth of EV development and localization.
How are India's existing urban transportation policies including the National Electric Mobility Mission Plan 2020 (NEMMP) for the faster adoption of EVs, the Faster Adoption and Manufacturing of Electric Vehicles in India (FAME) schemes I and II, and various state-specific policies for EVs facilitating the shift to sustainable and green transportation?
The policies NEMMP and FAME I and II are aimed at creating demand on one side through various incentives and on the other side, supporting supply through providing technology access and local development. Creating right infrastructure for fast and slow charging, and standardizing the products, specifications, testing and approval standards, etc. are also addressed through these policies. More effective deployment of EVs would be achieved with deeper penetration of mass transportation (i.e. buses and mini-buses) and other public transport vehicles (such as taxies and autorickshaws).
The State EV policies would be able to address the local specific situations, integrating with existing infrastructure, investing in new procurements (state owned) and providing integrated transportation solution to the consumers.

Unless consumer requirements are adequately addressed, substantial
shift in the passenger car number would not come.



When it comes to personal e-mobility solutions for city/urban use, some of the factors that would govern the customer choice are: home charging options, possibilities of battery swapping centers, charging facility at workplaces and key urban locations, etc. On the other hand, range per charge cycle and fast charging facility on highways would be the deciding factors for long-range travels. It is a very well-established matter that Indian consumer is very cost conscious, first, when it comes to the acquisition cost and then to the running cost. The government policies have excluded personal vehicles from fiscal incentives. To encourage 2-wheelers and passenger cars sales, State Governments and local authorities should come up with non-fiscal incentives, which can prove to be of immense significance in long-term transportation planning.
From the OEM's perspective, the personal mobility sector should be focused for technology introduction whereas public transportation sector should be handled appropriately for the creation of critical mass in developing local manufacturing bases.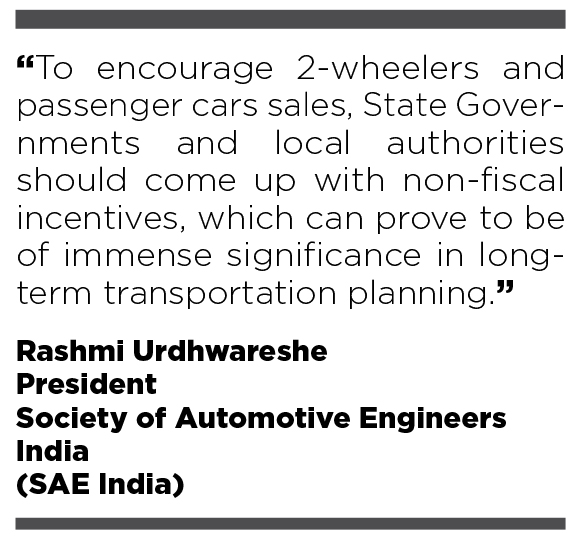 With Tesla's foray into the Indian EV market, there is a growing buzz for EVs in the country despite the pandemic. According to an independent study done by Council for Energy, Environment & Water and Centre for Energy Finance, by 2030 cumulative EV sales in all vehicle segments could cross over 100 million units, 200 times its current market size. Please share your view.
The Indian market does have this much potential. There are several steps to be taken and many hurdles to be crossed to reach those numbers. As stated above, the Indian consumer, especially in the passenger car segment, is picky and also grounded. Unless consumer requirements are adequately addressed, substantial shift in the passenger car number would not come.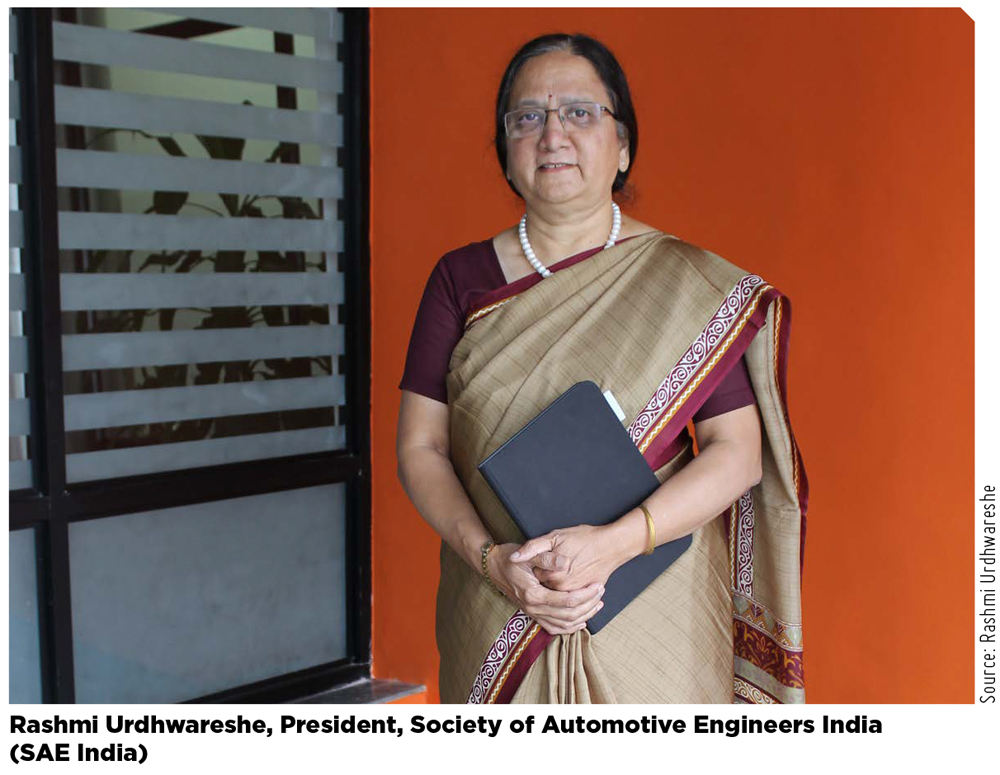 The 2-wheeler segment is highly promising when it comes to numbers as well as positive impact on the environment. A sustained effort in displacing the ICE vehicles with EVs is very much practical especially with reduced cost parity (partially due to increase in BS VI compliant vehicle technology).

Public transportation (city buses, taxies and auto rickshaws) would be the most appropriate segment to focus on.
In my view, the year 2030 has another significance in India's energy management status. Our total electricity production is currently dominated by fossil fuels. With the focus on Renewable Energy and Non-conventional energy, it is expected that by 2030, the major electricity production would be green and that is when EV penetration would be really significant in achieving integrated environmental goals.
Currently, India is heavily dependent on imports to meet its battery storage requirements and local manufacturing is limited. What are the measures being undertaken to localize battery manufacturing and strengthen other factors like battery storage, charging stations, battery disposal to achieve successful EV adoption?
Yes, heavy dependency on any major component of automotive always would results in losing competitive advantage. Local manufacturing of batteries, especially the cells, would need heavy investments, which could be justified only through larger volumes. These volumes should include not just domestic consumption, but India should aim at greatly enhancing export potential.
Battery manufacturing is also closely linked with the availability and effective utilization of key raw materials, power electronics components and standardization. In order to give impetus to this industry, OEMs could work as consortium and share the responsibility and commitment of developing and absorbing the technology as well as products.
The investment by the Government in setting up charging infrastructure would be rather limited and can cover only a small portion of the total requirement. Private players can come forward for participation with the Government, only after there is assured business. The chicken and egg situation can be overcome with gradual but sustained growth in EVs rather than jumping to some numbers.

Local manufacturing of batteries, especially the cells, would need heavy investments,
which could be justified only through larger volumes.



According to you, is the Indian machine tool industry equipped enough to cater to the needs of the EV industry?

The Machine Tool industry is undoubtedly capable of handling the EV industry's demand. It is getting ready is what can be seen through its expansion plans and investment patterns. Investments in tooling, assembly, skills, and manufacturing capacities are currently being done. There is, however, a significant gap between the status of 'getting ready' and 'is ready'. This gap can be filled up only with commitments from all the stakeholders, not just the Machine Tool industry.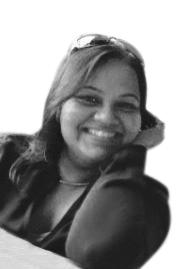 SOUMI MITRA
Editor-in-Chief
Modern Manufacturing India
soumi.mitra@magicwandmedia.in