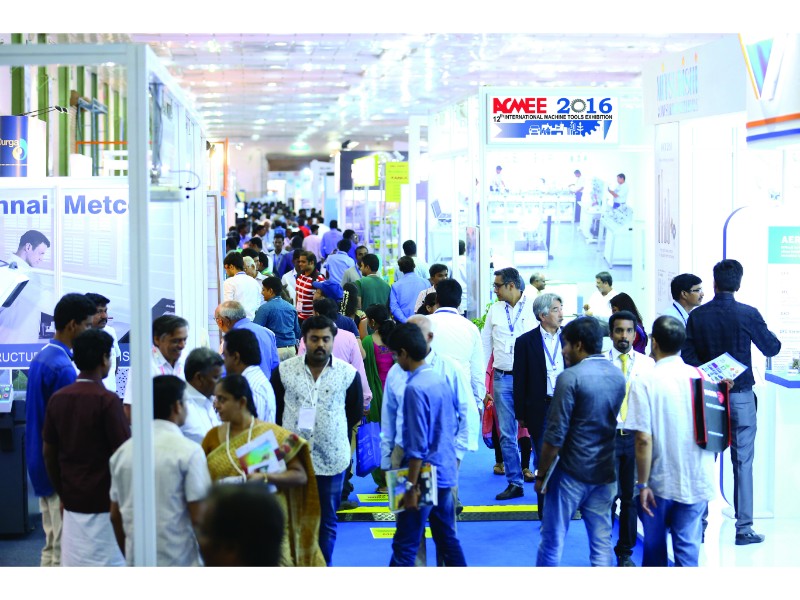 Having achieved a phenomenal success in the earlier editions of ACMEE, Ambattur Industrial Estate Manufacturers Association (AIEMA) is organizing the show's 13th edition at Chennai Trade Centre, Chennai, from June 21-25 2018.
With the view to showcase the latest products and technology from the global machine tools industry and bring together the manufacturing fraternity under one roof for a meaningful exchange, ACMEE's 13th edition is being held at Chennai Trade Centre, Chennai.
The biennial event will play host to 480 companies hailing from 28 countries in a sprawling 10,050 sq mt space of net exhibition area spread over five halls.
"The current ACMEE will be the biggest in the series in terms of the number of exhibitors, visitors and business generation. The number of exhibitors is the highest in the history of the show. Gauging the visitor registration and the response so far, we estimate more than 50,000 visitors, which again is unprecedented," informs K Ayyappan, Chairman, ACMEE 2018.
As a new initiative, the organizers have invited buyers from neighbouring countries and depending on the buyers' needs and exhibitors' interests, different types of supports are extended to overseas buyers.
With a view to provide a platform for presenting their projects to the industry experts and gathering their feedback, free booth space has also been allocated to students of select engineering academic institutions.
Grand opening
The inaugural session of the event is scheduled to be held at 10.00 AM on June 21, 2018 at the venue of the event. Shri Suresh Prabhu, Hon'ble Commerce and Industry Minister, Government of India, has agreed to be the Chief Guest and inaugurate ACMEE 2018. Thiru O Paneerselvam, Hon'ble Deputy Chief Minister of Tamil Nadu, has also agreed to grace the function which is expected to be attended by many other dignitaries.
Spotlight on latest technologies
The event will focus on the latest in machine tools technology from different parts of the world with emphasis on Energy Saving Solutions, Improving Productivity and Industrial Automation.
In line with the focus, the show will be featuring an exclusive Industrial Robotics and Automation Pavilion. "We have kept in view the latest industrial trends – particularly Industry 4.0 – that offer excellent solutions for cost reduction, perfection, time and energy saving in the present competitive environment," shares Ayyappan.
"Industrial Internet of things (IIoT) or Industry 4.0 is the order of the day. It is revolutionizing manufacturing by enabling acquisition of and accessibility to far greater amounts of data, at far greater speeds, far more efficiently. Many exhibitors will be presenting their innovations in this regard as well," he adds.
ACMEE 2018 will significantly help the local entrepreneurs in witnessing the latest in machine tools and production technology from all over the world and will facilitate in their efforts to move towards Smart Manufacturing and adopt Smarter Solutions. This will contribute directly to the 'Make in India' initiative.
Exhibitor offerings
"The list of the exhibitors comprise the who's who of the industry and they are all presenting their latest in terms of technology, designed to improve efficiency, productivity, and volume turnover," states Ayyappan.
The products that are to be displayed at the event include: CNC Machines, CNC & PLC Controls, Cutting Tools and Accessories, Special Purpose Machines, Pneumatics, Hydraulics, Industrial Robotics & Automation, Instrumentation, Machinery & Machine Tools, Welding, Material Handling Systems, Energy Saving Solutions, Sheet Metal Press, Laser Cutting, Cleaning Systems, Cold Forging Machines, Co-ordinate Measuring Machines, Control Devices, Power Tools, Testing & Measurement Equipment, Related IT & Consultancy Service.
Along with showcasing their products, exhibitors are also to offer live demonstrations and technical presentations on their offerings. Some exhibitors are to launch their new machine tools and services, tailored to the needs of the sub-continent at the show, all designed to improve the production process, energy saving, cost cutting and productivity. The show will also house Taiwan Country Pavilion.
Positive exhibitor sentiment
ACMEE has a fan following in its exhibitors. Most have been regularly taking part in the show and have been benefited by its reach. Jyoti CNC Automation is among its loyal patrons. "Each edition of ACMEE has given us a unique experience in terms of learning and growing. The show provides us with a platform to connect better with our clients and delegates from diverse sectors. This opens up new growth opportunities for us, reinforcing our market positioning," notes Sureshkumar V, Assistant General Manager – Sales, Jyoti CNC Automation.
In alignment, Ajey Phatak, Head Marketing, Beckhoff Automation, shares, "We expect visitors from companies into Machine Design, Machine manufacturing, Control system technology experts, O&M Engineers, End User manufacturers, and Engineering experts from the Southern region to visit the show. IoT being a preferred topic of interest for all manufacturing industries, we expect many users to visit with their plans for IoT projects."
Echoing similar sentiments, Sanjib Chakraborty, Managing Director, Hurco India, says "ACMEE 2018 is very significant for us and we have experienced success in the past after participating in the event, which is one of the most popular events in India and especially
in Chennai."
Keen to explore current trends in machining technology and the latest ways of manufacturing engineering products at ACMEE, Dipesh S Jaju, Partner (Technical Head), Pawan International, shares, "The overwhelming response of the show's last edition brings us back to ACMEE 2018."
After a highly successful stint at ACMEE 2016, Zavenir Daubert India is positive about its success at ACMEE 2018. According to Balwant Bains, GM – Product Management & Marketing, the expo is an ideal platform to gain an insight into the recent market trends and emerging opportunities in metalworking in Chennai and the areas around it.
ACMEE is a no-miss affair for Lakshmi Machine Works (LMW) that has been promoting its products and generating sizeable enquires and orders at ACMEE every year. "It is one of the biggest machine tools exhibitions and its venue – Chennai – is a hub for automobile and engineering products manufacturing, which is an advantage," states Indraneel Bhattacharya, Vice President, Sales & Marketing, Machine Tools Division, LMW.
If the exhibitors are this upbeat about ACMEE 2018, visitors can rest assure to find themselves equally delighted at the technology spread laid out for them from world over.
Quotes:
"The list of the exhibitors comprise the who's who of the industry and they are presenting their latest technology to help improve efficiency, productivity, and volume turnover."
K Ayyappan
Chairman
ACMEE 2018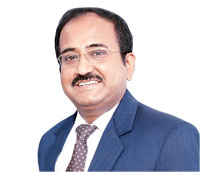 "We have had success in the past at ACMEE, and now the number of Hurco machines in Chennai is the highest as compared to other cities."
Sanjib Chakraborty
Managing Director
Hurco India
"ACMEE 2018 is prominent platform for exhibitors bringing world-class technologies to enhance productivity in the manufacture of quality products in India."
Ajey Phatak
Head Marketing
Beckhoff Automation Pvt Ltd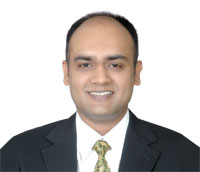 "The expo is an ideal platform to gain an insight into the recent market trends and emerging opportunities in metalworking in Chennai and the areas around it."
Balwant Bains
GM – Product Management & Marketing
Zavenir Daubert India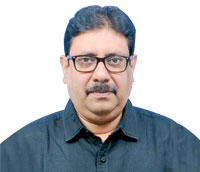 "Our main target audience at ACMEE 2018 are tier 1 and 2 auto component manufacturers. We will be promoting our range of VMCs and increasing our reach to customers."
Indraneel Bhattacharya
Vice President, Sales & Marketing
Machine Tools Division
LMW
"The show has come a long way in terms of participation and technology level of the exhibits. ACMEE 2018 would be a technological delight for all connected to the field of metalworking."
Sureshkumar V
Assistant General Manager – Sales
Jyoti CNC Automation Pvt Ltd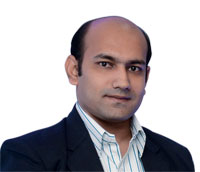 "This is our second time at ACMEE. The overwhelming response and the footfall we received the last time at the show is enough motivation to bring us back."
Dipesh S Jaju
Partner (Technical Head)
Pawan International
Author:
Poonam Pednekar
Chief Copy Editor
Magic Wand Media Inc
poonam.pednekar@magicwandmedia.in