The premier manufacturing technology show in North America, the International Manufacturing Technology Show (IMTS), has carved out a reputation for itself as a no-miss affair of the manufacturing industry. It's been 90 years but the show till date continues to lure the largest number of participants, a testimony to its impact on their businesses.
IMTS, held every even year in Chicago, attracts buyers and sellers from 117 countries. Introducing the latest advancements in manufacturing technology, the show has been significantly instrumental in the success of many a machine shop and manufacturing facility, helping them be innovative and competitive. The last edition, IMTS 2016, hosted the highest number of exhibiting companies ever (2,407) and was the third largest in the number of registrations (115,612) within its 1.37 million sq ft of floor space at the McCormick Place complex.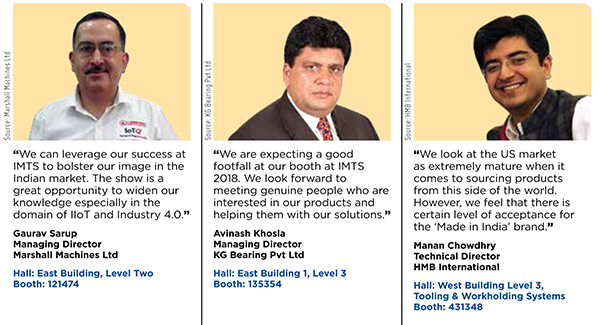 IMTS 2018 Pavilions
More than 2,400 exhibitors from the metalworking industry will display their products and productivity solutions at IMTS 2018. To help guide attendees to booths quickly and easily, the event has arranged exhibits in Pavilions that are geared toward specific industries, technologies and solutions. With such categorization, it seems like 10 shows within the IMTS show.
There is a specific pavilion for the following: Abrasive Machining / Sawing / Finishing; Additive Manufacturing; Controls & CAD-CAM; EDM; Fabricating & Lasers; Gear Generation; Machine Components / Cleaning / Environmental; Metal Cutting; Quality Assurance; Tooling & Workholding Systems.
Co-located shows
Displaying a complete range of manufacturing technology solutions, IMTS 2018 makes for manufacturing's most comprehensive event. The event hosts four co-located shows that complement the metalworking solutions exhibited.
The two leading trade fairs Industrial Automation and MDA are getting combined to create a new annual event: Integrated Automation, Motion & Drives (IAMD) USA at IMTS 2018. The event will present the complete spectrum of industrial automation, IT, power transmission and fluid power technology.
Surface Technology USA will cover the entire range of industrial surface treatment and finishing – from cleaning and pre-treatment to coatings, paint finishes, and electroplating.
ComVac USA will highlight the latest product developments, technology, and plant & system components for all areas of compressed air and vacuum.
Industrial Supply USA will cover the entire spectrum of industrial subcontracting and lightweight construction.
IMTS Conference
Several educational sessions are lined up during the week of IMTS. The largest and longest running of these is the IMTS Conference from September 10 - 13, 2018, jointly produced by AMT and GIE Media. The conference is a platform for the manufacturing fraternity from world over to gather under one roof. It is an ideal opportunity to explore innovative ideas and gain fresh perspectives to overcome the various challenges manufacturers encounter. The four-day technical conference features more than 70 sessions, attended by over 1,500 IMTS visitors. All sessions will be presented by subject matter experts from within the IMTS exhibitor community.
They fall into these main categories:
Manufacturing Process Innovations
Alternative/Additive Manufacturing
Plant Operations
Quality/Inspection/Metrology
Systems Integration/Industry 4.0/IIoT
Co-Located conferences at IMTS
In addition to the IMTS Conference, there are several other important presentations that are held during the week of the show, presented by leading manufacturing thought-leaders.
These events include:
Additive Manufacturing Conference – by Gardner Business Media
AppliedAM – Where Additive Minds Meet – by EOS North America
GAMS (Global Automation Manufacturing Summit) – by HANNOVER MESSE USA
OPC Foundastion Conference – by HANNOVER MESSE USA
Integrated Industries – by HANNOVER MESSE USA
Industrial Laser Conference - by Laser Institute of America
Top Shops Workshop - by Gardner Business Media/Modern Machine Shop
Indian participation at IMTS 2018
With IMTS being one of the biggest manufacturing technology shows in the world, there is a significant enthusiasm among the Indian players to explore opportunities at the event and broaden the reach of Indian products.
"We look at the US markets as extremely mature when it comes to sourcing products from this side of the world. However, we feel that there is certain level of acceptance for the 'Made in India' brand," says Manan Chowdhry, Technical Director, HMB International.
The company is all geared up to showcase its VAICO range of tools along with its new series of through coolant tools to American consumers. "VAICO itself is something new as far the American consumers are concerned. We are bringing the highest quality tools in the world at prices half of what the average American factory owners and tool supply companies are used to," informs Chowdhry. "Our major focus would be on cutting tool supply companies for representing us in the US, Canada and South America; companies that work with their customers not only as suppliers, but also as applications advisors," he adds.
KG Bearing Pvt Ltd is a leading manufacturer of bearings. "We are expecting a good footfall at IMTS 2018. We look forward to meeting genuine people who are interested in our products and helping them with our solutions," says Avinash Khosla, Managing Director, KG Bearing. The company will be showcasing its pillow block units, deep groove ball bearings, spherical roller bearings etc. which are used in various industry sectors such as Machine Tools, Agriculture, Mining & Quarry, Oil & Gas, Pulp & Paper, Pumps & Motors, Steel Mill, Transmission, Wind Energy & Conveyor Systems.
According to Gaurav Sarup, Managing Director, Marshall Machines Ltd, IMTS 2018 is just the right platform for the company to showcase its unique IoTQ (Internet of Things for Quality) technologies to a large number of its prospective customers.
"The event will help us connect with our indirect customers i.e. OEM and tier 1 companies whose vendors use CNC Turning Centers. By convincing these companies that our IoTQ technology will enable their vendors to produce zero-defect quality, we can use their assistance in reaching out to our direct customers i.e. their vendors," he adds.

IMTS visitors marveling at a 3D manufactured product.
The company will be showcasing its three technologies in two products. "Our Super-precision CNC Turning Center ALTIUS will be used to showcase TWO technologies: Precision Hard Turning to eliminate Grinding; and Industry 4.0 features to monitor health and performance of a machine and take 'autonomous corrective action'," shares Sarup.
The company's Gauging Stations will showcase the three IoTQ technologies: SmartCorrect for Zero Defect production; SmartInsert for Optimization of Tool Insert Life and SmartChek for Automated Health Check of a machine to prevent unexpected breakdowns.
Leading the way
Showcasing the state-of-the-art manufacturing solutions and technologies, the event has been guiding the manufacturing industry round the globe to be equipped with the best to cater to the future demands. IMTS 2018 is all geared up to continue the tradition and showing the industry the way that leads to innovation and growth.