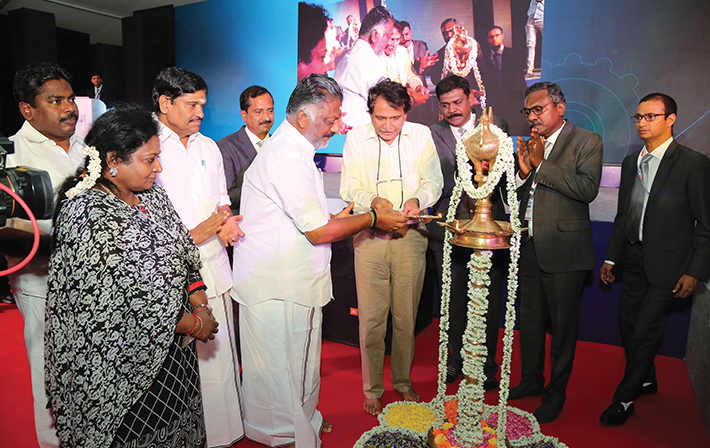 Organized by Ambattur Industrial Estate Manufacturers Association (AIEMA), the current edition of ACMEE, held at Chennai Trade Center, Chennai from June 21 – 25, 2018, was an out-and-out success.
ACMEE, one of the biggest shows in the country on machine tools, has been playing a crucial role of extending its platform to machine tool players from world over to unveil their latest in technological innovations. The latest event exceeded the industry's expectations from it with its emphasis on Industrial Automation to facilitate local players' move towards Smart Manufacturing, which is the order of the day.
Statistically speaking
The event that sprawled over an area of 10,050 sq mt hosted 480 exhibitor companies and attracted an awe-inspiring 43,500 visitors. On the spot business generated at the event is estimated to be at `450 crore. Many exhibitors have reported on the spot sale, which is an interesting trend and a direct indicator of the upward trends in industrial production. The fact that 99 percent of the participants are keen to be part of ACMEE 2020 points to the business opportunities facilitated by ACMEE 2018.
The show had an impressive global participation with 150 exhibiting companies hailing from 27 countries. And, under ACMEE's international buyer visit program, four buyers from Sri Lanka also visited the event.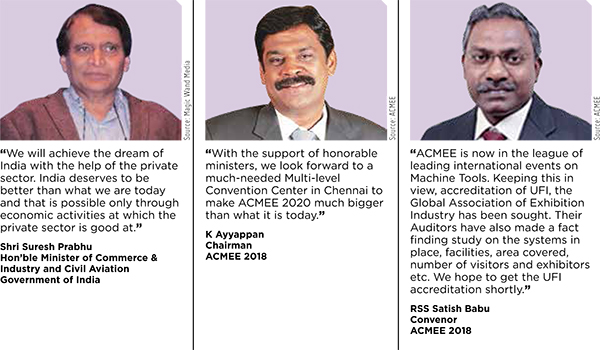 The grand beginning
The five-day machine tools affair commenced with the traditional lighting of the lamp by the Chief Guest Shri Suresh Prabhu, Hon'ble Minister of Commerce & Industry and Civil Aviation, Government of India, in the presence of other dignitaries including Thiru O Panneerselvam, Hon'ble Deputy Chief Minister, Government of Tamil Nadu; Thiru P Benjamin, Hon'ble Minister for Rural Industries, Government of Tamil Nadu; and Thiru MC Sampath, Hon'ble Minister for Industries, Government of Tamil Nadu.
Also gracing the occasion were ACMEE 2018 sponsors including Satish Sadasivan, Managing Director, Schunk Intec India Pvt Ltd; P Ramadas, Managing Director, ACE Manufacturing Systems Ltd & President, IMTMA; R Ganesan, Managing Director, Mahr Metrology India Pvt Ltd; along with the emi-nent members of AIEMA and the organizing committee of ACMEE 2018.
Vision ACMEE 2020
Optimism loomed large as the prominent industry veterans flagged off the event. Their overview on the current state of the industry and its imminent opportunities set a perfect mood, rendering the event the start it deserved.
In his welcome address, D Ravi, President, AIEMA, thanked the Government of India and the Government of Tamil Nadu for their focus on improving infrastructure of Ambattur Industrial Estate, ease of doing business and continued support to AIEMA. K Ayyappan, Chairman, ACMEE 2018, seconded his request of augmenting the exhibition infrastructure.
Growth of SMEs is the key
Prabhu lauded AIEMA's efforts of offering SMEs the opportunity to be updated with the technological advancements of the world. He spoke on the Government of India's policies on the growth of SMEs and stressed on the growth of GDP at the district level, which will scale up to the national level.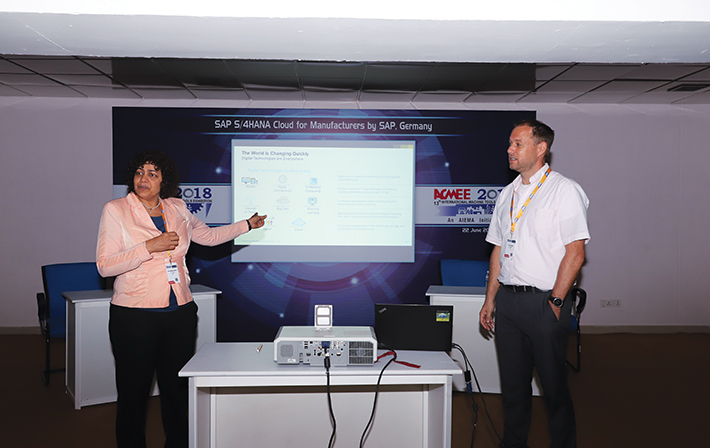 SAP team in a technical session on its SAP S4/HANA Cloud.
Thiru O Panneerselvam stressed on the importance of machine tools in the growth of the manufacturing industry. "Machine Tools form the basis of manufacturing. Hence, ACMEE is important as it spreads awareness on the latest in the technologies. The local manufacturers must leverage the opportunity offered to them to rise up to global standards,"
he said.
Taking pride in the state's repute as a highly preferred investment destination, Thiru Benjamin said, "To progress further, upliftment of the SME sector is highly crucial for which the Government of Tamil Nadu is continuously resorting to various policies and support schemes. AIEMA through ACMEE is supporting us in our endeavor."
Thiru MC Sampath highlighted the various subsidiaries by the Government of Tamil Nadu to facilitate the growth of SMEs and the efforts to strengthen the aerospace and defense industry. He congratulated AIEMA for bringing in global technologies at the doorsteps of local manufacturers and SMEs through ACMEE.
Exhibitors' rave reviews

Once an ACMEE exhibitor, always an ACMEE exhibitor. Hence, most exhibitors at ACMEE are regulars who find the platform just apt to showcase their innovations:
S&T Machinery (STM) Pvt Ltd has been regularly taking part in ACMEE shows. "One of the most important features of participating in ACMEE is that it helps in creating brand proximity. Once the customers develop a sense of brand closeness, they automatically connect with our brand," stated D Shanmugasundaram, Managing Director, STM.
Meiban Engineering Technologies Pvt Ltd is also a familiar face at the event. "ACMEE is an opportunity to connect with the right visitors and meet other manufacturers in similar activities," stated AV Srinivasan, CEO, Meiban Engineering Technologies. The company displayed its new MW120 Twin Spindle CNC Chucker machine which makes for an ideal solution for cutting applications.
According to Indraneel Bhattacharya, VP, Sales & Marketing Machine Tools Division, Lakshmi Machine Works Ltd, "At ACMEE, our agenda has been to increase our reach to customers." It displayed its newly launched CNC lathe – Starturn with Fanuc CNC system and JV 80 and JV 40 VMCs from its JV series at the expo.
New launches that hogged the limelight
SCHUNK Intec India Pvt Ltd stole the show with its human-robot collaborative innovation, Co-act EGP-C Collaborative Gripping System, which has been created in close co-operation with Universal Robots. "With collaborative automation, robots can now do the toll-taking manual jobs, while the operators can do the simple things that need human intervention," said Satish Sadasivan, Managing Director, SCHUNK Intec India.
S&T Machinery team at its booth at ACMEE 2018
Mitsubishi Electric India (MEI) Pvt Ltd announced its new NC Series 'E80' targeted at parts cutting VMCs and lathes for the first time in India at the expo. According to Shuhei Matsui, General Manager – CNC Systems, MEI, it is an easy adoption from the previous version E70 since the external dimensions remain the same with new added functions such as interactive programming functions.
Mahr Metrology India Pvt Ltd exhibited its innovative measurement systems rolled out by its parent company Mahr GmBH. "Our new devices are optimized to accelerate the measurement process and simplify handling," shared R Ganesan, Managing Director, Mahr Metrology India Pvt Ltd.
Taiwan External Trade Development Council (TAITRA) organized Taiwan country pavilion.
For K Ganapathi Subramanian, Vice President – Marketing & Sales, Gedee Weiler Pvt Ltd, "The response we receive at ACMEE become the impetus for our R&D initiatives and plans for new product development." The company showed its latest offerings including Flex Turn with Automation, Uniturn 300HD TM with Live tool turret, Lean Turn with special hydraulic tool heads and high precision manual lathe.
Source: Magic Wand Media