TIMTOS has been steadfastly expanding its reach over the years, soaring in popularity among the global machine tool fraternity. Living up to its repute, the latest 27th edition of the show broke its own record, emerging as the world's third largest machine tools exhibition.
Housing 1,230 exhibitors from both domestic and international regions with up to 7,000 booths used, the greatest ever in Taiwan, the trade show attracted a total of 53,777 visitors comprising 46,266 local and 7,511 overseas visitors from countries including Mainland China, India, Japan, Malaysia, Republic of Korea, Thailand, the US, Russian Federation, Singapore and Turkey.
Showcasing the Best
In his opening address at the inauguration of the event, James CF Huang, Chairman, TAITRA, said, "TIMTOS gathers the best and the brightest companies in the industry to showcase in-novations that create innova-tions. Together, we can develop new products and services, and can take on the challenges of digital transformation."
Alex Ko, Chairman, TAMI, reiterated, "This year, TIMTOS has broken many new records, such as becoming the largest professional trade show in Taiwan, and the third in the world. In the future, for the machine industry and Taiwan, we shall accomplish greater achievements."
A total of 26 nations' brands were exhibited at TIMTOS 2019 that included key industry members from Taiwan, and international brands. Aside from the existing Swiss and German pavilions from past editions, exhibitors from the US, Denmark, and Turkey had country pavilions for the first time. The scale of the show was a new record high, with greater international participation than ever before.
Local exhibitors included Fair Friend Group (FFG); FEMCO Group; Chain-Headway Machine Tools Co., Ltd; SOCO Machinery Co., Ltd; Tongtai Machine & Tool Co., Ltd; HIWIN Corporation; Goodway; CHMER EDM; Chin Fong Machine Industrial Co., Ltd; POSA Machinery Co., Ltd; and Cosen Mechatronics Co., Ltd.
TIMTOS 2019 housed 1,230 exhibitors with up to 7,000 booths and attracted 53,777 visitors comprising 46,266 local and 7,511 overseas visitors.
Key Highlights
Industry 4.0, Smart Manufacturing, and Artificial Intelligence (AI) were the focus of this year's show. From R&D, integrated supply chains, specialized units to total solutions, TIMTOS presented itself as the ideal platform to source any tool and service one could need to optimize their operations.
TIMTOS Summit was held the second time that had industry experts offering their take on the advanced manufacturing trends. Their topics comprised of 'Machine Intelligence and AIoT', 'Additive Manufacturing', 'Innovation in Aerospace Manufacturing', and 'Automotive Manufacturing Revolution'.
Additionally, in sync with the TIMTOS 2019 theme, there were a considerable number of exhibits for new system integration and digitalized manufacturing solutions. These included robots, sensors, IoT technology, cloud platforms, and Big Data analysis.
Many domestic and international exhibitors also showcased their new AI technology and collaborative robots which are slated to assist human workforce, decrease human error and usher in unprecedented levels of productivity.
The show, for the first time, presented an 'AR Experience Zone' using Augmented Reality (AR) to demonstrate the structures of metal-forming machines. Taiwanese metal-forming machinery companies apply robotic arms, automatic die change systems, sensors, and AR applications together with production management systems and remote management to build smart production lines of sheet metal and aluminum alloy casting.
Stressing on the practical learning of post-secondary and higher education, TIMTOS every year encourages students to take part in the show. This year, the response from them was overwhelming – more than 5,200 students from 130 classes of 50 schools actively participated to have a closer view of the industry.
Rewarding the Most Innovative
Echoing 'Industry 4.0 & Smart Manufacturing', the theme of TIMTOS 2019, smart machinery was included as a special category in the competition of Taiwan Machine Tool Industry Awards for Excellence in Research and Innovation to encourage innovation and development of the industry. There were 43 entries which were reviewed by notable committees in the field of machinery tool design and manufacturing. The competition was conducted by product categories and subcategories. Following are some of the innovative exhibits and a table with a long list of winners :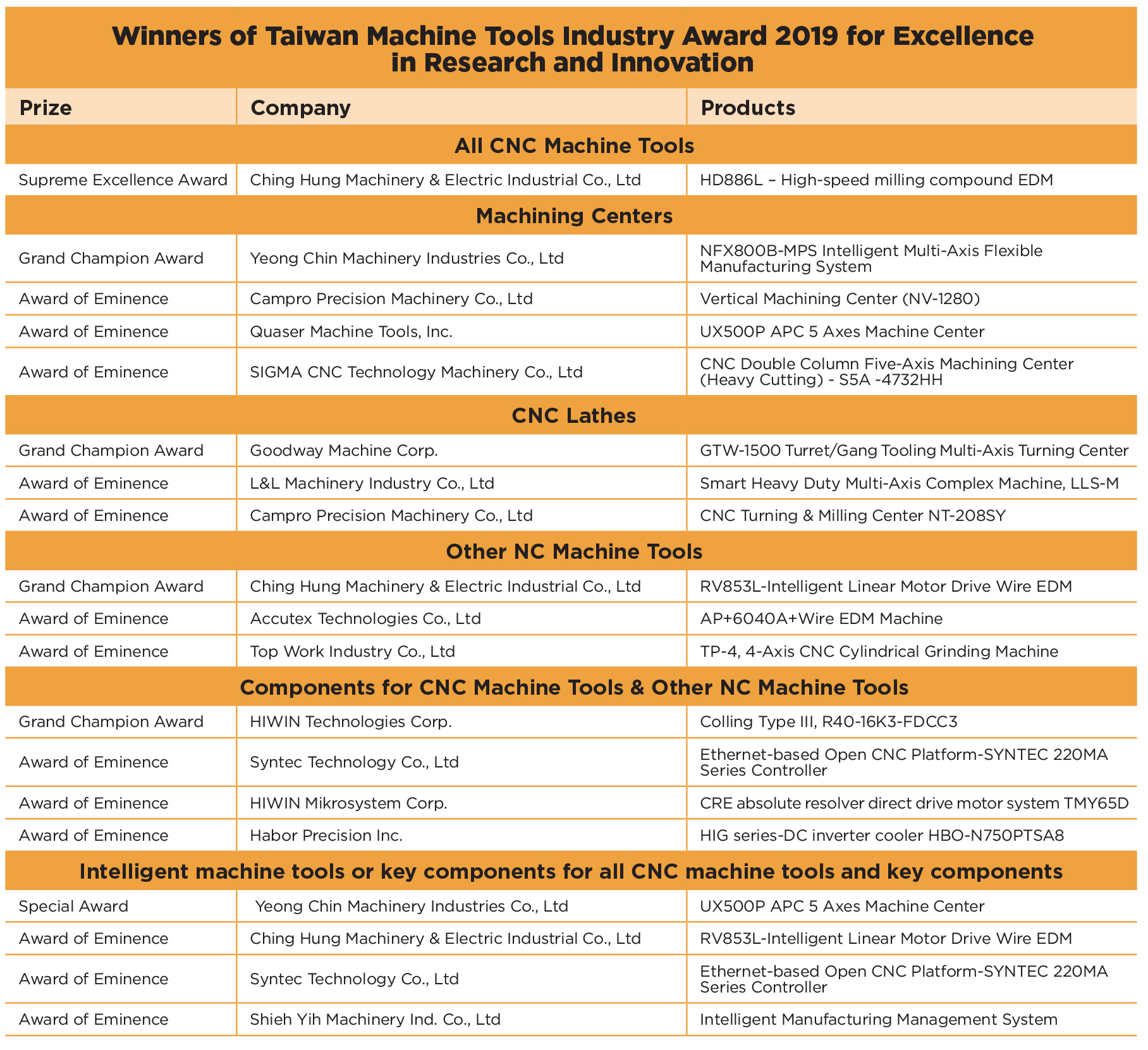 Syntec Technology Co., Ltd : Sefa Bitik, Sales and Field Application Engineer, Syntec Technology, informed on the company's display including Motors, Programmable Logic Controllers / Robot Controllers, Industrial Controllers, Industrial Controller Modules, Server Motors, Computers and Peripherals.
Ing Yu Precision Industries Co., Ltd : Power Presses, Crank Presses, Eccentric Presses, High-Speed Presses are what the company specializes in. FPB-250 Fine-Blanking Press was one of its displays at the show. "The triple action presses in the FPB series are ideal for precision and complex metal stamping parts and render flatness, and straight and superior finished edges," shared Brenda Tung, Sales Manager, Ing Yu Precision Industries.
Keyarrow (Taiwan) Co., Ltd : Its main exhibited products included Slideway Covers, Chip Conveyors for Machine Tools, Chip and Cutting Fluid Disposal Systems, Sheet Metal & Stamping Parts, revealed Chloe Wang, Manager, Marketing, Keyarrow (Taiwan).
Soco Machinery Co., Ltd : The leading global machinery manufacturer for the Tube, Pipe and Solid Bar industry, Soco's exhibited products comprised of Metal Circular Sawing Machines, Laser Cutting Machines, Pipe Cutting Machines, Tube Bending Machines, and Wire Working Machines. Kyle Lo, CEO & MD, Soco Machinery, spoke on another new product, "The SB-52X10A-2S-V-U + Robot is an all-electric tube bender which is equipped with Left + Right Bending technology with automatic loading and unloading by a robot. Its tube bending capacity is up to O.D. 50.8 mm."
Tailift Co., Ltd : Taiwan's leading player in Material Handling and Sheet Metal Machine Tools Industry showcased CNC Turret Punching Presses, Hydraulic Press Brakes, Laser Cutting Machines, shared Jeff Lin, CEO, Tailift Co., Ltd.
TBI Motion Technology Co., Ltd : The professional transmission component manufacturer in Taiwan showcased Ball Screws, Linear Guides, Machine Parts & Accessories that cater to industries including automation, semi-conductor, medical, and robotics. The company is already the biggest ball nut manufacturer in the world, informed Chieh Lin, Executive Engineer, TBI Motion Technology.
Excetek Technologies Co., Ltd : "CNC Electric Discharge Machines, EDM Drills, and CNC Wire Cutters are our main products," shared Jimmy 4C, Y Wei, Managing Director, Excetek Technologies.
Ken Ichi Machine Co., Ltd : According to Josh Cheng, Vice Manager, Marketing, Ken Ichi Machine, the company's main products include Double Column Machining Centers; Gantry Type Machining Centers; and Vertical, Horizontal, 5-axis Machining Centers. The exhibited ones include: Compact B – Gantry Type High-Speed 5-axis Machine Center; and Linmax B – Gantry Type High-Speed 5-axis Machine Center.
Palmary Machinery Co., Ltd : "We specialize in Cylindrical and Centerless CNC Grinding Machines," informed Daphne Chiu, Area Sales Manager, Palmary Machinery. The company exhibited its high-precision CNC Internal Grinding Machine Series – NC Type.
Habor Precision Inc. : Fran Wu, Manager, International Sales Department, Habor Precision, revealed company's offerings including Industrial Cooling Systems, Hydraulic & Pneumatic Systems, Lubrication and Cooling, and Oil Mist Collectors for Machine Tools.
Gearing for the Next
After a highly successful edition this year, the biennial event's next will be centered on the procurement of top-quality 'Made in Taiwan' machine tools and total solutions for the machine tool industry. Scheduled from July 01 – 05, 2021, the forthcoming event promises to continue its endeavor to showcase the best from Taiwan and all parts of the globe and keep raising its bar.
The show for the first time presented an 'AR Experience Zone' using Augmented Reality (AR) to demonstrate the structures of metal-forming machines.