Organized by the VDW (German Machine Tool Builders' Association), the 22nd edition of EMO Hannover will be held from September 16 – 21, 2019. Revolving around the theme of 'Smart technologies driving tomorrow's production!', the metalworking event is a treasure-trove of the latest manufacturing processes, advanced trends in automation, energy efficiency, occupational safety, new materials and much more.
To facilitate navigation through the maze of events during the world's leading metalworking trade fair, VDW hosted the EMO Hannover 2019 Preview for select international media on July 3 – 4, 2019 in Hannover. Around 80 journalists from 30 countries were invited to get an insight on the much-awaited manufacturing show.

Raising the curtain on the occasion, Dr Wilfried Schäfer, Executive Director, VDW, em-phasized that EMO Hannover is and continues to be a mecca of technological and product innovations. In the 2017 edition, almost 72 per cent of exhibitors showcased innovations developed chiefly for the event. Following suit, this year's show is slated to house more than 2,100 exhibitors from 47 countries making the show the largest and most comprehensive exhibition on industrial production.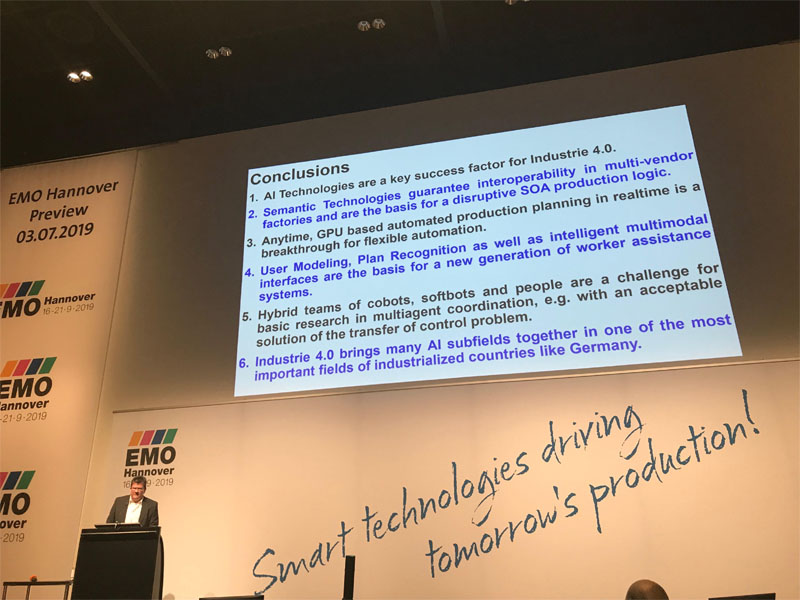 Dr. Anselm Blocher from German Research Center for Artificial Intelligence spoke on Industry 4.0: Hurdles and opportunities in actual production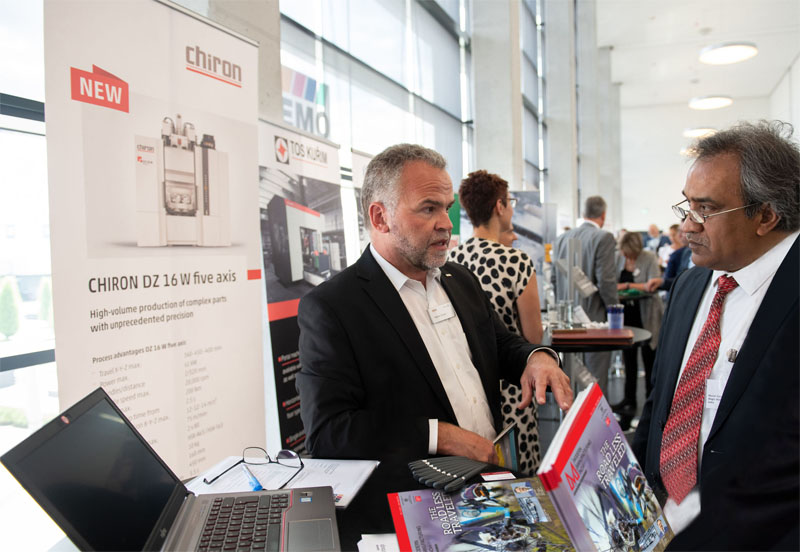 (L to R): Rainer Schopp, Head, Marketing, Chiron Werke GmbH & Co. KG along with Murali Sudaram from MMI magazine during the EMO Hannover Preview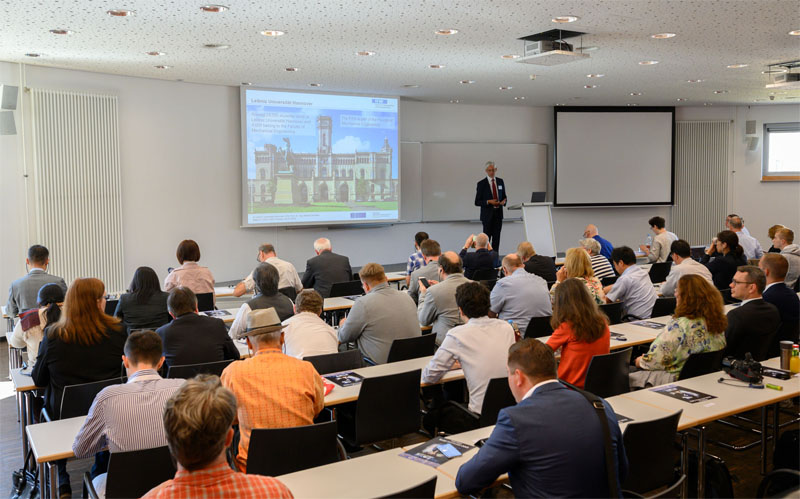 Dr.-Ing. Benjamin Bergmann, Head of Department Machines and Controls, IFW - Institute of Production Engineering and Machine Tools, Leibniz University Hannover addressing the international press

Sneak Peak
Thirty eight companies from 9 countries exclusively participated in the Preview to give a snapshot of their displays at EMO Hannover 2019 including Agathon, Albrecht Präzision: Alpha Laser, AMF Andreas Maier, Anderson, Castrol Lubricants, Chiron Group, DMG Mori, Doosan Machine Tools, Ecoroll, EMAG, Erasteel, FFG Europe & Americas, Fischer Spindle Group, Gefertec, Hainbuch, Heller Maschinenfabrik, Igus, Kapp Niles, Leistritz, Liebherr-Verzahntechnik, LMT Tool Systems, Matec GmbH, Monforts CNC Werkzeugmaschinentechnik, PCI-SCEMM, Porta Solutions S.P.A, pro-micron, Schaeffler, Alfred H. Schütte, Siemens, Soraluce, Stark Spannsysteme, Toshulin, TRUMPF, United Grinding Group Management, Vollmer Werke Maschinenfabrik, and Werkzeugmaschinenfabrik Waldrich Coburgand Xebec Technology. The precise 120 seconds timed presentations by each company piqued interest of the audience to visit the respective booths at the event in September.

Glimpses on Displays
Chiron Group gave an overview of its range of debut machining centers from CHIRON, STAMA and SCHERER, and new software and automation solutions that will be showcased at EMO. The DZ 25 P five axis designed for productive machining of large components in the automotive industry and aviation will mark its world premiere at EMO. Also, the company has combined its new FZ 16 S five axis with VariocellPallet pallet automation for the first time. The new automation solution is aimed at machining small batch sizes and complex workpieces autonomously.

Global lubricant company Castrol announced the launch of SmartControl, a new system that provides automatic, in-machine real-time monitoring and management of metalworking fluids at EMO.

IFW on Autonomous Production
As part of the EMO Hannover 2019 Preview, the Institute of Production Engineering and Machine Tools (IFW) of Leibniz Universität Hannover demonstrated technologies for autonomous production systems. We were privileged to witness the below breakthrough research technologies at the IFW premises:
Artificial intelligence for process monitoring; Digitization and automation of the repair process of turbine blades; Feeling Machine Tool and Digital Twin for Autonomous Production; Aug-mented reality for quality control and Intelligent grinding process.

Smart Technologies for Intelligent Factory
New Industry 4.0 concepts are emerging in all areas: for machines, components, controls, measuring systems and material flows. "We are convinced that EMO Hannover 2019 will be a hotspot for new offerings and solutions for the smart factory," highlighted Schäfer.

umati – a common language for Industry 4.0
VDW, along with eight German machine tool manufacturers and major control suppliers, had launched umati (universal machine tool interface) in 2017. A joint working group was set up for OPC UA at the end of 2018. The interface standard for machine tools based on OPC UA, with all its functionalities, will be presented at EMO Hannover 2019. This provides neutral and open connection of machines to higher-level IT systems.

Additive Manufacturing
Nine companies will be presenting their products and services in Hall 9. The special show complements the offerings of the major manufacturers of 3D printing equipment such as Renishaw, Realizer, SLM, Stratasys and TRUMPF, who also have their independent booths at EMO Hannover. More than 70 companies will be showcasing their generative manufacturing machines, systems, materials, accessories, software and scanners and related services.

Encouraging Start-ups & Innovations
The coveted EMO Hannover 2019 is all set to serve as an ideal stage for production start-ups to promote cooperation and bring interested parties together under the Young Tech Enterprises platform. Investors, start-up sponsors and potential partners are invited to participate as exhibitors – in addition to the start-ups themselves. The special Digital Innovations in Production prize will be awarded at the fair as part of the Young Tech Enterprises @ EMO Hannover 2019. The prize is awarded to innovative business ideas which are based on modern information and communication technologies.

EMO City!
The trade visitors at EMO come from all major sectors of industry such as machinery and plant manufacturers, the automotive industry and its component suppliers, the aerospace sector, precision mechanics and optics, shipbuilding, medical technology, tool and die manufacture, steel and lightweight construction. Hence, rightly summed up Dr Schäfer, "EMO Hannover is the undisputed innovation platform for metalworking machines, solutions and service." Seconding his thoughts, Dr Jochen Köckler, Chairman of the Managing Board, Deutsche Messe AG, proudly stressed that EMO Show always turns Hannover into EMO city!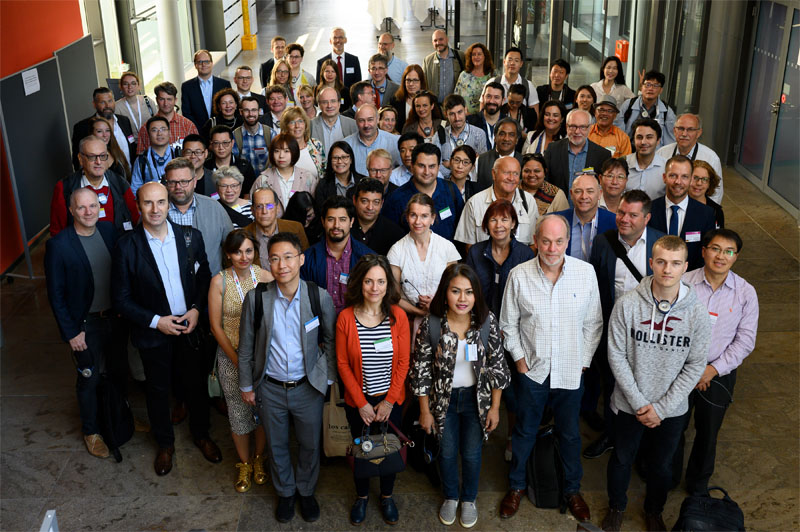 International Press at the Institute of Production Engineering and Machine Tools, Leibniz Universität Hannover