A compelling account of how TTB Tooling, a customer of Ace Manufacturing Systems Ltd (AMS), has applied its capabilities to making face shield dies in order to adapt to the current situation and thrive, and the latter's support in this endeavor.
In today's times of grave uncertainty, enterprises are searching for new growth paths to thrive and do their bit to save thousands of lives. They are racing against time to leverage the opportunity Covid-19 has presented by getting into products and services required in the current times.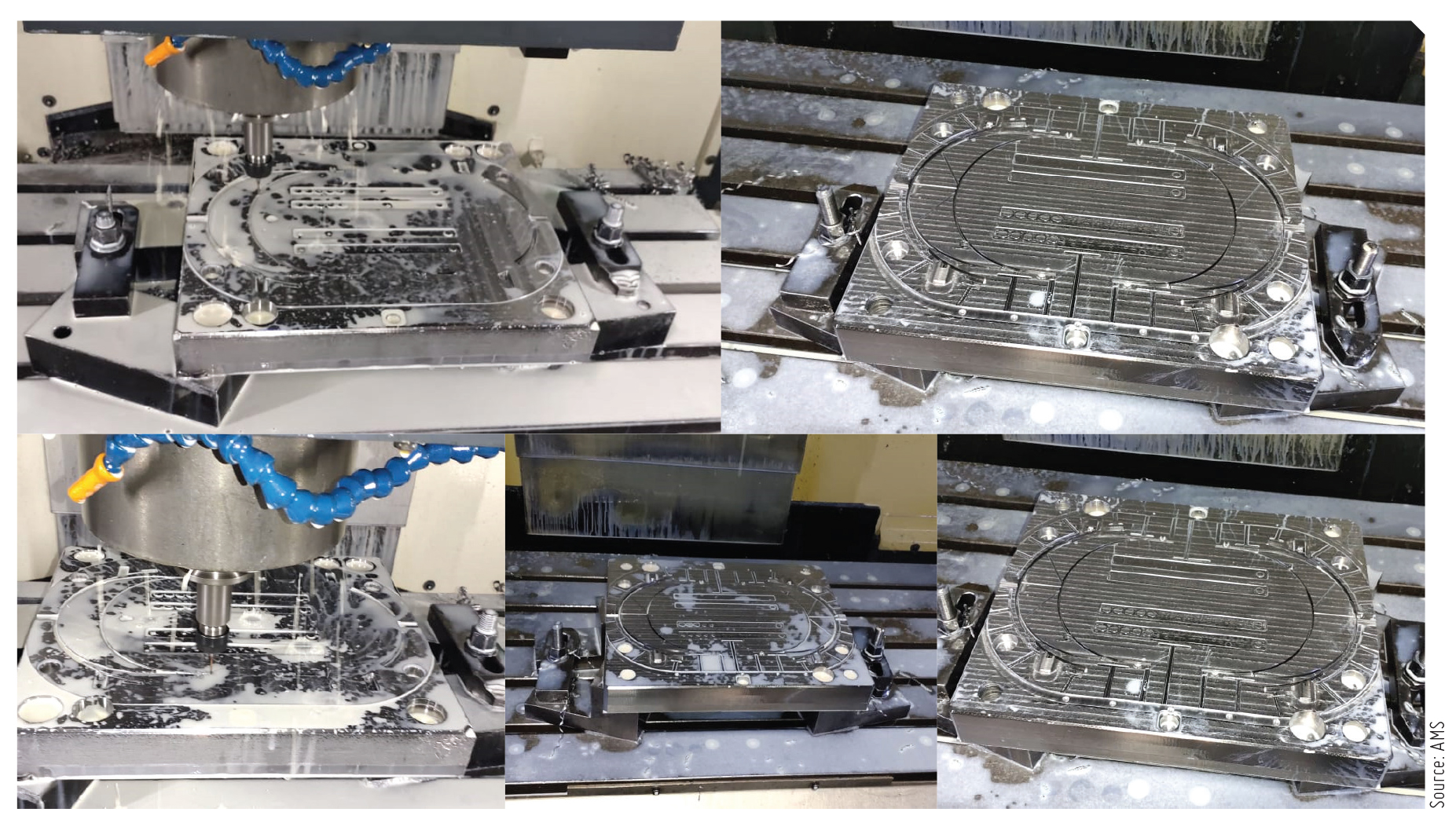 Going with the flow
Pune-based TTB Tooling is one of the companies that has remained unfazed and decided to take charge despite the challenges the lockdown had brought forth. The visionary leaders, Muralidhar Kadam, Aditya Mishra and Satwant Singh, each supporting as Joint Managing Director of the company, were on the same page when the need arose to think of a new strategy to keep their business intact.
"We make injection moulds for Automotive, Household, White Goods, Furniture and Material handling. At the time of lockdown, we struck on the idea of making face shield dies, and immediately took the decision and designed the same," shares Kadam.
Working out of a facility of 40,000 sq ft, the company is proud to have major Indian and international players as its customers including OEMs like Mahindra & Mahindra, International Tractors, TVS Motors, Maruti Suzuki, MG Motors, Tata Motors, Bajaj Electricals, AO Smith, Godrej & Boyce etc.

Leveraging opportunities
It took TTB Tooling around 2 days for producing moulds with the aid of 850V/1060V machines from AMS, which in the words of LS Umesh, Director & CEO, Ace Manufacturing Systems Ltd (AMS), are compact, rigid and designed to achieve high accuracy in Die & Mould, Tooling, Medical, Aerospace applications to name a few.
"AMS machines are universal, capable of machining any components irrespective of industry. We have sold around three hundred 850V machines and around two hundred 1060V machines so far," he informs.
With Covid-19 disrupting human life, the need for PPE (Personal Protective Equipment) has become imperative to save one's life. With imminent need for PPE type products, AMS' customers including TTB Tooling have been using its machine models 850V and 1060V to produce face shield masks cavity plates. "Another of our valued customer RPM Manufacturing Solutions, Mysore, has forayed into producing Covid-19 safety kits using our 1060V machines," shares Umesh.
With empathetic listening to its customer needs, AMS advocates 3Rs of customer-centricity – Reflect, Resonate and Radiate.

On whether AMS is able to fulfil the sudden demand of the machines, he states, "Clearly, it's an opportunity for AMS as we have the requisite capability matrix; we can produce over 3,500 machines per year."
The very DNA of AMS is to closely engage and connect with the customer. "With empathetic listening to customer needs, we advocate 3Rs of customer-centricity – Reflect, Resonate and Radiate. Our powerful in-house R&D and Design team work in tandem with the Marketing team to develop NPDs (New Product Developments) and PEs (Product Enhancements) that reflect market requirements. Our MD, P Ramadas' expertise and more than four decades of machine tool experience give credence to our products that match global accreditation standards like Certified European (CE) Standards," adds Umesh.


Designing, developing the die
The idea for making face shield dies was basically derived from the news that relayed the need for masks and face shields, shares Singh. The team of TTB Tooling then started off with the process of referring to existing designs of masks. "We wanted to make effective masks which were also economically affordable. Hence, we had to design the product with considerable inputs from our design engineers and also referring to masks used worldwide. Once the product design was finalized in a day, we started working parallelly on mould design," he adds.
The team was able to produce the first piece OTS (Off Tool Sample) with 99.90 percent precision. "It took us a few hours to put the mould in production after fine tuning. WhatsApp and other digital media used for advertisement and then mouth to mouth advertisement were a considerable help in getting us known. The people who bought from us also helped others to approach us. We were aired by All India Radio too. We distributed masks to many of the Corona warriors like the Police department, Medical staff, Medical institutions etc.," Singh informs.
Coping with crisis
TTB Tooling is thankful to the AMS team for their continuous support and guidance to run the machines and produce during the lockdown that brought in innumerable challenges for both the companies including an immense disruption in the supply chain.

"It was very difficult to source even standard parts so we had to manufacture them in-house although there was also a shortage of manpower due to the lockdown. We had to request our suppliers to stretch themselves and supply us the parts. We also used some parts of existing and scrapped moulds to fulfill the requirement," shares Mishra.
Revealing his share of struggles, Umesh says, "The lockdown announced from the end of March 2020 affected our operations to a great extent. We had to close down our operations and pay full salary to our employees on roll, contractual employees, vendors, and suppliers on time, as per our values. This has resulted in an enormous pressure on our cashflow with zero sales in April 2020. Even after partial opening, customers other than medical equipment manufacturers have either postponed or cancelled their orders, leading to an increase in our inventory levels."
It was very difficult to source even standard parts due to the lockdown so TTB Tooling had to manufacture them in-house although there was also a shortage of manpower.

"With the forced lockdown, labor force at our vendors have also moved to their hometown. They may return when they feel safe to do so. As of now, there is a pressure on supply chains and supplies are getting affected up to 50 percent of our capacities," he shares.

The above account is a reflection that in the face of unsurmountable hurdles, what wins is the human spirit to disrupt one's business to cater to the current market situation and the iron will to turn adversity into opportunity.
TTB Tooling is extremely thankful to the AMS team for their continuous support and guidance in running the machines and producing during the lockdown that brought in innumerable challenges including a disruption in the supply chain.

Muralidhar Kadam, Joint Managing Director; Aditya Mishra, Joint Managing Director; Satwant Singh,
Joint Managing Director, TTB Tooling
Source: TTB Tooling